Cocktail de Talma - the key to success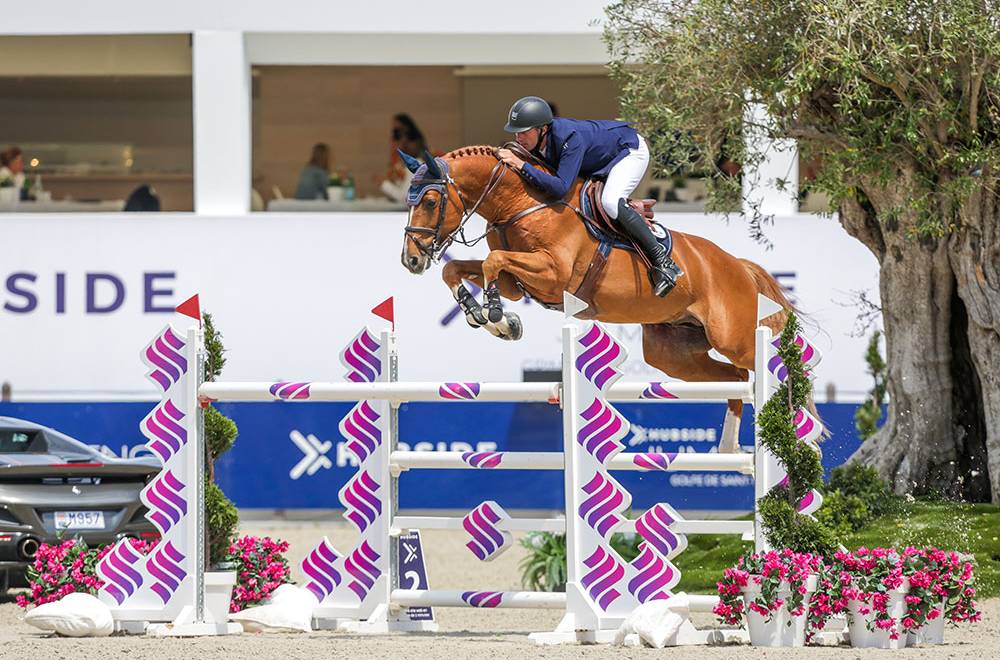 11 May 2021
After arriving on tenterhooks in Belgium just one year ago in the midst of a health crisis, Cocktail de Talma the Selle Français stallion (Baloubet du Rouet x Cento x Quidam de Revel) is progressing well week after week. Today, at the age of 9, he has just achieved two consecutive victories in the Grimaud 2* Grand Prix and has now earned the right to accompany Nevados to the upcoming CSIO5* in Rome.
His breeder, Michel Guiot, can barely conceal his delight: "It's something really special for a Belgian to hear the Brabançonne twice thanks to his horse. I will always breed Selle Français because it is my studbook of heart; a breed that I particularly love and which makes me tick, but I remain Belgian and this horse with Gregory Wathelet brings me closer to my country that I left a long time ago!"
Cocktail's crossbreed was imagined a long time ago by the Ardennes breeder: "I have always been a fan of Baloubet du Rouet and I have always used him a lot. One day, I met Mr. Coutinho and I told him that I wanted to distribute Baloubet. For me, he had been number one in sport and he was going to become number one in breeding too! I also crossed New Eve du Moulin, a daughter of Quidam de Revel, with Cento, in the hope of having a filly that I could cross later with Baloubet du Rouet. I had noticed that he produced really well with mares from Holsteiner stallions. In the end, I crossed Reggae four times with Baloubet and once with one of his sons, Number One d'Iso. In 2011, I had a double ovulation which gave me a filly, Cocaïne, who is now 1.40m tall, and Cocktail. The moment I saw him I immediately believed in this foal. I had been hoping to breed a stallion from Cor de la Bryère's line for a long time. Cocktail had the look but above all the engine - a modern horse with radius. He is a delicate horse but as soon as he understands what is expected from him, he gives it his all. However, things were not always so easy. When he was three years old, I presented him at the Rosières-aux-Salines admission and the horse was rather taken aback. His great action, which is one of his strong points today, was a disadvantage to him there. He was turned back and the judges advised me that I had him castrated. I left there with tears in my eyes. When I got home, I asked my rider at the time to continue riding him and show him to me in two weeks on a small course, which she did. I wanted to be sure that I hadn't been mistaken, but he immediately reassured me and confirmed my thoughts. He then qualified at four, five and six years old for the Fontainebleau finals but we didn't put any pressure on him. He was a late bloomer, both physically and mentally, and it was very important not to rush him into anything. At the age of seven, he produced some rare clear rounds in the second championship and that was when I realized that the machine was on its way. I had had the idea for a number of years of entrusting a horse to Gregory Wathelet and I really thought that this one would suit him. Cocktail has all the resources and shows a lot of respect, but I knew that there was still a lot of work ahead. I think the Covid helped us a lot because it allowed Grégory to spend a lot of time working and Cocktail is a good pupil who progresses all the time. This week at the Grand Prix, he wasn't even wearing gaiters on his hind legs. As much as I thought the jump-off was within his reach last week, he really impressed me this week when I saw the options they had taken when he was one of the youngest horses in the line-up", said his proud breeder.
"He hasn't bred much so far. However, today he's clearly one of the best stallions of his generation. There has been a lot of talk in France about Candy de Nantuel, but today he has no problem in being compared. He covered fifty mares last year, and he is now really in the ascendancy. I have to admit that I imagined him capable of riding big events but not that he would be so fast. This is the first time I have been lucky enough to own a horse that has reached this level. He brings us a lot of joy but the road is still long. We'll see what the future holds, and we'll see how far we can resist the interest he can arouse", adds Michel Guiot.
Gregory Wathelet despite being very reserved, has no hesitation in presenting Cocktail as one of the greatest hopes of his stable and even as his future championship horse! In the space of a single year, the Selle Français stallion has made his mark in the stable of the Belgian multi-medalist: "When he arrived, there was a lot of work ahead, but I liked him straight away. The quality was there. Covid and then rhinopneumonitis gave us a chance on the one hand because we were able to work more at home and put the necessary foundations in place, but they were also a misfortune because we had very few events. Nevertheless, he already had a little bit of experience, so it wasn't a big deal. What was important was that each time he went out, he did well. He's a horse with a temperament like many of Baloubet's products, but he is not difficult. When he's in the arena, he does everything that is asked of him. To begin with, he jumped rather atypically, but I was convinced that by giving him the necessary foundations, he would become more classical, and that is what happened. However, we are far from the end of the road. That's what I like about it because I'm convinced that there is still a lot of room for improvement. I think he has the potential to become my championship horse. He is evolving but I remain cautious, we are only doing CSI2*. My objective is now to let him gently find his place in the big competitions as a second or even third horse and smoothly to gain experience on 1.50-1.55m events. My goal would be for him to ride his first 5* Grand Prix at the end of the outdoor season. My final idea might be to market him, but we are on the same page as Michel Guiot. Obviously, when you see that he did a maximum of seven competitions last year, and he always did well, and that he resumed competition after the rhinopneumonitis break by winning two Grand Prix, that's something that attracts attention! I must admit that I didn't think he would be a very slow horse, but I didn't expect him to be so fast. It's something he has to learn, much like Copin van de Broy, although Cocktail is more responsive and already showed this weekend that he can win a very fast event."
At the age of nine, Cocktail de Talma can also rely on a golden family. Although he comes from the line of the breed leader Cor de la Bryère, he can also rely on solid collaterals. His granddam is a maternal half-sister to Florie du Moulin, the former star mount of the British rider, James Davenport and the international Hermes du Moulin II. New Eve herself has produced several internationals but it is her daughter Reggae de Talma in particular who has proved to be an outstanding broodmare.
Cento's daughter gave birth to Une de Lothain with Conterno Grande. She has proved to be a great international winner under the saddle of Harrie Smolders with notably a second place in the 5* Grand Prix of New York as well as in the 4* Grand Prix of Amsterdam, a third place in the 4* Grand Prix of Wellington but also a fourth place in the World Cup stage of Ocala, as well as numerous victories in the most beautiful arenas in the world. This is only the beginning of a long series, since to date there have been no less than 13 internationals in his production, including two approved stallions. These include the very pleasant Valkyrie de Talma (Diamant de Sémilly) who competes in the Nations Cup in Canadian colors. Chips off the old block!