Clintrexo Z, chic and focused on sport!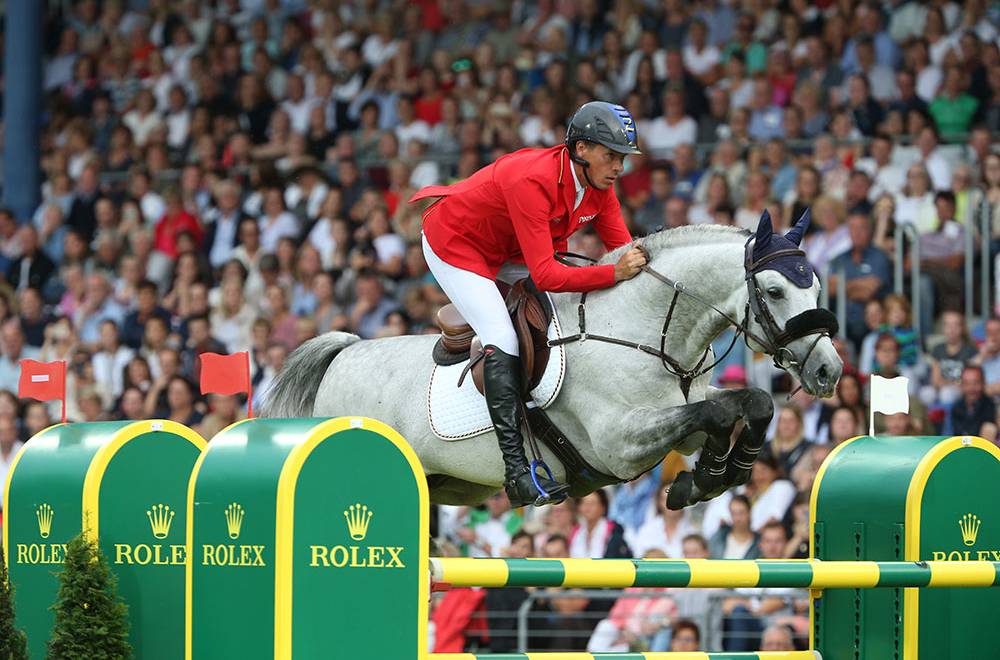 27 April 2020
Born in Zangersheide, Clintrexo Z (Clintissimo Z - Rex Z - Quidam de Revel - Grand Veneur) was approved by the Zangersheide studbook at the age of 3, before taking his first steps on the international scene under the saddle of his owner, Judy-Ann Melchior. However, at the beginning of 2018, Christian Ahlmann took over the grey. A few months later, the pair won their first international Grand Prix in Wiesbaden. Chic, with a formidable canter, he's the product of very good genetics. His dam also produced Dakota (Denver V), who also competes at Grand Prix level under British colors, and is herself a maternal half-sister to three approved stallions and six international performers including Pius Schwizer's great mount, Chidame Z (Chippendale Z). However, Clintrexo Z is one of Zangersheide's stallions that has never been offered to breeders... until today when he just returned to stud!
Clintrexo Z at 3YO

Until now, the deal was very clear: focus on sport... but after the suspension of all competition, the deal has changed! A World Championship finalist from the age of 5, he finished 5th in the Salzburg 4* Grand Prix with Judy-Ann Melchior at the age of 8, before continuing his success with Christian Ahlmann by winning the Wiesbaden and Munster Grands Prix, the World Cup stage in Mechelen and the Treffen 5* Grand Prix. After placing second in the Global Champions Tour stage in Berlin, he also took third place in the Top 10 Final in Geneva, as well as second place in the Nations Cup in Aachen and a team silver medal at the European Championships in Rotterdam! Oh my!
Clintrexo Z at his 3YO approval.

Who better to tell us about him than his owner and breeder who rode him herself in her first Grand Prix, Judy-Ann Melchior: "We had Clintrexo Z's granddam, Margot des Gerbaux, at home. My father had crossed her with Rex Z (Editor's note: the first son of Zangersheide's star mare, Ratina Z, with the latter's full brother, Rebel I Z). My father particularly liked her. However, when it came to choosing Clintissimo Z for Rexotta Z, both my father and I decided together. We placed great hope in Clintissimo Z, who I rode when he was a young horse. He was a beautiful horse with a lot of action. He had a lot of power and was very easy to ride. Rexotta Z was more of a long-legged mare with a lot of blood, and was sportier, rather than being more of a classic model. She was thin and lacked a bit of neck... so we tried this cross.

Clintrexo's sire, Clintissimo Z's (Clinton I x Carthago) conformation photo,
and under Judy-Ann Melchior's saddle.
At two years old, he was a horse that jumped with tremendous power. He was a bit long in front and had a bit of a straight back... and then at three years old, he really developed all of a sudden, and became very, very strong. Clintrexo Z's big strength is that he has more blood than his sire. Clintissimo Z was a bit too Holstein-like, and the combination with Rexotta Z, who had a lot of blood, was the perfect cross. Clintrexo Z is more of a warrior, he's a fighter on course…
Clintrexo Z, a finalist at the World Championships at 5 years old under Kris Christiaens' saddle
We chose not to include Clintrexo Z in the stallion catalogue. It's a difficult choice sometimes because we really believed in him, otherwise we wouldn't have kept him... but I was conscious that he was not a horse that immediately makes breeders say "wow" when they see him, as happens with Dominator Z, for example. I never want to start training my horses for the purpose of people saying "wow"; instead, I want to give the horse a chance to evolve through sport and give him a real chance. This option is not available if that horse has to start doing stallion shows. He's not a horse that's going to do well in the show. He needed to jump courses and learn without getting criticized by everyone. Clintrexo Z really needed to focus on sport. If we had made him available for breeding, we would have unconsciously wanted him to be faultless, and that doesn't allow horses to learn. That's not the schooling he needed. He's a horse that is capable of being jumped by anyone. He did his first Grand Prix with me with a single bridle, and today he's still being ridden in the same bit with Christian.
Of course, it's not easy to forget about the financial income from covering mares, but we don't want him to be breeding at the expense of sport. In our catalogue we try to have stallions at different stages. There are those that have already proven everything they can in sport, as well as the youngsters we believe in. For me, in the middle, it is important that the stallions take a break. Frozen is obviously available from them but it's important that they focus on sport. They have to be able to show off their best qualities, and it's an asset for their offspring when they reach the highest level.
In the past, I was a bit surprised with a horse like Aktion Pur Z. He was in high demand when I rode him, and then didn't get a lot of support when he was offered to breeders, but was used a lot by riders. In his case, it's easy to see that people quickly forget some horses, and that's a shame. Here, this long period of no competitions will allow Clintrexo Z and Carabis Z to have a first crop of foals before they finish their career, which we had not considered.
As a young horse, we believed in Clintrexo Z a lot. His success in the sport today brings us a lot of satisfaction and gives the stud a great reputation, which is also important.
Take A Chance On Me Z (Taloubet Z & Abba Z) has a special place in the Melchior family's hearts.
Honestly, when Clintrexo Z wins, it brings me a lot of satisfaction. I get as much satisfaction from horses that we "only" own; ones that we bought young and have trained up to the highest level, like Dominator Z, for example. Now, obviously, a horse like Take A Chance On Me Z is different again. There's a huge emotional side. He was the first foal from my first sport mare, Abba Z, who was the first mare I retired and I still remember the day he was born well, the night we were all there, the first time he went out to the field... It's just different. For me, I don't find that there are any great sentimental differences between being a breeder and owner of one, and "just" the owner of the other.
Of course, Take A Chance had a much more standard stallion background, like Solid Gold Z, Atomic Z and Corico Z. They were offered for two or three years at stud and then they concentrated on sport. Solid Gold Z, on the other hand, was covering mares at 3 and 4 years old, then he took a two-year break, then after winning his 7-year-old World Champion title, he was allowed to cover mares for another year, and now he has four or five years left of sport. Personally, that's what I prefer, because when they're older, you can see what their progeny are like. Of course, sometimes, one or the other is sold because the shop has to keep running, but covering mares remains an important part of their job. I don't think I'm doing a good job if the horses I offer when they're young don't end up as great sport horses. Of course, there are a lot of factors involved, and we can't always control everything, but my goal is really to get all the youngsters we offer to breeders back into great sport."
Putting his paintbrush down while he was in the middle of refreshing his stable during this containment, his current rider, Christian Ahlmann, can only confirm the thoughts of his spouse: "Clintrexo Z has always been a good horse. He went a little unnoticed until he won some important Grand Prix events. He never covered mares, which allowed us to build him up gently, taking our time, riding in the World Championships at 5 and 6 years old. He followed a classic preparation path to train a horse for the top level. Everyone who rode him did a good job. He improved each year and finally made the German team, and again, to win a five-star Grand Prix and medals! I think that confirms that the work we did was good. He's a special horse that makes a lot of money and has a very good list of prizes.

Every horse is different. Some need you to educate them, to make them tougher, they need to follow a system so that you can mold them how they need to be for top-level sport. There is another way, it's not as easy because it's more stressful for the rider: using their ability more than other positive things to win events all over the place, when you could use that later on to win other things in their career. These are things that happen quite often. When you have a horse full of quality. You could ride him every week at shows so that people will watch with their mouths wide open...but I don't think that helps the horses' careers. For Clintrexo Z, even though he had been covering mares, we needed to take our time with him and not rush the steps because his body wasn't ready. For a rider, that is undoubtedly the most difficult part. Even more difficult than training a horse: being patient, staying calm and not just wanting to win. Use time to make them stronger.
The strength of Clintrexo Z is that he's always positive. On course, you can push him. Ask him what you want, he'll always try his best. He always gives you 100% on track. He knows his job and he does it well. It's his character that got him to this level. There are horses with great qualities, that don't want to jump or compete, and horses like him who love the sport. That gives him the necessary 20% that makes him better than other good horses. He really has a great character that puts him in the category of really special horses."