Claudia Moore wins the Pony Grand Prix!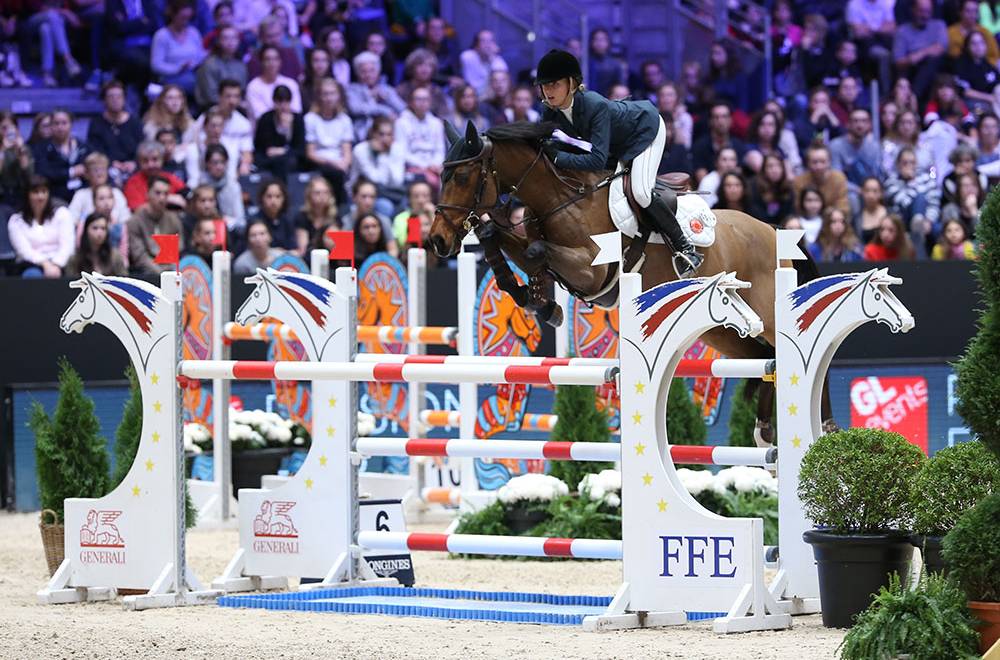 02 November 2019
The Pony Grand Prix had a surprising moment when a third of the track was plunged into darkness. The jury was forced to interrupt the event for a few minutes... before it was able to resume. A complicated event that saw many mistakes in a once again packed hall!
Belgium surprised everyone this Summer by deciding not to send a team to the European Championships as it considered its riders too uncompetitive... unless of course if their parents intervened and paid their travel expenses, an option that was rejected. However, despite notching up 4-faults today, Aline Sercu finished in 7th place to take the lead in the Pony Trophy with Opaline Optima (Orchid's Romario II). A great way to answer the performance reservations!
In the end, only 5 combinations progressed from the first round to fight it out in the jump-off. Holland's Lily Engelsman was the first to set off with her impressive Blackwoodland Rock (I Love You Melody). She didn't take all the risks she could have, but she had a beautiful clear round and put the pressure on her pursuers with a time of 40.00 seconds.
The double French Champion, Ilona Mezzadri decided to leave her star, Callas du Rezidal Z (Campione Z) at home and chose to take Ken van Orchid (Kanshebber) instead. The French rider attacked the course and stopped the clock in the impressive time of 34.91 seconds... but they had 4-faults!
Irish rider Ella Quigley did her best, but she also clocked up 4 penalty points with Lisa Nooren's former star, Rock Dee Jay (Arko III).
There were only two left to start... the two British riders who are very competitive on the pony circuit. The first was Claudia Moore, daughter of England's iconic Chef d'équipe, Katrina Moore. The rider tackled the course with Elando van de Roshoeve (Rebus G), and left nothing to chance: stopping the clock at 35.81 seconds, and a clear round to take the lead!
There was only her compatriot left to try to dislodge her, but Tatiana Wolters attempted a much too daring turn to approach the last line of obstacles, and came in to the approach far too close... she was forced to do another circle with Horseabout Zibu (Templebready Fear Bui) before completing her round.
Katrina Moore: "Seeing my daughter's victory is still such a wonderful feeling. The ponies have already given me so many wonderful moments and it's always great to share these moments with kids, but when they're yours, it makes these moments even more special. She has been accompanying us to competitions since she was born... but she didn't show any interest until she was 9 years old. We had no problem with that because I always thought you had to love it to do it... but we were obviously very happy when she decided she wanted to ride. For now, we'll try to keep going... but we're going to need some good horses!"
The day's winner was also delighted: "This is the third year I've been here. I was second the first year and second last year, so I'm really happy to win this year. The first round was big, but I knew my pony could do it. We were part of the gold medal team at the European Championships where we also placed third individually... but there were some very fast riders around me. So I was a little more nervous when I got to the jump-off and I knew I had to go fast and clear. My mother has been the Chef d'équipe for the British team for 27 years. I was part of winning her 15th medal this Summer at the European Championships. People expect me to be as good as my parents were, but my parents don't put any pressure on me. When I was 6, I had a bad fall and stopped riding. I played golf for a few years and then some friends asked me if I wanted to go to Pony Club... so I started riding, then it really became my sport of choice, I like it and of course I quickly started jumping again. My parents have so much experience in addition to having the infrastructure, so it was easy enough for me to get back into."
Hers is a very different situation from that of the young Frenchwoman, Ilona Mezzadri: "My parents weren't riders at all, but ever since I was a kid, I dreamed of riding. My parents enrolled me in dance, and I didn't like it at all. I started pony club at the Haras de Jardy on shetlands, then had to find a pony club to go onto bigger ponies. My father searched the Internet for the stable that had the best results and we came across the Clementerie stables in 78 by chance. I've been here for 7 years now. My coach taught me everything. It's still fun and I don't know if I'm going to make it my profession. We live day to day by the selections. I'll continue on with a normal academic program and continue studying as far as possible... then we'll see if I'm able to get into the career I want, and whether I'm able to have the horses and have the finances to keep up with them. I don't know if that scares my parents. They always accompany me to competitions and we talk a lot about what I want to do, but they give me space to think about it all as well. Today, I was a little greedy coming up to the last obstacle. There was real competition, the other competitors were really strong. People are used to seeing me with Callas, but I chose to ride my second pony who also has a lot of experience even if he doesn't have Callas' record. I blame myself a little for the faults but I'm happy for my pony because he's going to have a great career. I'm very happy to be back here, and this podium is a great response to last year's situation."
In the middle of these two extremely different situations, Holland's Lily Engelsman was also delighted: "I know my pony is not the fastest, I was the first to go, so my objective was to stay clear, without taking too many risks. Just making a few good turns... but honestly, I'm all the more delighted because I didn't even expect to go clear in the first round. The course was very big and I was a little nervous before the start of the event."