Chilli Willi, Nicola Philippaerts' treasure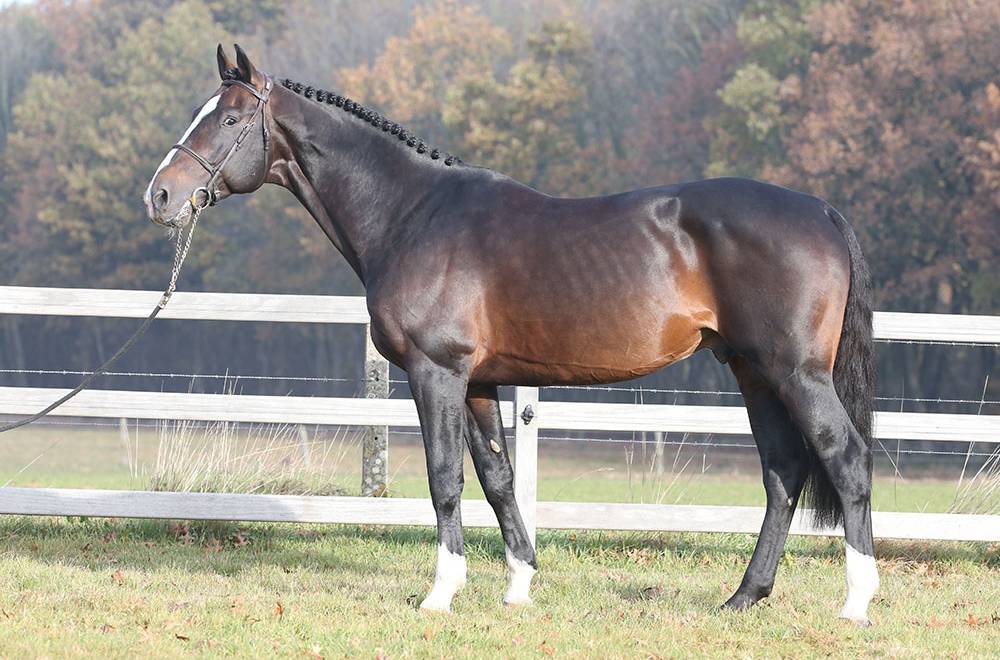 05 March 2019
Chilli Willi is one of the most prominent stallions in Belgium. Under the saddle of Nicola Philippaerts, this Holsteiner—approved at the AES, then at Zangersheide and by the Selle Français—has built a pretty solid record despite his young age. Crowned Belgian champion at only eight years old, he triumphed further the following year, winning the Rotterdam Nations' Cup and the Grand Prix de Chantilly. To start the 2019 indoor season, the powerful bay immediately took third place in the Doha Grand Prix, the first stage of the Global Champions Tour.
Chilli Willi has the same mother as Camiro 19 (Cassini), who competed at the highest level under André Hansen of Norway before heading to Italy, and also as L-Cinderella (Carthago) and Never Forget (Candillo), who both performed on the international circuit.
This is the opportunity to accompany the rider as he catches up with his current lead horse:
"At what age did you buy the horse?"
Nicola Philippaerts: "We bought him when he was six years old. He belonged to the same owner as Legend of Love. At six, he was super respectful. First, it was our rider, Viktor Daems, who mounted him. The following year, he rode him for a week or two in Arezzo and then I took him. He is super respectful, but he is tall and was still a little bit heavy. At first, I didn't think he had enough ability. He had difficulty jumping the second bar, but he finished almost always without fault. For a horse this big, it always takes longer to get their strength up and get them fighting fit. We had bought half of him from his owner Gerald Nothdurft, and then at seven he won the second qualifying time for the world championships. At eight, he jumped at the Masters in Mechelen but made a fault at the last fence in the last lap, otherwise he would have won the Master, and then he went on improving and I think today he is my best horse. Frans Lens bought the second half at the end of his eighth year and I am very happy with this because it reduces the chances of him being sold one day."
"Does that mean you can manage his breeding and sporting careers?"
N.P. : "Yes, and for the moment he's not for sale, I want to keep him. The horse is still young, he can mate. A few months ago, we bought the mare Child of love (out of the crack Legend of Love) and I think he will give nice offspring too. We have to wait a little longer because he is quite young, but he's also a good horse who can have a good career in sport if he stays well. He has many qualities. He is super brave. He's not a stallion at all, actually. He always wants to do the right thing and really has the best quality. At first, his size served him well, but I think he has a lot of strength now. He can jump anywhere."
"Was the objective for you when he arrived that he manage to tone his body, to firm up a little?"
N.P. : "Yes. At six, he wasn't in training at all. Well, actually, he was a little, but only for small competitions. He was a little fat. Jumping 1.6m in this sport is only for athletes, and with horses as tall as him, it always takes a year or two more, without forcing, to know how to jump these events because he is so tall. At eight, he was fifth in the Grand Prix de Bordeaux, on the Sunday, I think. Then he improved and at nine he was third in the Grand Prix in Miami. Now he's ten and this year he had a fantastic schedule. He didn't make a single fault in any of the Nations Cups in which he participated; just once picked up a time penalty! That's great! I think that's really the horse I'm going to focus on for the next few years, I hope."
"When you bought him, was it more because you trusted his owner or did your father immediately believe in him?"
N.P.: "Yes, he came with the horse to our house and said look at him. I immediately thought he was a serious horse, but he didn't show off, he jumped only what he had to. Even at seven, he didn't put on a show, but he always did his job and he always jumped almost without fault, and then he went on improving. At six, he didn't give the impression that he was going to jump 1.6m, and now he jumps it well."
"So, you didn't think he was going to be your number one?"
N.P.: "At six, no, I didn't think that. But he got better all the time and when you see Casall, he too got to the top when he was 12 or 13. I hope it's going to happen with him some day."
"Compared with other horses you have ridden, Harley and Carlos among them, did you know right away that those horses would change your life?"
N.P. : "Not with Carlos. I think with Harley, yes, because I always had a special feeling; he had all the ability, he could jump a five-meter oxer while walking and I always thought he would have a lot of results, which was quickly confirmed. At eight, he went to Calgary, and at nine, he won his first 5-star Grand Prix. When he was seven, I was convinced that he could jump the big obstacles. He was very hot when he was young and ran a little. A young horse can have all the qualities, but it is always hard to guess what he'll do. I also rode All In (who was later sold to Peder Fredericson's sponsor) and he had all the qualities but, in the end, you never know if it's a horse that's going to win medals at the Olympic Games or the European Championships... that's something you don't know beforehand. Above all, you have to find horses with a lot of qualities and a good spirit. It's important that he grows up when he gets on the track. And I see that in Chilli Willi."