CHI Geneva: The Top 10 riders and the Swiss delegation have been released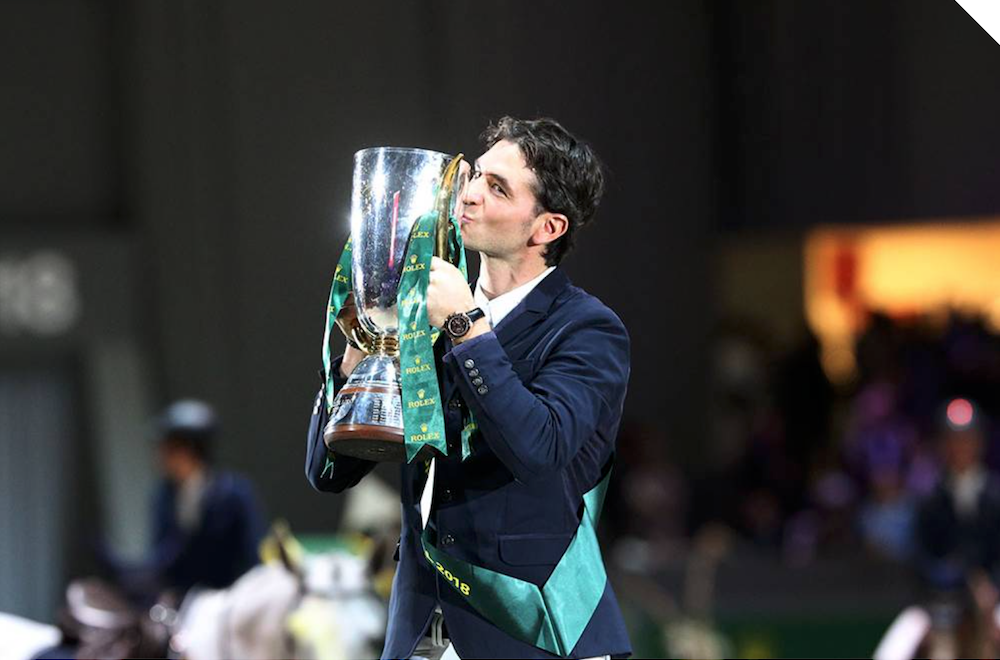 08 November 2019
The Geneva International Horse Show starts in a little over a month and the names of the final Top 10 participants have just been unveiled:
1/ Steve Guerdat (CHE)
2/ Martin Fuchs (CHE)
3/ Daniel Deusser (DEU)
4/ Ben Maher (GBR)
5/ Peder Fredricson (SWE)
6/ Pieter Devos (BEL)
7/ Beezie Madden (USA)
8/ Darragh Kenny (IRL)
9/ Christian Ahlmann (DEU)
10/ Kent Farrington (USA)
Reserve: Henrik von Eckermann (SWE)
The Swiss public is about to be spoilt, as for the second year in a row, they'll be able to applaud and support two Swiss riders, who are currently at the top of the world rankings; the defending Champion and World No. 1, Steve Guerdat, and the European Champion and World No. 2, Martin Fuchs.
However, the other eight contenders have not yet had their say. Starting with the ever-consistent German, Daniel Deusser (No. 3), and the Brit, Ben Maher (No. 4), who was a silver medalist at this year's European Championships. Sweden's Peder Fredricson (No. 5) and Belgium's Pieter Devos (No. 6) have also validated their top ten rankings with impeccable performances leading up to the CHI Geneva. It should be noted that Pieter Devos will be the only Belgian in the lineup (last year Niels Bruynseels was also there), and that there are no French riders among the Top 10.
The only woman to make the 19th Rolex IJRC Top 10 Final is American Beezie Madden (No. 7), who, thanks to her victory in the Spruce Meadows Masters Grand Prix in September, also began her quest to win the Rolex Grand Slam of Show Jumping. Irishman Darragh Kenny (No. 8) will compete in his first Top 10 final. He's followed by Christian Ahlmann (No. 9) of Germany, who won the final in 2012, and Kent Farrington (No. 10) of the United States, who also won it three years later. He replaces his compatriot McLain Ward who won't cross the Atlantic this December even though he made the podium last year.
Who will dethrone the title holders, Steve Guerdat and Alamo? We'll find out on Friday, December 13th at 9:15pm.
The 2018 Podium: Steve Guerdat came in ahead of Henrik von Eckermann and McLain Ward.
The Swiss selection
In agreement with the Geneva International Horse Show's (CHI) organizing committee, the Swiss Chef d'équipe, Andy Kistler, unveiled the 17 riders selected to compete in the Palexpo arena from December 12 to 15. Nine other promising prospects will also participate in the first CSI for under-25 riders.
Among the selected riders, four riders obtained their selection thanks to the wildcard system. Namely, Alain Jufer, Audrey Geiser, Flavien Auberson, who came in 4th place in the last elite Swiss Championships, and Aurélia Loser, who won a wildcard entry for the CSI U25 after her victory in the Chevenez U25 Grand Prix.
Official selection
Steve Guerdat
Martin Fuchs
Pius Schwizer
Janika Sprunger
Beat Mändli
Paul Estermann
Bryan Balsiger
Werner Muff
Niklaus Rutschi
Arthur G. da Silva
Medium Tour
Alain Jufer (Wild card)
Flavien Auberson (Wild Card)
Audrey Geiser (Wild Card)
Marc Röthlisberger
Anthony Bourquard
Elian Baumann
Edwin Smits
CSI U25
Sira Accola
Alexandra Amar
Ken Balsiger
Patrick Brechtbühl
Aurelia Loser
Mathilde Cruchet
Aurélie Rytz
Guillaume Gillioz
Edouard Schmitz
All the info is on the CHI Geneva Website.