Charlotte Philippe beats Grégory Wathelet in Courrière!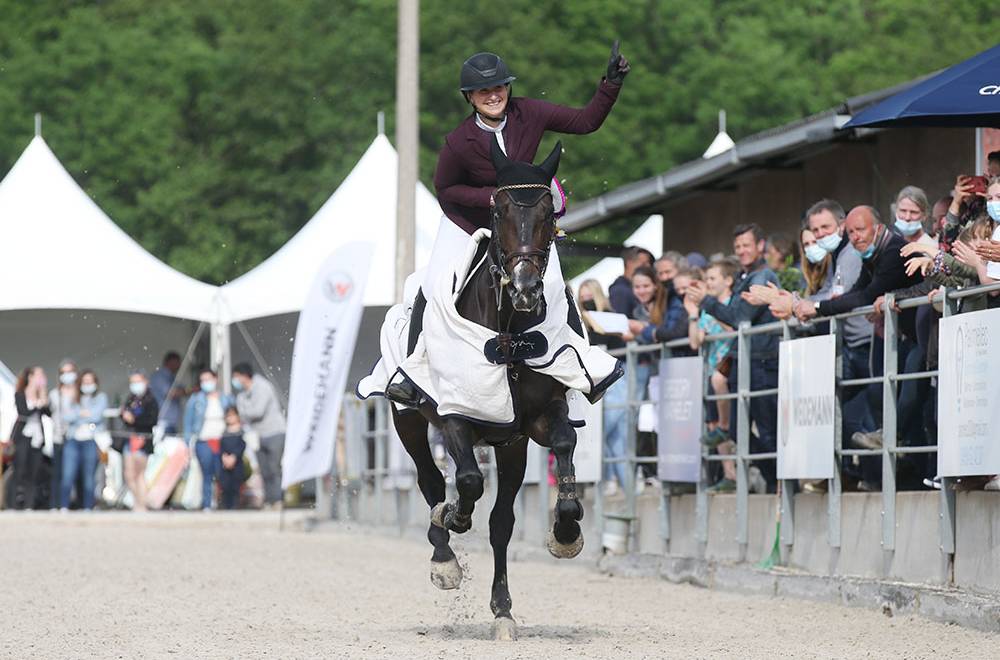 07 June 2021
It's the cruel life of an organizer, forced to stay at the reception of his own competition to ask the spectators to go home so that the competition can take place, three days before the relaxation of the rules... but everyone took it well and we can only be delighted by the craze that has been aroused by this first edition of the competition, led by two very complementary Grégory Wat(h)elet's.
This international competition in Wallonia has smiled on the riders of the region. Starting with the CSI* Grand Prix which was won by Jérôme Hennau on Nimius (Nekton) who gave a great performance, ahead of Louise Dalle on her homebred Vestale d'Hoogpoort (Acorado). Jean-Michel Pirotte was on the podium with Nistria van den Eik (Tonixe), just ahead of Georges Trulemans who managed to take a nice fourth place after a double clear round with his young 7-year-old that he bred himself, Brin d'Or de Haute Melen Z (Bamako de Muze), who is a son of the former international performer, Perle d'Or de Saulieu.
The organizers also succeeded in putting on a real tour de force with only 51 starters in a two-star Grand Prix, even though it had a 30,000 Euros prize pool. It must be said that all the events were generously endowed and far from just having the required minimums.
Franck Vanhumbeeck did a good job all weekend and succeeded in creating a beautiful Grand Prix with many faults scattered throughout the whole course! Three pairs were left with time faults, while 14 had rails fall. Among them, the wonderful round of Marine Scauflaire with her impressive 8-year-old Hortus d'Hoogpoort (Diamant de Sémilly), who drew a lot of attention during the weekend.
In the end, only 9 of them managed to achieve the clear round and Dominique Hendrickx kicked them off. Unfortunately, the rider from Gilbert De Roock's stables couldn't avoid a fault with Vintadge de la Roque (Kannan). The clock stopped at a time of more than 45 seconds, but was revised downwards after the rider's complaint.
Charlotte Philippe was in great shape. The rider from Liège attacked and had a magnificent double clear round, putting the pressure on her chasers. Once again Cacharel de Amoranda Z (Corlensky G) impressed.
Behind, the candidates were not jostling for the top spots, and it wasn't until French rider Yann Chartier Capitaine, that a rider tried to trouble the female rider. Unknown to the general public, the French rider has nevertheless delighted them with his courses and his riding throughout the weekend. With equitation reminiscent of Marcus Ehning... which he owes to his mentor since this young French rider has been living in Germany for 10 years at the master's stables. His presence in Courrière is because of the owner of his mare, Amelia 14 (Clarimo), who is none other than Nybor Pferde, who is also an owner and great supporter of Gregory Wathelet! Yann Chartier Capitaine shows that he knows how to ride fast and improved on Charlotte Philippe's time, but he had a fault.
"It's true that working with Marcus Ehning for almost ten years on a daily basis... even without trying to copy him and when, in addition, we are the same size, there can be certain mimicries that come naturally. Marcus Ehning has always been my idol and when I wanted to see something other than France, I took my bags and went and settled there. I would really like to thank my owner for giving me the chance to participate in this event. This is a huge opportunity for me. I'm used to competing in national events in Germany, so this participation is a great reward for me, especially since it's a real success for the first edition of a show. I'm lucky that we have a very good team at Marcus Ehning's. It's like a big family, so after 10 years, it doesn't make you want to change. Marcus' sister was here today. She helps me a lot, and Marcus too. We're very close to each other... so there's no reason to leave when everything is working," explained Yann Chartier Capitaine.
Behind him, Frédéric Vernaet was slower... but he also had a fault on Born to Win ap Z (Bentley vd Heffinck)
The public held its breath because the master of the place was entering the arena. After their demonstration during the first qualifier, Gregory Wathelet came back with Faut-il des 7 Vallons (Comme Il Faut). The son of Firis de la Maine was impressive... but sensitive, and a small misunderstanding in front of the combination cost them dearly, notching up a fault. It was the best time of the event, but it wasn't enough: they weren't able to do better than second place, leaving the final victory to Charlotte Philippe!
"This competition was a great success. It has taken a lot of energy for a long time, but especially these last few weeks when we didn't sleep much! I have no problem working 20 hours a day as we did here. I'm happy with my horses. I only brought two because the organization of the event required a lot of time, but in the end, Faut-Il finished second in the first qualifier and second today, while Argentina de la Marchette won the big event yesterday. Our recovery was a little too strong in front of the combination and he got a bit behind me. He is evolving well and is ready to jump bigger now. In terms of the event organization, we were unlucky with the storms, but that's part of the risks of being an organizer. We will improve a lot of little things for next year, but we had a lot of very positive feedback. Grégory Watelet succeeded in dressing the event beautifully. He worked night and day for several weeks to sort out the place, so hats off to him. We now have a working base of things to fix for next year, but I think the base is very good and of a high standard. People understood where we were going with this. I think that this event matched a lot of things that horse people expect and this is just the beginning," concluded Grégory Wathelet.
But the smile was also on other people's lips. Charlotte Philippe is shy and, but by dint of repeatedly turning in great performances, she'll have to learn to dare to let go, and also to speak in public. She was nonetheless delighted. She placed second last night with Godiva S in the big event behind Grégory Wathelet, and she got her revenge this time! "It's wonderful. Cacharel hasn't made it to the end of her abilities yet, and I think we still have a long way to go together. After the Belgian Championship, we had to give her a break. Godiva took over perfectly and the plan went perfectly, but Cacharel is a mare with a lot of blood and her return to competition coincided with the beginning of the indoor season, so it took her a few competitions to find her senses. Here, it was really a competition that was close to my heart because we rarely get to compete in front of a Walloon audience, and some people were even from Liège. It's a place where we have the chance to return here for several years for regional competitions, so we really wanted to be present for this first event. For this Grand Prix, there were two or three lines that were quite tricky, and when you're 20th to start and there is only one clear round, you know that you have to concentrate from the first to the last obstacle.
Honestly, for the jump-off, it was good to be double clear, but we've done that for several Grands Prix where this mare is always good and lines up the clear rounds... but we were missing this little taste of victory. Finally, having started at the beginning may have played in my favor. We had a lot of rhythm in the first round and I didn't catch the mare at all before the double, where she was fantastic on the inside. After that, I wanted to put in five strides, but I was forced to put in a sixth one because the mare jumped so high over the second obstacle that it was no longer possible. I knew that there was this little issue there... but the pressure was on the others. So I didn't want to see Gregory's round, I went out to have a walk in the warm-up. His turns are so precise that he never loses time but here, luck smiled on me. To win ahead of him by being the only double clear is really incredible. Now we will focus on Drammen where we should be able to jump in the Nations Cup, which is really my goal for the year. And after that, we will think about the Belgian Championships again, which is already in the back of my mind," said the winner of the day.