Charlotte Dujardin and Isabell Werth fly on the second day of the Grand Prix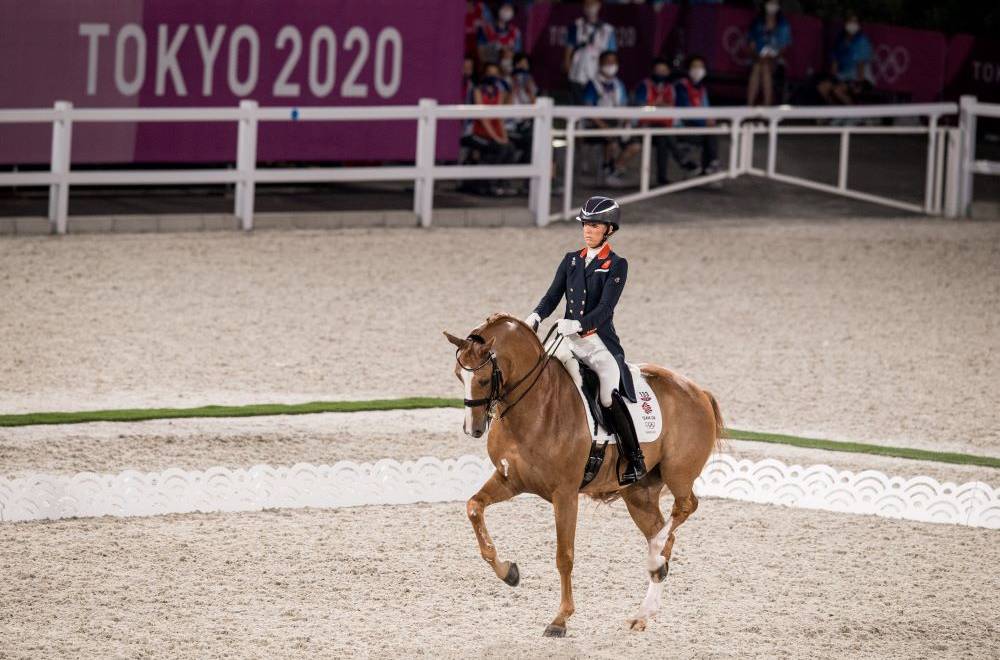 25 July 2021
Author : Eléonore Magnien
The days pass and begin to resemble each other in Tokyo. Just like yesterday, a German rider put in the best performance of the day, but others and in particular Charlotte Dujardin, brought delight to the hearts of the judges.
The Grand Prix came to an end this afternoon with the last test of the thirty competitors. Yesterday, Jessica von Bredow-Werndl laid the foundations at the head of the field with a record test score of 84.379%. It remained for her two compatriots to perform today. Dorothee Schneider, the first of them, was awarded a score of 78.820% with Showtime FRH (Sandro Hit), slightly below their customary level due to a major error in the first canter pirouette. "He was a little hot, which is normal with him on the first day of competition," Dorothee explained.
Bella Rose didn't seem impressed by her first Olympics © FEI/Shannon Brinkman
The second German rider to perform was none other than Isabell Werth. In this her sixth Olympic Games, the multi-medallist is betting on her mare, Bella Rose 2 (Belissimo). As is customary, the tandem collected plenty of 10s on their piaffes and their piaffe to passage transitions, but not enough to overtake Jessica and Dalera. That is nothing to be too worried about, since the Grand Prix was more of a temperature check before the Grand Prix Special and the Freestyle to Music which will take place on Tuesday and Wednesday. Isabell loves the pressure, so the competition with her compatriots promises to be a spectacle of beauty.
Despite his youth and inexperience, Gio proved himself to be quite brilliant under the saddle of Charlotte Dujardin ©FEI/Christophe Taniere
Everyone was eagerly awaiting the performance by Olympic title holder, Charlotte Dujardin. Contrary to all expectations, Charlotte aroused curiosity by choosing Gio (Apache) rather than Mount St John Freestyle (Fidermark), the mare with whom she had already participated in the World Equestrian Games in Tryon in 2018 and the Europeans of Rotterdam in 2019. The ten-year-old Chestnut whom she discovered five years ago at a clinic in the United States, immediately seduced her with his potential and cheeky character. Today and despite his relative lack of experience, Gio did not disappoint. He broke his personal record with a score of 80.963%, giving them the fourth best Grand Prix test score. "I really felt emotional on the last center line because when you have a ride like that It doesn't matter if you win or lose when you know that your horse has done everything for you, that's what Gio did this evening (...) It's a bit of the unknown really not knowing what to expect in there, under the floodlights in an arena like that. Again, he's not done that really before. The Hagen CDI 4* had been the biggest show that he's done (he has performed three international Grand Prix and a few nationals, editor's note). I couldn't ask more from him tonight. He went in and he tried his absolute heart out. He's just unbelievable. He gives me everything he's got, even though he still needs to get stronger and a bit more confident in everything," Charlotte shared as she left the arena. After the good tests by Charlotte Fry and Carl Hester yesterday, Charlotte Dujardin's performance put Great Britain in second place.
The Danish rider, Carina Cassoe Krut has something to be happy about: in addition to competing for a team medal, she has also qualified for the Freestyle to Music. © FEI/Christophe Taniere
Germany, Great Britain... Who else has qualified for the team final? In order of ranking, the qualifying countries are Denmark, the United States, the Netherlands, Sweden, Portugal and Spain. France is the first unqualified nation through to the Special.
The two best riders from each of the six groups also qualified for the Freestyle to Music. The qualifying individuals are: Charlotte Fry and Charlotte Dujardin; Therese Nilshagen and Juliette Ramel from Sweden; Cathrine Dufour and Carina Cassoe Kruth from Denmark; Edward Gal from the Netherlands; Jessica von Bredow-Werndl, Dorothee Schneider and Isabell Werth from Germany; and Sabine Schut-Kery and Adrienne Lyle from the United States. Six other pairs in the ranking also qualified: Nanna Skodborg Merrald, Beatriz Ferrer-Salat, Hans Peter Minderhoud, Carl Hester, Rodrigo Torres and Steffen Peters.
Featured photo: FEI/Shannon Brinkman