Cesare Galli, science in the service of breeding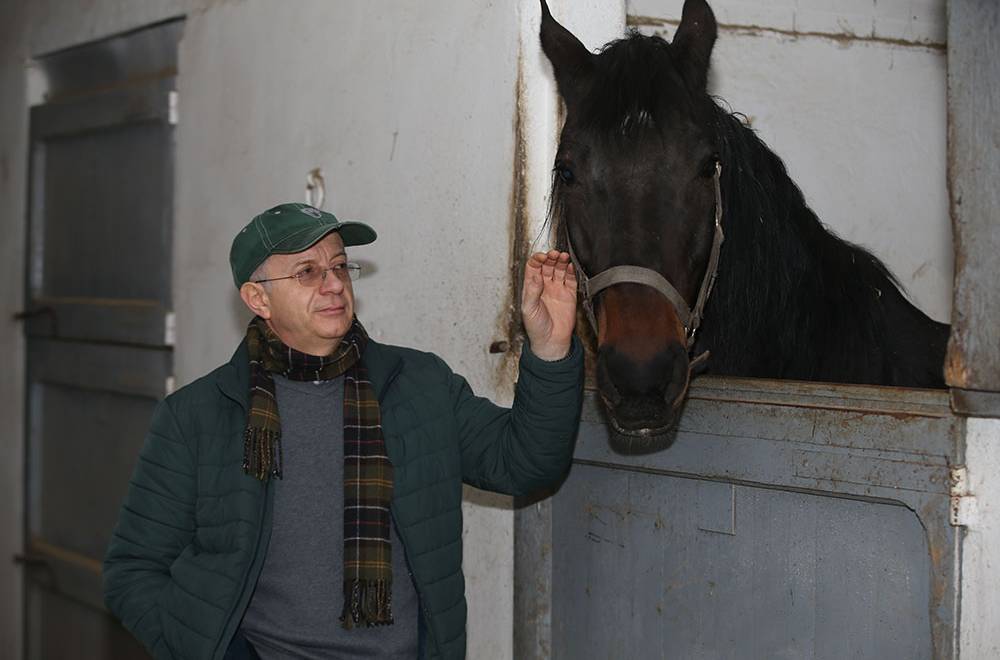 11 February 2019
In recent years, ICSI has become increasingly important in the world of breeding. Stallions that were thought to be lost forever such as Cumano, Kashmir van't Schuttershof and Conrad de Hus have started to produce again, while others whose stock of straws is becoming very limited such as Chacco Blue, Heartbreaker and Baloubet du Rouet have produced multiple embryos and often with quite exceptional mares such as Valentina van't Heike, Quasibelle du Seigneur, Oh d'Eole and many others. Such exceptional embryos were a dream come true for the auctions. Behind these embryos is one man: Cesare Galli! Based in Cremona, an hour from Milan, this veterinarian is above all a man of science, who mostly dreams of developing the discoveries to which he has dedicated his life. The money he earns is immediately invested in his research, for which he and his wife have a real passion.
What is ICSI? In vitro fertilization with ICSI (intra-cytoplasmic sperm injection) is a MAP (medically-assisted procreation) technique that allows an egg to be inseminated by introducing a single sperm into it through micro-injection. Once fertilized, the egg becomes a pre-embryo and is transferred into the uterus for further development. Today, oocytes can be harvested in different centers in Europe and are sent to Italy to be fertilized at Avantea. Most embryos are then frozen once they have reached maturity and can be sent back to the desired location and re-implanted at the desired time. A real revolution, it remains to be seen whether it is also real evolution.
What was your first contact with horses?
Cesare Galli: "My first contact with horses was in 1987 when I was at Cambridge University working on sheep and embryology. Right next to us was the Equine Fertility Department. We worked on cows and sheep and they wanted to do the same with horses. So, we started maturing mares' embryos in 1987. I was already a veterinarian, doing my research for my professorship at Cambridge. I did my doctorate in Milan before leaving for England, where I stayed for five years… but the horses remained marginal, our research was focused on sheep and cows, embryos and cloning."
As a student, did you already know that you were more interested in research?
C. G.: "Yes, I've always had the soul of a researcher. I work primarily in a laboratory. I like to do research and then translate the results into practical applications. I consider myself more of a researcher than a full-time veterinarian. I grew up on a farm with cows, and the practice of embryo transfer was already widespread. The idea was to improve the quality of the genetics. That's why I moved to Cambridge, where we produced embryos in the laboratories."
Picture: Embryo straws ready to freeze
When did you decide to come back to Italy?
C. G. : "My wife Giovanna Lazzari and I returned in 1991. Research was hampered in Cambridge by Mrs. Thatcher, who decided to close several research units, and at the same time we received an offer to move here to Cremona to continue working with cows. Until 2008, we worked for this cattle cooperative. However, when mad cow disease hit England and Europe, the beef market collapsed, and the cooperative was afraid to continue its investments. So, we expanded our business with pigs and turned back to horses. Fortunately, we made this choice with the horses. We had worked on the subject at Cambridge and we knew what had to be done and what could be done. Initially, we had worked mainly on cloning. We were cloning cows and we thought we could clone horses. It was purely scientific work. When assisted reproduction developed in humans, we also tried to develop this technique and realized that it might be possible. So, we started out slowly. The first year, we must have harvested between 10 and 20 oocytes. But the cattle operation continued to decline, and the cooperative decided in 2008 to close down the operation because they no longer wanted to invest in research, and horses and pigs were not part of their industry. That's when we created Avantea with my wife. We bought the place and reemployed all the workers. So Avantea was only born ten years ago, but the people who are with us have been working with us for much longer."
Was it a big challenge for you ?
C. G. : "Yes, it was also a huge challenge for our own family lives because Avantea is a company that was created by my wife and myself! At the beginning, we had a lot of work and I thank our children for following us in our biological work. We were scientists, but when you create a company, there are other things to do. You have to take care of the staff, pay the bills, make sure the customers pay you… There were a lot of things we didn't have to take care of when we worked for the cooperative. It was difficult, not from a technical point of view but just due to the work we were not used to. My wife continued to do more research than I did. With cows, I made arrangements with the breeders directly, but horse breeders are more in need of polite people, or at least people who listen to them… so, she's better at it than I am."
You are mainly a researcher but with horses, there is a great deal of business involved. Is that something that interested you too?
C. G.: "Definitely not. Of course, when you are the boss and you employ 15 people, you have to safeguard your company and be sure you can pay everyone, especially since most people have been here with us since the beginning, so over 25 years."
Picture: Arielle (Accord II) who allowed William Whitaker to win his first World Cup Grand Prix in Mechelen.
To be continued tomorrow on Studforlife.