Catoki, Epleasure van't Heike and L'Arc de Triomphe in Zangersheide.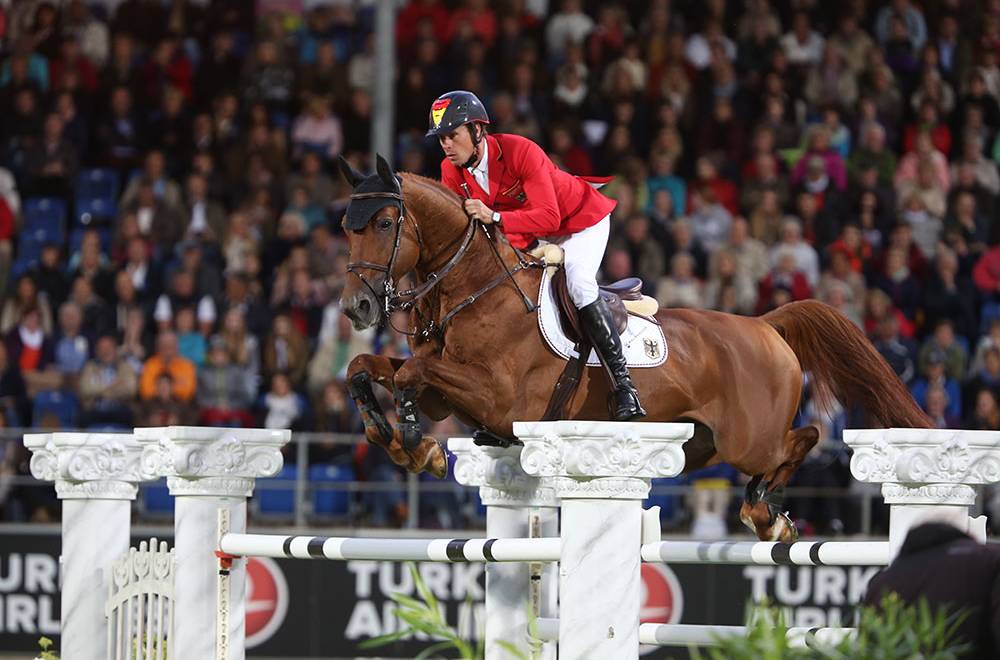 29 December 2019
Zangersheide has released its stallion 2020 catalogue and once again, the blue and yellow are hitting out hard. This season, their star, Dominator 2000 Z (Diamant de Sémilly) will only be available for frozen, as Christian Ahlmann will take his impressive black stallion on the road and may well take him to Tokyo.
As a result, Zangersheide will offer four new stallions to breeders: Catoki, Epleasure van 't Heike, L'Arc de Triomphe and their homebred stallion Caesar Z.
At the age of 15, Epleasure van't Heike (For Pleasure x Nabab de Rêve) will be covering mares in 2020, having focused on his sporting career for many years. Son of Jos Lansink's star mare Valentina van't Heike (Nabab de Reve), he has built up a solid record of achievements under Christian Ahlmann's saddle, including victory in the Aachen Nations Cup and the Treffen 5* Grand Prix. Even though he only produced offspring in his younger years, there are many that have competed to Grand Prix, such as Kassandra van't Heike, a Grand Prix winner with Thiago Ribas da Costa.
At the age of 21, Catoki (Cambridge x Silverster) arrives in Zangersheide where his suitresses will have to go for insemination. As the winner of the Nations Cups in Hickstead and Spruce Meadows, the World Cup stage in Bordeaux, and twice in the Vigo 5* Grand Prix under the saddle of Philipp Weishaupt, before ending his career under the saddle of Emil Hallundbaek, he quickly distinguished himself as a stallion with the phenomenon Catch Me If You Can who also introduced and revealed the young German rider, Laura Klaphake, at the highest level. He also sired Contanga who was ridden by Alberto Zorzi and Amsterdam 27 who was ridden by the Canadian, Mario Deslauriers.
At the age of 20, L'Arc de Triomphe (Landor S x Pilot) has left Normandy for Lanaken, for two years. The stallion from Bois Margot has had his supporters and detractors over the years. For many years, it was his offspring that spoke for him with the likes of the talented Rokfeller de Pléville, Qlassic Bois Margot, Ulane de Coquerie, Rafale des Forêts, Tsunami de Hus, and Ugolino du Clos.
The latest recruit is none other than their homebred stallion, Caesar Z (Chacco Blue x Ramiro), a son of one of the clones of their star mare, Ratina Z. Caesar distinguished himself under the saddle of Robinson Maupiler, as a finalist in the Belgian Championship in Gesves.