Cassius Clay VDV Z wins the Sires!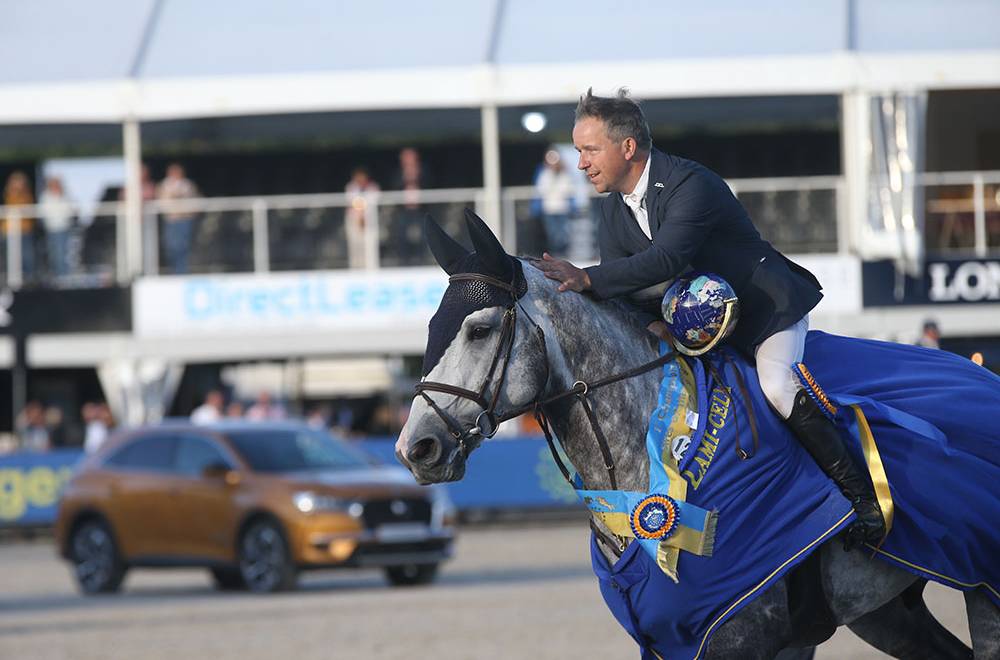 20 September 2019
There were 56 starters in the Sires of the World event, and many disappointed combinations. It was best not to arrive late to the event as the revelation of the event took out the top spot! Cindy van der Straeten and her 9-year-old mare, Cartaro (Cartinue x Chacco Blue) showed her power over the obstacles, but she was still listening to her rider. Unfortunately, they knocked a rail and had a time fault.
After them, the mistakes followed one after the other and in the end, there were just 6 clear rounds. Two eight-year-olds also impressed. The first was ridden by Jeroen De Winter, who had a great round with Leandro VG (Gitano x Chellano), followed at the very end of the class by Christian Ahlmann and his lovely Corico Z (Coriano x Caretano).
Unfortunately, both were penalized by a time fault, as was William Whitaker and his spectacular Cadeau de Muze (Nabab de Rêve x Almeo).
The Schockemoehle stable rider, Patrick Stühlmeyer, rode Chacgrano (Chacco Blue x Grannus), but they knocked a pole down.
Marlon Zanotelli scraped in, lowering the reference time by another second on Diesel du Bois Madame (Cassius x Heartbreaker), but they too weren't able to avoid the four faults... at the ultimate obstacle! They stopped the clock at 41.85 seconds.
Toni Hassman did well riding Conthendrix (Contendro x Carinjo), but their approach to the combination didn't go as they'd hoped, and the bay knocked down the first obstacle... dashing their hopes.
Solid Gold Z (Stakkato Gold x Calvin Z), the 7-year-old World Champion last year over the same track, was as motivated as his rider to achieve the double. We know how fast the pair can be... but they were doing too much and not only did they knock down the pole, but the stand also; it was over for them too. Christian Ahlmann slowed down.
There were only two combinations left and Dutchman Rob Heiligers decided not to take any risks. A smart option as he was the first to bring his horse back to the stables with a double clear round. Cassius Clay VDV Z (Calvino Z x Wolfgang) took the lead with a clear round in 50.82 second.
Justine Tebbel knew that if she was faster and went clear, then she'd win... but she failed at the entry to the double with Lycon (Light On x Contender). Such a shame!
The Dutchman won his bet: "I've only had this horse in my stables since April. The horse had essentially only competed in 140 and six bar events. His owner, who's also his breeder, asked me to help him progress further in international competitions. I had my first CSI at the three-star Eindhoven event where we took third place in the derby. He had jumped beautifully, and it was then that I thought, he's a machine! He may not be the fastest, but he's a horse with all the power you need, and he's easy to ride in a completely normal bit, it's so nice! A course like today, where it's big and difficult with only a few clears, that's perfect for us. I came here hoping to go double clear, but had there been 20 jump-off riders, I would've acted the same way. I might have gone a little bit faster... but I would have aimed for the double clear above all. The riders ahead of me had made mistakes and I know that my horse isn't fast, so I really just had to stay calm. I was hoping to be on the podium before the jump-off... and then I was hoping to win. On course, I took out a stride in the first two lines because my horse was wasting time everywhere. He has so much power that he loses time over the obstacles. From there, I kept the rhythm so that we made the time and went clear.
"He's a stallion who covers a few mares for his owner each year in addition to about fifteen outdoor mares in our region, near Eindhoven. It's been a good weekend for me as I also qualified a six-year-old for Sunday's final. Honestly, this victory is probably the best for me. I mainly ride young horses so such a victory is magnificent. At the beginning of the year, I had two good 9-year-olds, but one has just been sold to Jeroen Dubbeldam... so for now I'll continue on with this horse. His owner has already received many offers for him but he prefers to enjoy him by coming to see him at his competitions, so we'll be able to continue to enjoy him."