Cashpaid J&F, a story of encounters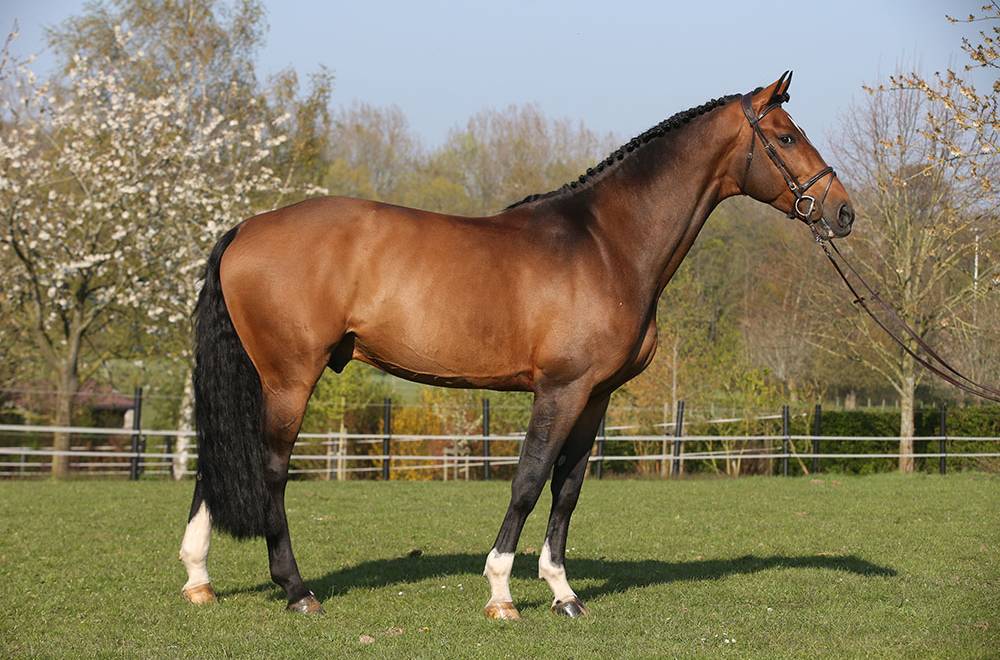 28 June 2019
7-year-old World Championship finalist Cashpaid J&F Z (Casall x Chicago I Z x Concerto II), is the full brother of the stallion Cordial who now competes in France under the saddle of Mégane Moissonnier. Owned by Haras des Rosiers, Cashpaid has been ridden by Nathan Budd since he was young and this year, he took second place in his very first international Grand Prix in Cannes at only 8 years old. All great reasons to discover this flamboyant stallion.
Meeting with his owner and his rider.
How did you discover Cashpaid?
Herik Duran: "At the beginning, I went to Joris van Dijck to check out a three-year-old. We jumped him, he was nice, but Joris also had 8 foals. The foals were let loose in the arena to jump a cross-rail. They had just come in from the field. One of them jumped and caught my attention. I went and looked at the foal, but I didn't say anything. They all jumped a second cross-rail and he jumped the same way again. So I said, "Okay, is this foal for sale?" without asking how he was bred; Fleur Bussy said yes and told me his breeding afterwards... so I bought the foal! The problem was that I absolutely didn't want to buy a one-year-old colt foal. So, I had to call my wife and say, "Look, all's well, I saw the three-year-old, I bought him... but I also saw a one-year-old colt... and i think you should buy him. I couldn't do anything else. "In the end, the three-year-old didn't pass the veterinary check... and I went home with the foal. It's a funny story, actually, a foolish story!"

Cashpaid J&F with his rider Nathan Budd and his owner, Herik Duran.
When did you start thinking that he was the star of the stable?
H.D.: "I like him a lot. We didn't show him at three or four because we wanted to see how he jumped first. Then, even as 5-year-old, he wasn't bad... but even though I liked him, I wasn't just going to breed him to all of my mares. We waited a little while to see how he was progressing, and it was only at the age of 6 that he met our mares, not before."

The Holsteiner Cashpaid J&F at his sBs studbook 3-year-old approval
However, his popularity has risen quite quickly.
H.D.: "Yes, it has been hard to resist selling him sometimes. In Lanaken, when he was 5 years old, we received some nice offers, and Joris de Brabander called me one Saturday and said "I'd like to see you". So we met the next morning and Joris told me: "Look, I've seen videos of your horse, he's really good. You can't sell him! I know you must have a lot of offers, and you'll get some more, but you can't sell him or you'll regret it later, even if you sell him for a lot of money. He asked me, "Do you need a bigger car? "No," do you need a bigger house or a second one?" No, I agreed with him, this is my passion. So he gave me the names of five breeders who sold their stallions and regretted it - one even committed suicide - the other had trouble with the authorities over tax issues. And he told me lots of little stories of a related stallion. It's really nice to have someone like that come to you, it's wonderful. While others are trying to rip you off; he came to me and said, "you can't sell your horse, he's beautiful, he's interesting. In fact, this horse is above all, a magnificent adventure worth sharing."
Cashpaid at the Lanaken World Championship, at 5 years old
Does keeping the horse put pressure on your management of him?
H.D.: "No. From the moment we decided to keep him, we decided that whatever he needs, he gets. He's still a pleasure to have around. We share when things are going well... but we also share when things aren't going so well. That's the sport. He's very cheerful, I really like the foals he throws. One day, François Leiser, Carlina's former owner told me "The hardest thing isn't getting to the Olympic Games, it's refusing all the offers you're going to get before you get there." And he's right, that's absolutely true. There are also people who don't understand why you won't sell him. Sometimes people come to you and act like you have no choice but to say yes!"
Cashpaid at the 6-year-old World Championship
Is the hardest part managing his breeding career or his sporting career?
H.D.: "We can't really say we've managed his breeding career. We stored frozen semen straws and now, whoever wants it can have it, whoever doesn't want it, doesn't ask. Personally, I use the stallions I like. Last year, we mismanaged him a bit because we didn't compete him until June. We didn't want to participate in the stallion competition, and I think that if you really want to sell breeding's you have to go. And June is too late to take him out. Only a few people have actually seen him, but I have no regrets. We've had competitions where he couldn't come with Cadix, and he still had a very nice 7-year-old season... and I don't want to pressure myself to keep him jumping well. I think it's important to be well aware that, even though we're having fun and progressing, it must remain a pleasure, even those more difficult moments that I've shared with Nathan."

Cashpaid, unfortunate finalist of the 2018 7-year-old World Championship
Do you have precise goals for the horse?
H.D.: "No, the 8-year-old year is still a development year, a year of growth. He's very pleasant, very kind, he has a good temperament and therefore he's a nice horse to take care of."
As a breeder, what do you like about this horse?
H.D.: "He has a lot of quality and sometimes I think that when I want to find another stallion, I'll have trouble finding something better or with the same qualities. I hope he will pass on his careful hind-end and his strength. He has foals with fairly strong backs and passes on a lot of blood along with size and class, a well-set neck and a refined head. We've owned his dam since last year and I've noticed some similarities with her son. As Joris de Brabander said during the stallion presentation at his place - he has been distributing his semen this year - he's a Casall without all of the faults of the Casall's. He's totally correct. We've had 6 or 7 Casall's here, and often they're quite shy horses that don't have much hindquarter. Now, there are more good Casall's, I've seen videos of 2-3 Casall's jumping beautifully."
What feeling did he give you when you rode him for the first time?
Nathan Budd: "He had something. I've had the chance to ride some good horses so far in my life, like Quabri de l'Ile, Cornet d'Amour and other very good horses... and I immediately felt that Cashpaid had that class that top-level horses have. He had the canter and a presence that are quite difficult to describe when you've never ridden a top-level horse before. I could feel it when riding horses like Cornet d'Amour or Venezia d'Ecaussines, horses with the quality of canter and strength, who are at the highest level today. You feel like they have something more than other horses. He has always had an exceptional canter and has always moved in an impressive way."
When a horse shows such quality at such a young age, is it difficult not to rush them?
N.B.: "You don't just wait because that's not how you develop. There's always basic dressage work - that is very important. I think we have to think about the horse himself and not about deadlines and certainly not about some peoples' expectations. We've always tried to base our training programs on the individual horse, with the intention of not rushing their training. Sometimes it has taken time, sometimes it has forced us to accept more disappointing results than expected, but it was a case of one step back to get a two steps forward, in the weeks or months to come. Now, he's 8 years old. This is an age when you start to take young horses out but they're not ready to do bigger events... even if the ability is there, and he responds well to my aids, and everything is pushing you to let him compete in this kind of event. It's necessary to give them time at this age, to finish growing properly, to let them mature a little more so as not to rush them, so that they can shine over time... even though, with a horse like this, waiting is so difficult sometimes. When you feel a horse of such quality underneath you, you want to jump bigger events so much. We mustn't give in to that because it's really important for the future."
Is waiting the most difficult thing or is it the external pressure?
N.B.: "You can't say that waiting is 'difficult', you just sometimes wish it would go a little faster. External pressure is relative. I have the opportunity to experience a lot of things with my owner. We both know the sport, we know that they're still horses, that we're still humans, too. Sometimes they can have off days, and so can we. He had a very good season in 2018 and we were all very happy. I try not to think about the external pressure because I know that when you have a horse like that, everyone looks at him and talks about him, but it's such a pleasure to ride him in every event, and that pleasure reduces the pressure. I ride him for the history of the Haras des Rosiers and not for others. I'm happy to see the horse progressing, the Haras evolving, and that's more important than what others say or think. I know that the horse is good, so I just try not to think about the opinions of people who say or think things with a certain amount of jealousy or who just want things not to work for you."
Did you have to choose between his breeding career where breeders always want a part of the dream, and a top-level riding career?
N.B.: "Yes, I realize that there are many breeders who don't know him yet and when I talk about his 8-year-old program, I realize that people would like to see him taking on bigger challenges but I don't think we should give in to this temptation. We know that the horse is good, we know him. We know that more than anyone else because we're around him every day at home, we work with him, we jump him. People may be waiting to see him in bigger events, but I'm sure he'll do it and if not this year, maybe next year. He'll do it when he's ready and it'll be long-lasting."