Cascol Z, the new 7-year-old Belgian Champion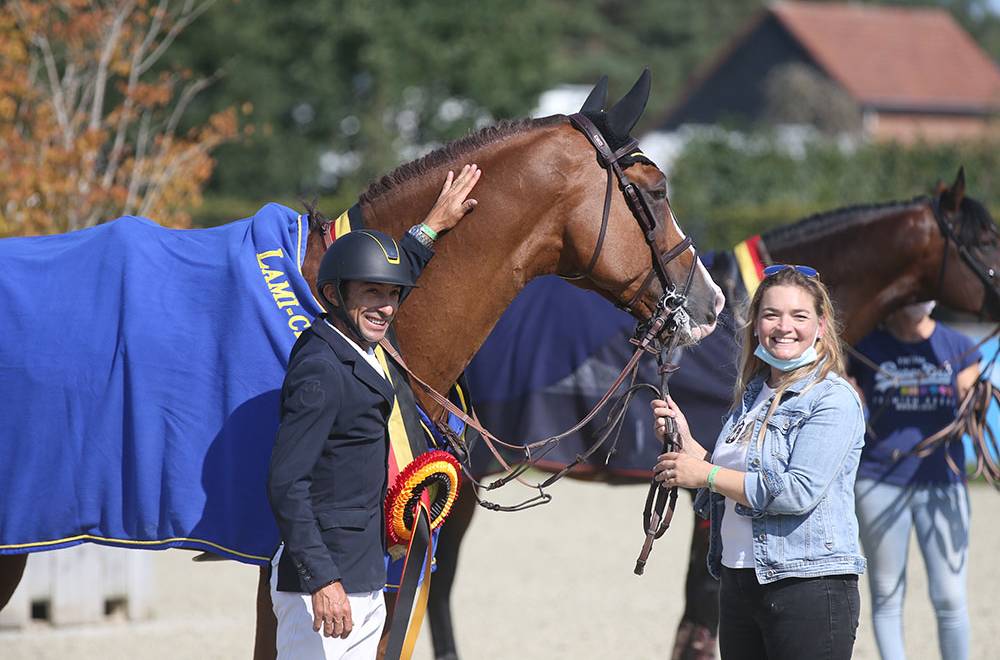 16 September 2020
It was a tricky final, even without a rail-ditch-rail jump, but it was technical all the same and there were some rather high scores.
Twelve combinations were penalized with a rail, including a certain Lionnel Collard Bovy, who is back from Argentina at the age of 59. He already had a great weekend last week with the 5th final place of his pupil, Charlotte Philippe, in the Belgian Championship in Lanaken, then a silver medal in the Belgian Championship for 5-year-olds the next day in Lier with Toucourt du Bois Madame Z (Toulon x Contender). This week, he was again close to the top with Havane GP du Bois Madame (Conterno Grande x Landucci).
In the end, only five combinations managed to qualify for the jump-off and none had any penalty time faults.
Manuel Thiry was the first to start in this jump-off as he also did in the 6-year-old Championship. The young man didn't miss his mark at these championships, ending up with 3 finalists out of 4 starters, especially as Vivolenska (Vivant vd Heffinck x Cornet Obolensky) has performed more than well during this final. Unfortunately, her lack of experience and her starting position didn't help them. From the second obstacle, the mare was surprised by the lively pace and risk-taking, so Vivolenska took a detour and it was game over! It was a pity because it was the last course under the ST Stables' colors, both for the rider and the mare since the latter had just been acquired by Karel Cox during the Championships.
"I can only be very happy with Vivolenska's performance. She's a mare with no experience. She came to us three months ago and we started her at the 1.10m level. Before the championship, we had only done two 1.30m courses with her. Here, she jumped magnificently in the qualifiers before performing impressively in the final. She is a mare with a golden mind and incredible respect for obstacles. In addition to the Championship, she was test ridden after the two qualifiers and passed the veterinary check on Saturday! That was a lot for her. In the jump-off there weren't many candidates and I had gone in with the idea of doing a quick jump-off but without taking too many risks either... but the mare was just too tired. It's a shame but how could I blame her after all she did? Of course, I was disappointed at the time... but I have more regrets about the 6YO Championship. I was unlucky to have to start in first place in the jump-off in both categories, but I had high hopes of being able to win the double with Liza. I really think she is an exceptional mare who has been ultra-consistent all season. I think I tried to give the best of myself as always, without putting more pressure on myself than usual, but maybe I put a little more pressure on myself with her because I thought she had all the ability to achieve this double. Still, I can only thank Steve Tinti for the time I spent with him. I arrived with not much experience, he believed in me, he gave me my chance and I really want to thank him for everything he allowed me to achieve. I really only want to remember the positive aspects of this adventure," said Manuel Thiry.
As usual, Dayro Arroyave didn't hesitate. In the saddle on the Zangersheide stallion Cascol Z (Casall x Calvaro Z), the Colombian rider remained calm and turned in a very nice jump-off round to put pressure on his pursuers without overstating it. Contract fulfilled with this clear round in 38.65 seconds.
Jeroen Appelen and the powerful Nero de Sémilly had two rails (Diamond de Sémilly x Lord Z); so they won't make it to the podium.
There were still some serious candidates to come, but Gilles Thomas also came out with 4 faults and was slower with Carrement J&F Champblanc (Casalito x Cassini).
"He's a horse that only came to us three months ago. He belongs to my cousin Joris van Dijck, like many others before him. It's great that this collaboration can continue today with Gilles. With Carrement and Comdero, I think we really have two great horses. Carrement is a great AES-approved sport horse, but he hasn't covered much. Comdero is a beautiful horse, truly built like a stallion with very good bloodlines and an aptitude for the job. I think that both horses have a lot of ability and quality to do great in sport. I am however quite surprised that during this Championship we have seen so few stallions. People surely think that by hiding, they will be able to sire more, but obviously, it won't last! A good stallion must above all be a good sport horse! Yesterday, I heard a lot of people say that the final was too big. I disagree, it's a Belgian Championship. It should help us to be able to position ourselves in our work. Yesterday the 1.45m course was tricky and I think Eugène Mathy did a very good job. Of course, it didn't suit me, I came with two horses who had almost no experience so of course it was difficult for them... but they learned a lot during this weekend. The horses arrived at my place a little late... but the course designer is not to blame, it's our fault. For a championship like this, you need horses with a lot of quality and I'm happy because they showed that they have that and that bodes well for the future. Now, they are going to go back and do some courses at the 1.35m level and then alternate between 1.35m and 1.40m all Winter long to be ready for next year," explained Marc van Dijck, the man at the heart of this new wonderful family story, as he also trains his nephew on his cousin's horses.
There was only one combination left to start. Dieter Vermeiren rode one of the most impressive horses of this final, the Zangersheide-approved stallion, Etoile vh Neerheide Z (Emerald van't Ruytershof x Quannan R), out of the Obourg line. The pair preferred to play it careful and achieved a clear round in 39.27 seconds, securing the silver medal.
"I had seen that the competitors before me had made some mistakes. So I wanted to have a clean round but above all to make sure that we were clear of course. I'm really happy with Etoile's behavior during these Championships because it was difficult and he did magnificently well. I didn't hang around at the jump-off, but I didn't want to spoil the great previous rounds we'd had either. I've been riding him since he was 5 years old. I already knew him before I was asked to ride him, and I accepted right away. Since then, he has always confirmed what I thought of him. I think he's really a horse that's made for five-star Grand Prix events! I would obviously like it to be with me. I think the owner and myself have a very good connection. With Etoile, we have a horse around which we can build a stable so we can dream a bit about that, even though we know that in the horse world, things can change very quickly. For my part, I'm 21 and this is my last year as a young rider. I don't know the exact figures, but this season Etoile has been very successful. I think that bodes well for the future," Dieter explained.
It's another great title for Colombian rider Dayro Arroyave thanks to Zangersheide's stallion Cascol Z: "I'm really happy. It's a victory that really feels really good. I can only thank Judy-Ann Melchior for entrusting me with such good horses. It took a long time before he was really with me, but now, we are really starting to build a relationship together. He's a horse that gets a lot of clear rounds and I'm really happy with him. I rode him at age five in the World Championships, a little bit unexpectedly, and we were finalists. Then Judy-Ann entrusted him to me and he's been with me for a year now. He just went to the breeding shed for a month and a half. What's fantastic is that even when he comes back from breeding, he's the same horse. He is immediately focused on his work. I love this horse. Nowadays, in equestrian sport, it's becoming more and more difficult to find horses that allow us to stay at the top level. Next year, Cascol will be 8 years old and if Judy-Ann will let me keep him for a while, I think I will really have fun with him, especially since I have other horses that can go along with him to the higher levels. Today, there weren't many clear rounds so I preferred to have a clear jump-off round without going too fast. Considering the people who still had to ride after me, I didn't think I had won at all when I left the arena... but it paid off," said the Colombian rider with his legendary smile.