Cartoon Tame now being ridden by Eric Lamaze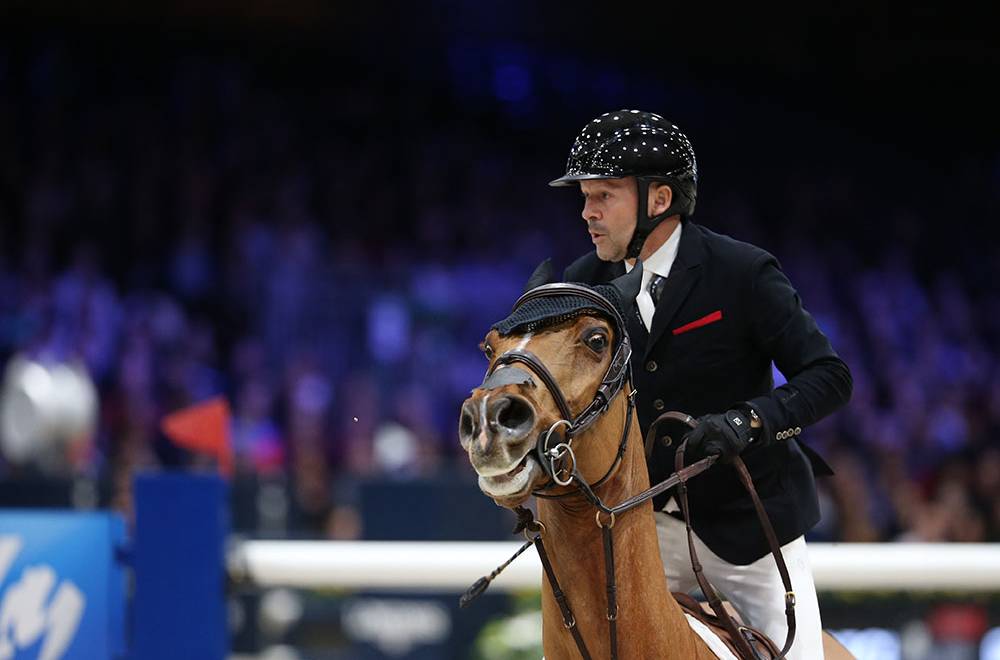 11 July 2020
At the beginning of this week, Eric Lamaze resumed competition at the Opglabeek CSI2* where the Grand Prix was won in the rain by Dominique Hendrickx on Vintadge de la Roque (Kannan), ahead of Pieter Clemens on Icarus (Querlybet Hero). The Canadian was making his debut there with his Olympic hope, Thank God van T&L (Toulon), with whom he had a clean round for their first Grand Prix, just penalized by two points for going over the time.
But the SBS stallion was not the only one to make his debut with the Canadian, who also made his debut with the Selle Français gelding Cartoon Tame (Conrad de Hus x Quidam de Revel). At 8 years old, he is out of a maternal half-sister of Nausica and Parenthèse Tame who both competed at Grand Prix level. This is also the Panama & Quebec Tame line.
"I presented Cartoon for selection when he was three years old but, in the end, I didn't take him to the final, even though he had qualified, because I didn't think he was ready. At 4 years old, he finished 5th in the championship in Fontainebleau and was approved. He had another great season at 5 years old, which was his only breeding year. We also have two very good two-year-olds from that breeding season in the stable. But at the beginning of his 6th year, we decided to entrust him to Christian Hermon, and he asked us to castrate him because, even though he was nice, he was very playful and regularly kicked out between the obstacles. However, once gelded, we didn't have the same horse anymore; he was very disappointing at the beginning of the season, and even though he improved, he didn't perform as he used to. In previous years, he had a very impressive hind leg; so we thought we were wrong about him. We decided to sell him at the end of his 6-year-old year," his breeder, Denis Brohier, explains very humbly. "Nevertheless, the following year, he started to find his feet under Jeroen Zwartjes' saddle... then he was sold again, and we lost track of him for a bit.
Then, one day, Benjamin Gimer, who was Old Chap Tame's groom at Eugénie Angot's, sent us a video saying that he had a good Tame in his stables again! He had just been bought by a young rider, Claire McKean, with whom he did very well this Winter in Wellington, notably being the only 7-year-old of the event, and moreover, going clear in the 1.45m Grand Prix. It didn't take much more to convince Eric Lamaze to have him bought for him by investors. He says of him that he is a little star... we hope that they will have a great career and that it will be great promotion for our breeding program with one more high level "Tame". We hope that we will be able to see him in competition soon.