Cartaro, the Haras des Vergers' pearl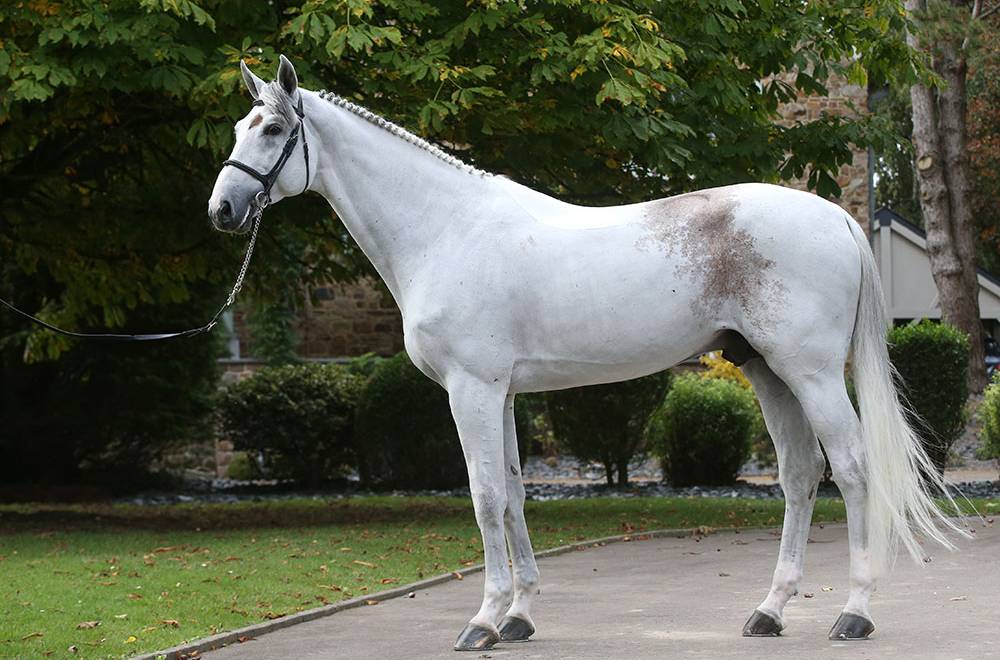 16 October 2019
In Lanaken, at the end of September, the 9-year-old stallion Cartaro (Carinue x Chacco Blue x Balou du Rouet) was the first to start in the Sires of the World event. He achieved a 4-fault round with Cindy van der Straeten, turning in a flamboyant performance.
Coming from the same line as the stallion Landgold , who competed at the highest level under the saddles of Katharina Offel and Grégory Wathelet, he has a brother, San Chano (Sandro Boy), who also competes at the 1.50m level, and several maternal brothers and sisters are also competing from 1.50m to Grand Prix 1.60m, including Toulonia (Toulon), who competes at the highest level in Mexico.
That was all it took to convince the SBS jury to give him their approval based on performance.
"I saw Cartaro for the first time at the end of his 6-year-old year. It was a little while after the Bundeschampionat. I had a 104°F fever, so I couldn't ride properly. I jumped him over five jumps that were over 1m and said, I'm buying him! He was so amazing. Paul Schockemoehle told me, "No, you have to try him again" but I said right away that I was taking him. Honestly, I never buy 6-year-olds. I tend to buy them as foals or sometimes from a sale, like Balance's brother, and I buy stallions even less so. We already have 3-4 broodmares here, who give us enough young horses."
So why him?
"It's hard to say, but it's like he's the total package. He had the balance, the temperament and respect. He makes it feel like you're jumping the moon, even when it's just a cross-rail, and nowadays, he does the same over the big jumps. He has everything that the horses I love have: he is super sensitive with a lot of blood, but at the same time he's confident. All you have to do is to manage him properly. We had to take our time with him, because every time he moved up a level, he would tend to hang too high above the obstacles. He never scared himself, but I felt like I wasn't able to tell him "let's go". I'm used to riding hot horses without too much leg, but with him, it's different. As a result, I'd take a higher course and drop it down a little. By doing that, we were able to pass the 1.25m mark, then the 1.30m, 1.40m and the 1.45m mark, I followed the same procedure each time. Everything has been very progressive. As soon as he felt comfortable, we felt it, but as soon as he got worried, he showed us by jumping and almost doing a handstand on landing because he had jumped so high. It took a while and I must admit, I had my doubts too. Never about the horse, but about my own ability to take him to the top level. I don't consider myself a world-class rider, even though I've competed in some five-star events in recent seasons. As a result, I had already spoken to two very good riders about him because he was the first horse I had considered entrusting to someone if I couldn't get past this issue with him as I didn't want him to miss out on a competitive career; I'm absolutely convinced that he has everything that it takes and that he can do it all. It's obviously a difficult decision to make when you're trying to compete at a good level yourself, but you also have to remain realistic about your own abilities and that of the horse. We've just done three 1.50m events which were very positive so obviously as of right now, I'll keep him as I really enjoy riding him. It took us a while, but I've managed to get him to where I want him, and I hope we'll continue on. He's a very sensitive horse... but he's also very strong, and I think we need to be able to reassure him; I hope that I can live up to his talent. I put enormous pressure on myself when I ride him because I have so much respect for his ability, especially since he has such a good character that I know he will always get me to the other side of the obstacle, no matter what I ask of him. With Balance, it was a kind of the same. He was such a sensitive and respectful horse that I had to be equal to such a horse. We as riders always want to do for them what they do for us. It's sometimes a little less worrying with other horses because we know that if we make a mistake, we'll definitely have a rail... but it won't call everything into question because it's not very serious... neither for them, nor for us."
9 years old and showing great promise!
"In addition to Lanaken, Cartaro jumped very well at the Valkenswaard Global Champions Tour and in London. Now, the 1.45m-1.50m events are at cruising speed. You can see that 1.50m is no problem for him. I think he's still more of an outdoor horse. Riding him on small tracks is very physically demanding for me."
How is it managing a stallion?
"Managing a stallion is something I've never done before. I've had stallions like Clapton and Sherman Sitte, but we've used them exclusively for ourselves. In this scenario, there are many demands on the horse. Breeding is a rewarding thing, it's also part of the result of the work we've put in, even though that wasn't my primary goal, but it's also a great experience. This will also allow us to see other foals from him that won't all come from the Haras des Vergers. At first, I thought it was nice that he was admitted to Germany, because it allowed me to use him over my own mares if I wanted to, but I hadn't planned on marketing him at all. Surprisingly enough, even though he hadn't done much since his first Global Champions Tour last year, there were a lot of people talking about him right away. Honestly, I hadn't even looked at the line when I bought him, I just saw that the dam was by Chacco Blue and all the Chacco Blue's I've had have been brave, so I said, "that's good". I have four Chacco Blue's, they're all a little different, but they all do their part and we have found common characteristics amongst them. Cartaro is a distinctive horse, he's a bit like Lucky Luke's horse with brown spots everywhere. He is original and beautiful with a jumping style that's both powerful and very flexible through his body, while being atypical. When you're on him, you sometimes see his forelegs pass by, because instead of putting them under him, you sometimes get the impression over oxers that his forelegs pass in front of him, but when you watch the video, that's not what he's doing at all! His suppleness and tone make him a really special horse. He concentrates just a little more when the jumps are higher, but he gives you the same feeling whether he's jumping a cross-rail or a big obstacle. With our breeding program, I've found that he's a horse that's rather easy to breed to because he's well put together. He's a beautiful, shorter type and he has so much about him that I like and that I'd like to sell on, because we don't have the space to house 36 Ferrari's!"
Catch Me Des Vergers (Cartaro & former Grand Prix mare Easy Going)
Cartoon Des Vergers (Cartaro & international Fa-Belle van't Roosakker), 1 year old