Carly Anthony Keeps Winning on the West Coast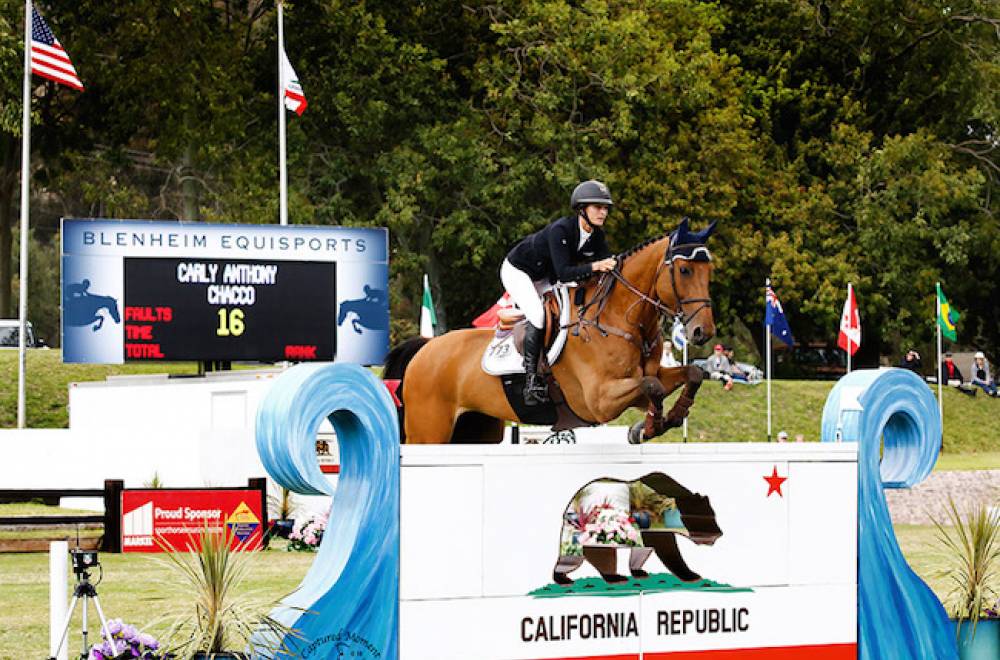 17 May 2018
A Grand Return to California:
Carly Anthony Keeps Winning on the West Coast If you're looking to make a name for yourself, placing, and winning, in a few big grand prix classes certainly helps.

For Carly Anthony, it's the best possible way to start her spring season on the West Coast of the USA. She's originally from the Seattle, Washington area, and grew up under the tutelage of her mother, respected professional Cara Anthony. West Coasters from Washington to Southern California follow the strong national circuit between Del Mar, San Juan Capistrano, and the Los Angeles area. It's where Carly cut her teeth as a young rider.

So when she won the $60,000 Grand Prix of California on May 12, 2018 in Del Mar, she wasn't an unknown face. But with that result, and a second place in the previous week's $100,000 Grand Prix of Del Mar, both aboard sale horses owned by Neil Jones, Carly Anthony is showing that she's come back to the region as a strong professional after spending the last decade working around the world.

Anthony won the Grand Prix of California on a time fault, an unusual result but one that she welcomed. (Richard Spooner finished just behind her in 2nd place on three time faults.) She was riding Chacco (Chacco Blue), a 12-year-old Oldenburg that Anthony began competing over the winter in Wellington, Florida.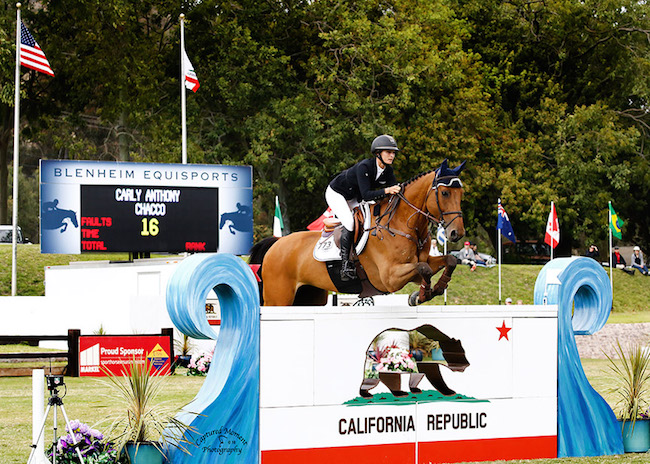 ''When you walk into the ring with Chacco, he wants to do a good job,'' Anthony says of the confidence building horse (pictured above.) ''He's not the fastest but he gives you that competitive energy; he wants to do a good job, he's super careful, and he's going to do whatever it takes to clear the fence.''

Her results with Clochard (Kashmir Van Schuttershof) are even stronger; in addition to 2nd place in the Grand Prix of California, they won a CSI3* Grand Prix at The Oaks in March. ''Clochard is a small, very American style horse, which I enjoy so much,'' she describes. ''It's like driving a Formula One car, the minute you walk into the ring you have this feeling that you're going to win every class.''

Over the winter season, Anthony teamed up with Neil Jones Equestrian. The gregarious European horse dealer runs a large business on both coasts of the USA, and has helped give riders such as Lorenzo De Luca and Mavis Spencer, support early on in their careers. ''Neil has had quite a bit of success, so that's what I was looking at. I really enjoy riding for him. We all get on quite well, so it makes everybody's jobs a bit easier.'' Anthony says.

She spent last year based in Madrid, and before that worked for Artisan Farms, Torrey Pines Stables, and Poden Farms in Wellington, Belgium, and England. ''I started my own business in Madrid, and just decided that if I was going to take this seriously, which is what I've wanted to do for as long as I can remember, that maybe it was better that I come back and get it going in America.''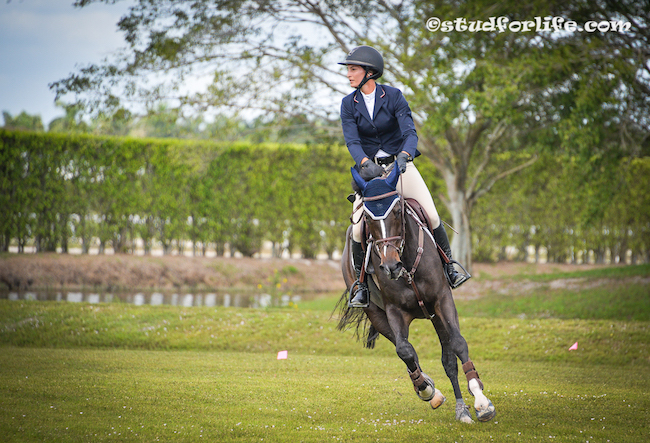 Anthony was the main rider for Jones over the winter in Wellington (seen above,) while fellow professional Natasha Traurig ran the business out in California. Now, they've teamed up for the spring, summer and fall seasons.

''It works well, Tasha is great, we have the same work ethic and mindset on business and horses, which is hard to find in this day and age,'' Anthony says. ''Being in California is nice. I feel like on the East Coast it's a much faster, higher energy, faster paced kind of thing. You don't really get time to sit down and enjoy watching a class and be part of the whole show. Here, that's really what they try to promote and I quite like that.''

Spending the winter showing at the CSI2* and CSI3* level in Wellington certainly set Anthony up well to be competitive in California, but she's been impressed by the level and prize money of California's nationally rated shows.

''The course designer for the Grand Prix of Del Mar was Leopoldo Palacios, and he's incredible,'' she says. ''The way he built was, I felt like, in preparation for Spruce Meadows. Whether you go to Florida or not, they have course designers in California that help prepare you for those bigger classes.

''There's a huge national circuit for the grand prix level here,'' she adds. ''It's unbelievable the amount of prize money: just last weekend the international two star at Old Salem, where you're riding against all these great riders, was $50,000. And here, at Del Mar it was a national grand prix for $60,000, and the week before that the grand prix was $100,000. The circuit here is overlooked a bit just because there aren't as many international shows. But I feel like they are starting to add them in a bit more, with new CSI ratings at The Oaks, and the new Sonoma show.''

It's a good place for Anthony to campaign the Neil Jones horses, which he sources as proven competitors, while developing her own, younger string. She earned a name for herself while working for Artisan Farm, with whom she developed Dublin, the superstar gelding that Kent Farrington now campaigns at the top level. ''I feel like that's what I'm very good at, bringing horses along like Dublin. That's my goal for the year, to get a group going to do investment horses,'' she says. It's a goal that she pairs with a positive outlook on life: ''The most important thing that I've learned is that you have to stay open to all the possibilities and no matter what, make the most of every day. Because of that, I've had a whole different outlook on a lot of things, and it's helped with my success. Having that mindset, staying open to all possibilities. Because you never know what's going to happen next.''