BWP Top Stallion Auction, a unique market place giving access to healthy and durable performance blood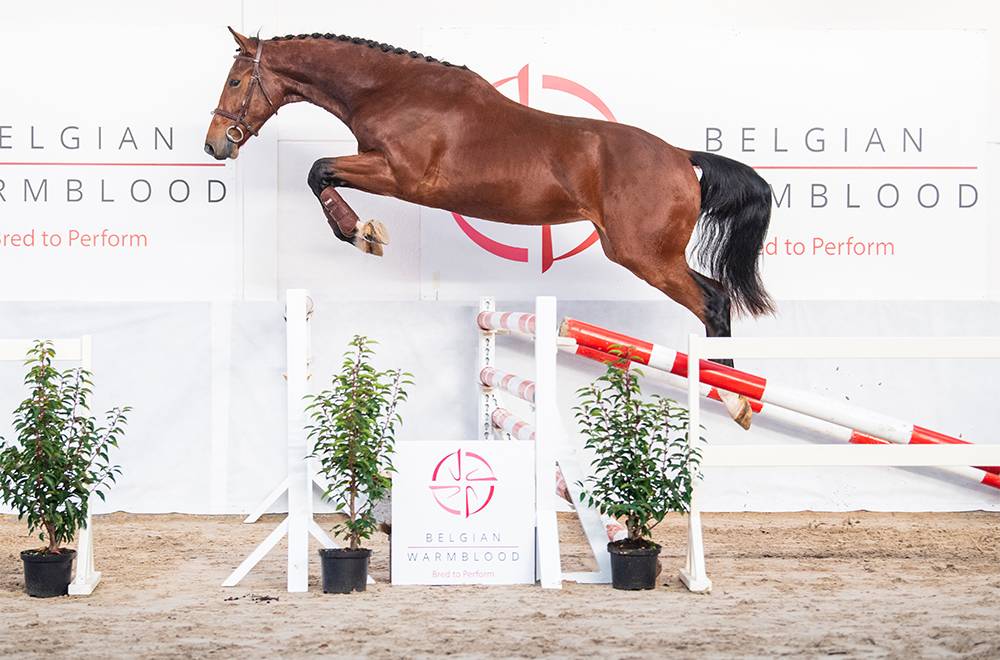 05 January 2020
On January 18th 2020 the "BWP Top Stallion Auction" will take place. The equestrian centre "Azelhof", located in Aarschotsesteenweg 201 in Lier, is the place to be to buy top stallions belonging to top dam lines. During the Rotterdam European Championship in 2019, Jos Verlooy and Igor won the individual bronze medal and made part of the golden Belgian team. In the beginning of December 2019, For Joy van 't Zorgvliet ended second in the five-star Paris Grand Prix, in partnership with Kevin Staut. A few days before Just A Gamble won the four-star Wellington Grand Prix. Under the saddle of Scott Brash, Hello M'Lady (ex-Gwindeline) claimed the victory in the five-star Verona world cup class in November 2019. Ridden by Niels Bruynseels, Gancia de Muze won the five-star Cannes and Wolvertem Grand Prix. In partnership with Kent Farrington, Gazelle Ter Elzen was crowned as the winner of the prestigious five-star Aachen Grand Prix. That's only a small list. There are many other BWP-registered showjumpers that are performing worldwide at the highest level.
It is not just a coincidence that BWP is playing a leading role as a supplier of top showjumpers. In the past, the BWP breeders imported the best genetic material and started to mix it in a smart way. In the BWP health has always been a top priority. The stallions who will be sold at the BWP Top Stallion Auction succeeded in the first phase of the BWP stallion approval, which warrants that they satisfied the severe veterinary examination. Moreover, the 20 candidates that are announced for the auction need to pass successfully the second day of the second phase in order to participate at the live auction.
You can find the complete collection on the BWP website, including videos, the pedigree and dam line information. If you consider to buy one or more stallions, please do not hesitate to contact the commercial advisors Sven Bols (+32 495 551 405) and Tom Van De Vijver (+32 476 442 185). If you have questions about the organisation and administration, then you can call Lieve De Greeff (+32 497 538 982). Veterinary advice kan be given on the spot in 'Azelhof', on Friday January 17th and Saturday morning January 18th, at the auction secretariat.
It is impossible to describe all announced auction stallions in this article. However, we would like to spotlight some of them, with the focus on the dam lines. The person who buys for instance Rio VD Withoeve, becomes the proud owner of a son of Untouchable out of a strong dam line. Untouchable carries the blood of the progenitors Hors La Loi II, Heartbreaker and Carthago and performed at international five-star level, in partnership with several riders. Ikela VD Withoeve, Rio's dam, produced for instance the showjumper Pipa VD Withoeve. Rio's dam line also produced the approved stallions Viktor and Grenoble van de Withoeve, as well as several international showjumpers, amongst them Kansas VD Withoeve (5*, Eduardo Alvarez Aznar), Kazan VD Withoeve (1m50, Sylvain Coeur) and Spike VD Withoeve who performs under the saddle of Grégory Wathelet at five-star level, including the 9th place at the Windsor Rolex GP.
Those who are in favour of a Holstein performance family crossed with top BWP blood need to watch Rolex du Genet. Maybe in the future he will make a name for himself as a Rolex-tournament winner or participant. He is sired by Matisse de Mariposa, a son of Diamant de Semilly who belongs via his dam to a family full of showjumpers out of the international 1m60 circuit. Rolex du Genet's dam, Zauberfee VI du Genet, makes part of the Holstein performance family 1947. Several international showjumpers belong to this family, such as Catalux (5*, Jenna Johansson), Blue Captain (5*, Douglas Lindelöw), Ramira (Maximilian Lill) and Sauvignon (Mathilde Cruchet). As a foal Rolex du Genet won the B-series of the colts, on the occasion of the 2017 Moerbeke foal championship.
Charming Boy SDW Z is also one of the stallions announced for the auction. He is a son of the showjumping phenomenon Comme Il Faut (by Cornet Obolensky, ex-Windows van het Costersveld). In partnership with Marcus Ehning, Comme Il Faut won in 2019 for instance in Hickstead and Chantilly and jumped masterly at the Rotterdam European Championship. Ehning and Comme Il Faut are selected to participate with the German team at the next Olympiad. Charming Boy SDW's dam, Hot And Spicy (°2013), jumps at 1m30 level, under the saddle of Marjan De Wachter. Hot And Spicy's dam, Orane du Noyer (by Diamant de Semilly), produced the international showjumpers Firefly and Gigolo. In the dam line we also meet the showjumper So Fun de la Roque (Romain Sottas and Jérôme Guéry), as well as several eventers, amongst them Idalgo, Pax du Pujolet, Quart, Ut, Fils and Clown du Placineau. Those eventers go back to Orane du Noyer's grandmother, Lucky Sally (by Baby Taine xx).
Thanks to Rido van den Aard one can get a half-brother to the international performers Ballerina van den Aard and Wonami van den Aard in his stable. Rido's sire, Naxcel V, collected in 2019 several top-10 placings at international showjumping classes for young horses, in partnership with the Austrian rider Gerfried Puck. Rido's dam, Quida van den Aard, produced several showjumpers, such as Wonami van den Aard (5*, Olivier Guillon), Ballerina van den Aard (1m50, Niels Fockaert) and Garfield van den Aard (1m40, Niels Fockaert). Several other showjumpers make part of this dam line, amongst them Hamlet, Galileo, Karida and Antigone van den Aard.
Several other stallions belong to a BWP performance family, such as Rakker van St Anneke (BWP dam line 7), Raspoetin van het Harteveld and Remus de Muze (BWP dam line 34), Ricardo VD Bokke (BWP dam line 19), Repetto van 't Hulsbos (BWP dam line 10) and Ruby D.C. (BWP dam line 20). There is also a wide variety of foreign proven performance families. You can discover the complete collection here.
If you are unable to attend the BWP Top Stallion Auction, the organisers offer you the opportunity to make a bid online. In that case you need to register yourself in advance via the link bwp.weauction.nl/register. Don't take a risk and do it today. The procedure is very well explained on the website, step by step.
Thanks to the BWP Top Stallion Auction everybody gets the unique chance to invest live and online in the performers of tomorrow. We are talking about healthy stallions who are carrying top performance blood. Strike while the iron is hot!