Bryan Balsiger in Vilamoura, Kent Farrington in Wellington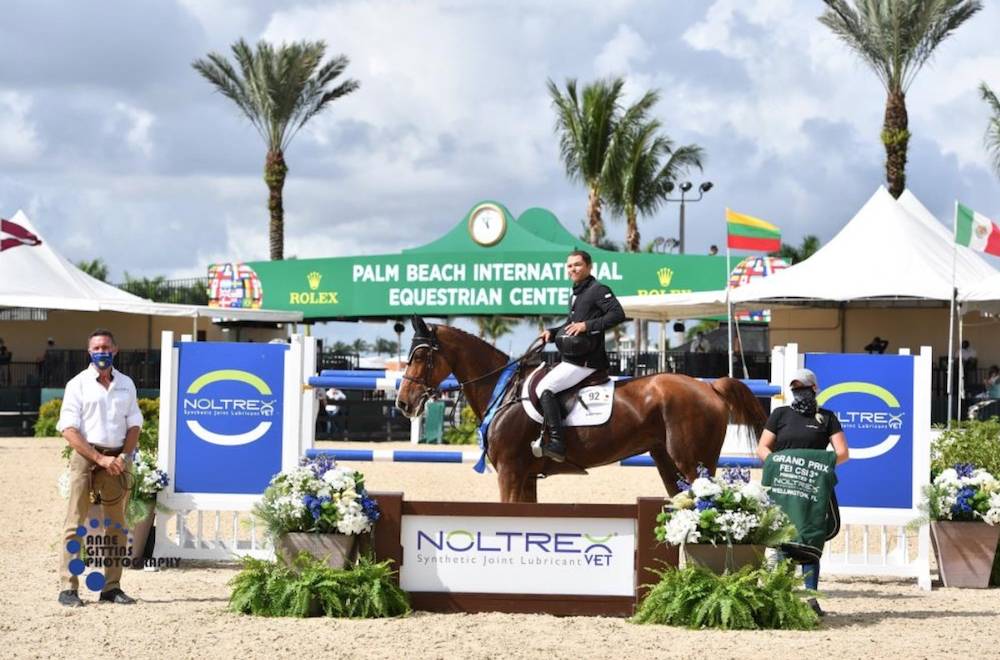 16 November 2020
A CSI4* in Vilamoura, CSI3* in Wellington, and several other CSIs in Europe; we take you on a tour of the weekend's winners.
Vilamoura CSI4*
The Vilamoura CSI4* Grand Prix was held on Friday and it has a nice starting line-up. The Nations Cup that took place this week (one of the only two on the European continent this season), attracted a nice range of riders. It was the youth that won, thanks to Bryan Balsiger. The Swiss prodigy managed to lower - by one hundredth of a second! - Luciana Diniz's time on Vertigo du Desert (Mylord Carthago). Bryan Balsiger, who rode Christiana Duguet's mare Twentytwo des Biches (Mylord Carthago), once again turned in a beautiful performance, after their notable 2nd place in the Gothenburg World Cup stage in February.
Third place went to Belgian rider François Mathy Junior and his faithful mount Uno de La Roque (Numero Uno). The leading trio were almost as quick as each other, stopping the clock in the same second! Of the 9 riders qualified for the jump-off, 7 achieved a double clear round.
In Tuesday's big event, we note Eduardo Alvarez Aznar's victory with his accomplice of 15 years, Rokfeller de Pleville Bois Margot (L'Arc de Triomphe). Piergiorgio Bucci also won a 1.50m event with Cochello (Casall).
Wellington CSI3*
There was no surprise in Wellington where the victory went to... Kent Farrington. The best American in the world rankings (7th) won with Kaprice van't Roosakker (Echo van't Spieveld), his Belgian diamond, having already been victorious in Tryon and having come 2nd twice in the Traverse City and Tryon GPs!
Second place also went to another fit pair: Brian Moggre and MTM Vivre le Reve (Ustinov). The podium was completed by Leslie Howard on Donna Speciale (Cavalier).
Kent Farrington didn't fail to thank the organizers: "I feel very grateful that our sport can continue despite this difficult period, and I take my hat off to all the organizers who continue to do their best to make the competition happen here in Wellington."
Opglabbeek CSI2*
At Sentower Park, Egyptian rider Abdel Saïd won the CSI2* Grand Prix with Arpège de Ru (Apache d'Adriers). There was good participation in this Grand Prix, since the podium was completed by Marlon Modolo Zanotelli with the stallion Charlie Harper (Comme Il Faut), and Lisa Nooren on Dienellie (Berlin).
Oliva CSI2*
They continued jumping for the 2nd week of the Oliva MET, where the victory in the CSI2* Grand Prix went to Belgian rider Koen Vereecke on Arioso du Bois (Rock'N Roll Semilly), coming in ahead of German rider David Will on Ted (Waranta), and Constant van Paesschen on Isidoor van de Helle (Canturo). "Next year, I hope to be able to take part at the CSI3* level and higher with Arioso. He's a great horse with a very strong mind," said the winner.
The Belgian was in good shape as he had already won in Friday's ranking event, this time with Donna Vd Windeweg Z (Diamant de Semilly). Second place went to Jérôme Guery and Diego (Verdi).
Gorla Minore CSI2*
Another victory went the way of the unbeatable Carlotta! Emanuele Gaudiano once again accompanied his daughter of Chaccomo to victory, this time in the Gorla Minore CSI2* Grand Prix. Swiss rider Alain Jufer secured a nice 2nd place, having bet on Dante MM (Diarado) for this event. It was the German Hans-Dieter Dreher who took 3rd place with Vestmalle des Cotis (Baloubet du Rouet).
Valencia CSI2*
The Belgian anthem also rang out in Valencia, where Bart Clarys won the CSI2* Grand Prix with Geste van de Vihta (VDL Zirocco Blue). Second place was secured by German rider Jörne Sprehe on Luna 1509 (Avian), and 3rd went to Guillaume Batillat on Come On Di Gisors (Tresor).
Featured photo: © Anne Gittins Photography