Online Elite Auction, discover the new Ekestrian catalog now!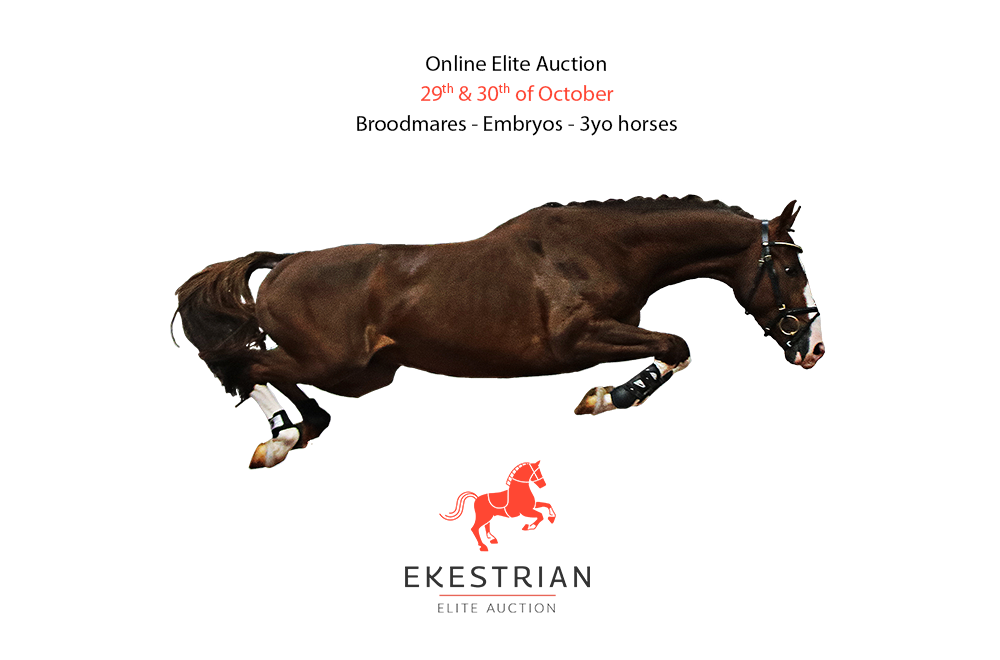 14 October 2019
Access the catalog here: www.ekestrian.com/en/enchere/20
After having highlighted the foals and embryos edition in September (see results below), Ekestrian is always looking towards the future. Discover at the auction on October 29th and 30th: 9 Selle Français broodmares in foal, 6 foals to be born in 2020, 3 frozen embryos and 5 horses of 3 years old.
Find the 5* lines of sport and breeding: Jumpy de Kreisker, Emerald, Usha van't Roosakker, Sophie du Chateau, Ueleme... associated with the best Sires and champions: For Pleasure, Chacco Blue, Heartbreaker, Mylord Carthago, Cornet Obolensky, Kannan, Tangelo vd Zuuthoeve, Comme Il Faut, etc.
Overview of the catalog:
- Superb broodmare in foal to Balou du Rouet: Symphony d'Euskadi, winner in CSI 1.40m and sister of Rhune d'Euskadi winner in CSIO5* 1.60m with Marie Demonte!
- Foal to be born in 2020, by Cornet Obolensky with Goya, direct daughter of the great Usha van't Roosakker!
- Frozen embryo ¾ brother/sister of the awesome Explosion W, by Chacco Blue x Heartbreaker x Baloubet du Rouet!
- 3 year-old stallion, full brother of Steve Guerdat's Olympic champion Nino des Buissonnets!
- Broodmare in foal, daughter of Chacco Blue and sister of the performer CSI5* 1.60m Tosca de l'Esques!
- Broodmare in foal to Emerald, Griotte Tame, sister of Quebec and Panama Tame performers CSI5* 1.60m, also sister of Eau de Tame Top Price Ekestrian 2017!
- Foal to be born out of the sister of Claire Z, Team Gold Medalist at the last European Championship!
- Frozen embryo unique brother/sister of the Grand Prix winner CSI5* 1.60m Ilex VP, by Comme Il Faut!
- 3 year-old mare sister of Quester de Virton CSI5* 1.60m and niece of MTF St Simeon, Grand Prix 1.60m, and Lothian des Hayettes CSI5* 1.60m with Eugénie Angot!
- Foal to be born by Chacco Blue x For Pleasure with a dam who ranked in CSI3* 1.45m classes!
... more from this autumn catalog on www.ekestrian.com!
The auction will be 100% online and will start on Tuesday, October 29th at 11am (French time) and will close lot by lot, minute by minute on Wednesday, October 30th at 9pm (French time).
Do not forget to create your account and / or update your contact details on the Ekestrian website to be able to access the catalog and bid the night of the auction: www.ekestrian.com/en/register
Information and price estimates from the Ekestrian team at +33.7.86.32.75.17 or +33.6.43.11.87.49 or [email protected].
Don't forget the DRESSAGE elite auction on the 15th and 16th of October!
Full catalog here: www.ekestrian.com/en/enchere/18
Success for the September auction of foals and embryos
Jumpy de Kreisker's damline is still highly sought after: a great battle for the filly by Mylord Carthago x Shirel de Kreisker (€ 19,000 exc-VAT, all fees included) hits the road to the USA together with the colt by Cornet Obolensky x Dourga de Kreisker (€ 12,000 exc-VAT, all fees included).
The filly by Heartbreaker out of Valentina van't Heike's full sister reaches € 60,000 exc-VAT, all fees included, and stays in Europe.
A remake of Admara 2's success story? Top auction for the frozen embryo full brother/sister of Admara 2, acquired for € 16,500 exc-VAT, all fees included, won by his former rider Emanuele Gaudiano!
Russia gets the very good Courcelle's blood with the filly by Casallo Z x Kashmir van't Schuttershof x Alme, out of the performer CSI3* 150 Troublante Courcelle.
The superb filly by United Touch with Carthina Z's full sister, Emerald's mother, is sold to Switzerland for € 18,000 exc-VAT, all fees included.
With 75% of the lots sold abroad, the Ekestrian lots are literally flying towards new horizons: Germany, Belgium, Great Britain were also at the rendezvous and acquire exceptional foals and embryos for future top sport achievements!
Thanks to all the buyers and breeders for their trust!