Brian Moggre secures his greatest victory in Sopot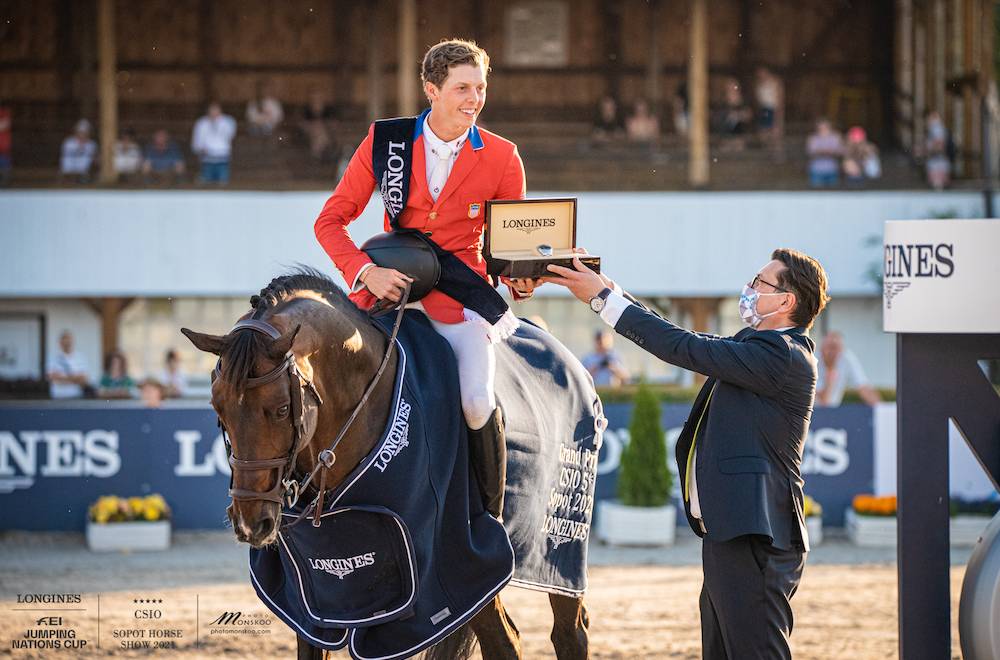 19 June 2021
This weekend, the European first division Nations Cup circuit was in Sopot, Poland! On Friday, the Grand Prix was held and we can say that the young Americans didn't waste the appointment and finished on top of the podium! Now, back to the Grand Prix.
It all started at 5pm on the Sopot racecourse with the young 22-year-old Japanese rider, Shogo Ogomori, who had the first to taste of the course designed by Polish course designer Szymon Tarant. There was no big score to note despite some difficulties such as at the double verticals placed at fence 10 with a plank on the second fence, followed by an oxer, with the whole combination often incurring faults.
The first clear round went to the Moroccan team pair of Ali Al Ahrach and USA de Riverland (Diamant de Semilly). It must be noted that this CSIO5* level Grand Prix is the first for this pair! American rider Lucy Deslauriers, who was in great shape in Wellington at the beginning of the season, followed the same path with her faithful mount Hester (Wandor van de Mispelaere). Brian Moggre also achieved the clear round with his good mount Balou du Reventon (Cornet Obolensky), right under the nose of the master Marcus Ehning. Adrienne Sternlicht didn't lose her way; she also qualified along with her two compatriots. In total, there were eight riders that went clear in this first round, but the first 13 riders in the provisional rankings such as Harry Charles, Laurent Goffinet and Antonio Alfonso, were able to end the competition on their initial scores.
First to go in the second round, Marcus Ehning and Pret A Tout (Hiram Chambertin) kept to their four first-round points for their final score. Further up the leaderboard, victory went to Brian Moggre and Balou du Reventon. This first-place finish signifies their first victory, even though they have been competing for less than a year together and... what a win in a CSIO5*! Brian was followed by his 22-year-old friend, Lucy Deslauriers. She also had a double clear round, but wasn't as fast, and Niels Bruynseels managed to join the young American riders on the third step of the podium with Ilusionata van't Meulenhof (Lord Z).
See you on Sunday for the Nations Cup where Belgium will defend its title!