Brazil wins from Madrid to Bourg-en-Bresse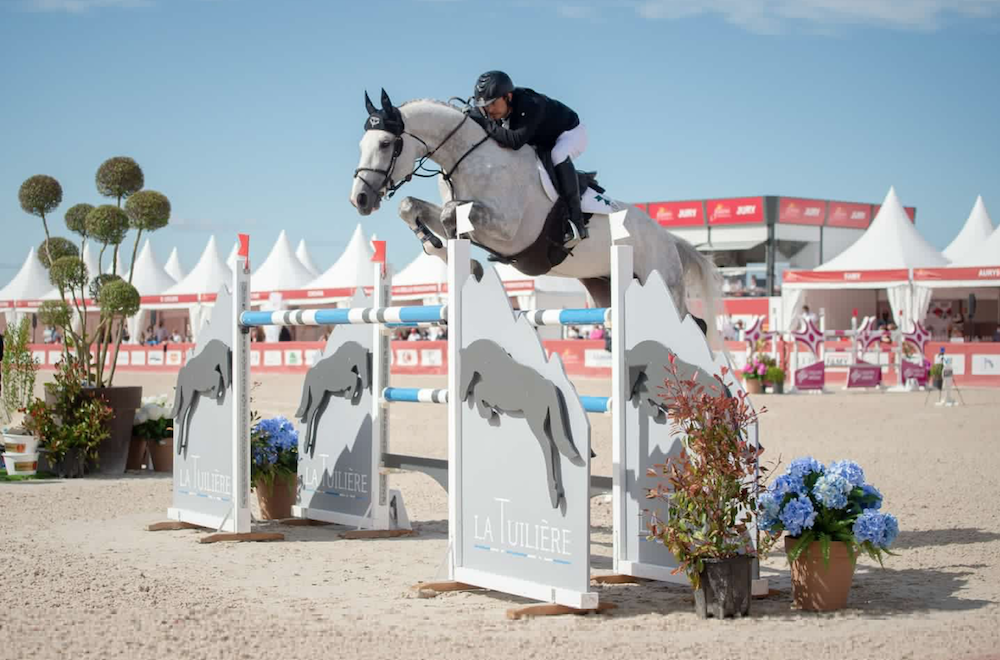 24 May 2021
The only 5* of the weekend was held in Madrid during the Global Champions Tour (read here), but a nice line-up of riders was in Bourg-en-Bresse for a CSI4*, and the World No. 1 also participated.
Madrid CSI5*
Marlon Modolo Zanotelli, the man of the moment, posted a beautiful victory in the big event on Sunday in Madrid. The Brazilian, who rode his Chacco Blue daughter, Obora's Chloé, came in ahead of Kevin Staut on Visconti du Telman (Toulon) and Marcus Ehning on his faithful mount Misanto Prêt-à-Tout (Hiram Chambertin), who is now 18 years old, but still in a dazzling form.
Bourg-en-Bresse CSI4*
It was also the Brazilian anthem which rang out in Bourg-en-Bresse. The combination of Bernardo Alves and El Torreo de Muze (Taran de la Pomme) achieved a new outstanding performance. In 2019, he won the Grand Prix of Rabat in a sensational way. This Sunday, May 23, he did it again by winning the tricky CSI4* Grand Prix in Bourg-en-Bresse. The jump-off was run between the only two riders to be penalized by one time point each, as no rider achieved a clear round. Brazilian rider Bernardo Alves and his son of Taran de la Pomme won the competition ahead of the Frenchman Laurent Goffinet on Atome des Etisses (Mylord Carthago). The Brazilian team, who came in number and was coached by the famous Philippe Guerdat, could be proud of this new promising result. Let's bet that this team will continue to make the news.
"As I was starting 4th, having been penalized by one point for being one hundredth of a second over the time limit, I went back to the box thinking that I might be ranked 10th. I finally got ready for the jump-off and my horse was amazing. I've been riding El Torreo since he was 7 years old and now he's 11. When he competed in his first CSI2*, he won. The same happened in his first 3*, then his first 4*! In two weeks, he will do his first 5* in St. Gallen..." explained the friendly winner.
The leading trio was completed by another Frenchman, Julien Anquetin, who was the fastest of the 4 fault rounds with Blood Diamond du Pont (Diamant de Semilly). The pair had already distinguished themselves during the first big event of the weekend by winning the 1.50m ahead of Pénélope Leprévost and Vancouver de Lanlore (Toulon). "Regarding this horse, it's difficult to have a better weekend," said Julien Anquetin. "It would obviously have been even better to achieve a clear round in the Grand Prix, but if I had been told that at the beginning of the weekend, I would have signed happily. Blood is in very good shape, he's really on point and if he touches a bar, it's my fault. We bought him as an eight-year-old. He made his debut in the 1.50m at the beginning of his ninth year, where he took part in Gothenburg's Grand Prix de la Ville. Then the Covid stopped everything. It's a pity for him, because it was a year where he should have gained experience. But he's coming to maturity this season. In this Grand Prix de Bourg, I don't think that the course designer Gregory Bodo made a mistake. In the course walk, it seemed feasible. In addition, we can see that there were a lot of 4 points and 8 points, but no heavy scores. I think that if we did the same Grand Prix today, there would be maybe ten clear rounds. The Bourg-en-Bresse competition is always an important event. As there are many participants, it is necessary to qualify for the Grand Prix. It is a good indication to know if we are ready for the rest of the season. It is also a reference for the chef d'équipe, who was present.
For the rest of my program, I will go to Grimaud and then to the Paris Eiffel Jumping. I'm lucky to have a solid string of horses, especially Cesus de Fougnard, a nine-year-old who is starting to jump Grands Prix. I would like to participate in a Nations Cup, like in Falsterbo for example. My season's objective is Aachen, it would be a dream to ride there, or Spruce Meadows. I think these are arenas that fit Blood well."
Julien Anquetin and Blood Diamond du Pont, third of the Grand Prix of © Jumping de Bourg-en-Bresse
The other rider in the spotlight this weekend was obviously Michel Robert. The French rider left Bourg-en-Bresse with two victories in major events (1.50m) with Emerette (Diarado).
New York – North Salem CSI3*
Who else but McLain Ward could win the 3* Grand Prix in North Salem? The American, riding his faithful mount HH Azur (Thunder van de Zuuthoeve), winner of the World Cup Final, won ahead of his compatriot Kathie Dinan on Brego R'n B (Namelus R). Canadian Mario Deslauriers completed the podium with Uris de la Roque (Capital). McLain Ward will compete in the Nations Cup in Rome this week alongside Jessica Springsteen, Laura Kraut and Kent Farrington.
Lexington CSI3*
In Lexington, the CSI3* Grand Prix victory went to New Zealand's Sharn Wordley with Verdini d'Houtveld Z (Verdi), ahead of Americans Alex Matz and Cashew CR (Cassini II) as well as Molly Ashe-Cawley and Adamo (Lupicor).
Opglabbeek CSI3*
In Belgium, British rider Emma Stoker won the 3* Grand Prix in Opglabbeek with Kontador VDM (Eldorado Vd Zeshoek). Second place went to the lovely Egyptian rider Abdel Said and Jumpy van de Hermitage (Toulon). The podium was completed by Eduardo Menezes on H5 Elvaro (Calvaro).
Gorla Minore CSI3*
God Save The Queen also rang out at the end of the CSI3* Grand Prix in Gorla Minore. The legendary William Funnell won this event with Equine America Billy Diamo (Cevin Z), a product of his breeding program. His compatriot Joseph Stockdale took third place with Equine America Cacharel (Cachas). Only the Brazilian Felipe Amaral squeezed in between them to secure second place with Germanico T (Numero Uno).
Peelbergen CSI2*
Although his children have often been in the limelight in recent weeks, it was Leon Thijssen who won this time in the CSI2* Grand Prix in Peelbergen with Faithlesse Mvdl (Ukato). Young mother Janika Sprunger, who is back on the competition circuit after the birth of her son, immediately achieved a good performance by taking second place in this Grand Prix on the generous Carlotta 276 (Cornet Obolensky). Wout-Jan van der Schanz took third place with A S Bombay (Diamant de Semilly).
Bonheiden CSI2*
The victory went to Jack Ansems in the CSI2* Grand Prix in Bonheiden. Together with his daughter of Zirocco Blue, Fliere Fluiter, the Dutchman beat the two Belgians, Bart Clarys on Geste van de Vihta (Zirocco Blue) and Cyril Cools on Grupo Prom Rahmannshof Before (Tenerife VDL).
Wellington, Heckfield CSI 2*
In Wellington (Great Britain!), it was unsurprisingly a Whitaker who won the 2* Grand Prix. James Whitaker (23 years old) was the fastest of the 17 jump-off combinations with Caloro Ex Z (Candillo Z). Irishman Anthony Condon took second place with Zira vh Kapelhof Z (Zurich), a mare owned by the Hales family, who owned the phenomenal Arko. The talented Harry Charles completed the podium with Aralyn Blue.
Featured photo: © Jumping de Bourg-en-Bresse