Brash wins in Valkenswaard and Germany win in Budapest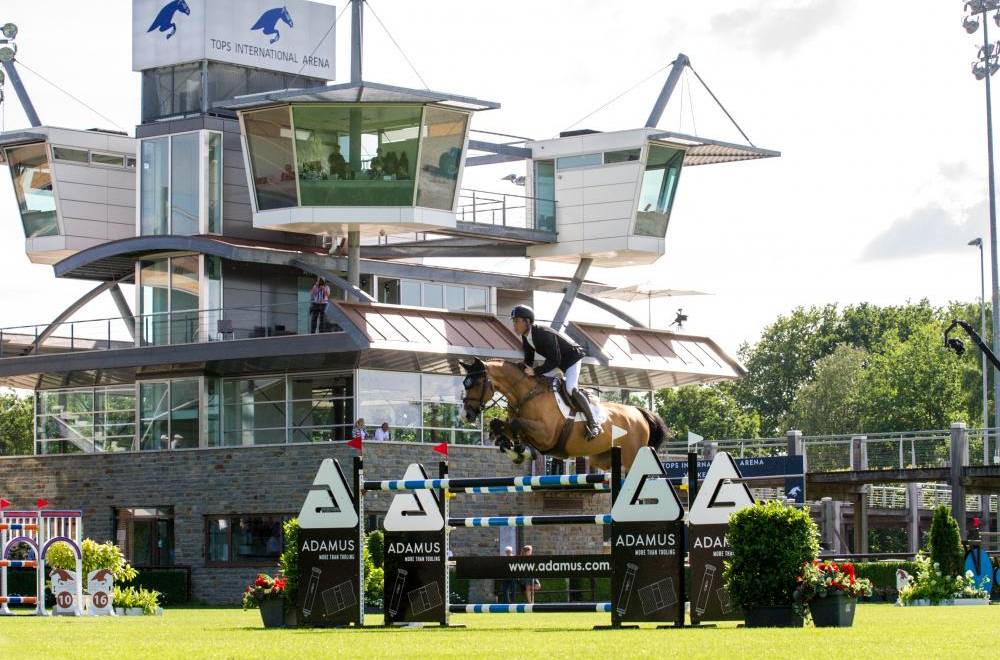 12 July 2021
The show jumping elite was divided between two 5* events this weekend. Some were at the Masters of Chantilly (read our dedicated articles), others at Valkenswaard. As for the EEF Series' semi-final, the different nations faced off with each other in a CSIO3* in Budapest.
Masters of Chantilly CSI5*
Our team of journalists was present last week at the Masers of Chantilly, a CSI5* proposed on the Capital of the Horse's racecourse. Find here our article on Steve Guerdat's victory on Saturday, and here on Nicolas Delmotte's victory in the Rolex Grand Prix.
Valkenswaard CSI5*
In Valkenswaard, in the beautiful Tops stables' grass arena, Scott Brash put in another great performance before flying to Tokyo. Riding Hello Jefferson (Cooper van de Heffinck), the British rider came in two seconds ahead of Belgian rider Pieter Devos and Claire Z (Clearway). Luiz Francisco de Azevedo completed the podium with My Way (Mylord Carthago). This Grand Prix had the air of a general rehearsal before the Games for many combinations. The winner said: "I'm delighted with the way Jefferson jumped. He is in great shape and I couldn't have wished for a better preparation for the Olympic Games". Simon Delestre and Berlux (Berlin), who have also been selected for the Olympic Games, posted a double clear round which meant they finished fourth, as did Malin Baryard-Johnsson and her mount H&M Indiana (Kashmir van Shuttershof), placing fifth.
In the 2* Grand Prix, Julien Epaillard from France, riding Calgary Tame (Old Chap Tame), deprived Janika Sprunger of a victory. The Swiss rider, who rode Carlotta (Cornet Obolensky), has once again put in an excellent performance since her return to competition in mid-May. Third place went to Darragh Kenny and Storiall Blue (Stakkato).
Grimaud CSI4*
It was a Belgian double in the CSI4* Grand Prix in Grimaud. For the last week of competition for the summer season, François Mathy Jr. won with his faithful mount Uno de la Roque (Numero Uno). The Belgian came in ahead of his compatriot Constant Van Paesschen, who won the Grand Prix last Sunday with Isidoor van de Helle (Canturo). Only six riders found the keys to the initial course, with Carlos Enrique Lopez Lizarazo placing third with Admara 2 (Padinus). Megane Moissonnier secured a nice fourth place on Cordial (Casall), and fifth place went to Mathieu Billot on Quel Filou (Quidam's Rubin), with both also going clear in the jump-off. Marie Pellegrin place eighth in this Grand Prix with Boreale de Fondcombe (Tinka's Boy), having previously won the Saturday ranking event with Valentino des Bleus (Flipper d'Elle).
François Mathy Jr and Uno de la Roque © Hubside Jumping
In the 2* Grand Prix, Mathieu Billot won with Ilena S (Verdi), coming in ahead of Carlos Enrique Lopez Lizarazo on Evita Sg Z (Verdi) and Megane Moissonnier on Diakonia du Ventel (Sandro Boy).
Gorla Minore CSI4*
Francesca Ciriesi won the CSI4* Grand Prix in Gorla Minore with Cape Coral (Comme il faut 5). Donald Whitaker came in second place with Di Caprio (Diarado), and Irishman Paul Kennedy came in third with Cartown Danger Mouse (Harlekin du Carel). Pedro Veniss, who will not be at the Olympic Games, would have won without his rail in this Grand Prix. The Brazilian was riding Boeckmanns Lord Pezi Junior (Lord Pezi). Elian Baumann secured fifth place after a nice round, again posting a top performance with Campari Z (Contact van de Heffinck) having won a 3* Grand Prix in Gorla Minore at the beginning of July and putting in some nice performances in La Baule and in St Gallen.
Budapest CSIO3*
At the CSIO3* in Budapest, the Germans were in good shape. After the team victory in the Nations Cup on Friday, there was another good German performance in the Grand Prix from the rider who recently joined the Ashford Farm stables with Limbridge (Limbus). The German rider took Martin Fuchs' famous Clooney 51 (Cornet Obolensky) to the World Championship for Young Horses. Her compatriots Sophie Hinner and Cedric Wolf took third and fourth place. Romain Duguet was the only one to come between the German group of horses, taking second place with Bel Canto de Boguin (Grenat de Grez).
In the EEF Series' Nations Cup, the German team finished with a clear score. Second place went to Italy who finished with 4 points, and third place went to Switzerland with 8 points. On the Swiss side, the two young riders Elin Ott and Edouard Schmitz both posted double clear rounds with Remix (Quidam de Revel) and Balenciana K (Balou du Rouet). It was also a successful weekend for Romain Duguet: "I'm very satisfied with my two horses this weekend," he told us. Calder jumped the Nations Cup very well. There was just one problem at the water jump, but the rest was good. And of course, I am very satisfied with Bel Canto, who was second in the Grand Prix. The horse didn't touch a rail all weekend, so it was really good. I'm glad I got to wear the Swiss team jacket again. It was really one of my priorities this year, so I'm glad it went well. We had a great weekend with the team."
Traverse City CSI3*
On the other side of the Atlantic, the CSI3* in Traverse City saw another victory for Karl Cook and his brilliant Caillou 24 in the Grand Prix. The American rider was ahead of Jim Ifko on Un Diamant des Forêts and Cormac Hanley on RMF Chacco Top.
Ommen CSI3*
In the Grand Prix of the CSI3* in Ommen, Maïkel van der Vleuten won with Elwikke (Eldorado Vd Zeshoek). The Dutchman had already won the big event on Friday with the same horse. Second place in the Grand Prix went to Patrick Lemmen with Full Option Van't Zand (Flamingo K). Leopold van Asten placed third with VDL Groep Falco (Clearway).
Knokke CSI3*
It was a Brazilian victory in the Grand Prix of the CSI3* in Knokke. Eduardo Pereira de Menezes won with his mount H5 Chaganus (Chacco-Blue), ahead of Harry Charles on Stardust (Chacco-Blue). Kent Farrington took third place with Orafina (For Fashion).
In the 2* Grand Prix, the Stephex Stables were the ones to shine with the victory going to Petronella Andersson and Cassina Z (Casado). Lorenzo de Luca placed second with Calinka de Boyer (L'Arc de Trimphe). Third place went to James Peeters and Nadal Hero & DB (Kannan).
Milan CSI3*
In Milan, Carla Cimolai won the Grand Prix 3* with Berlino Z (Berlin). Filippo Moyersoen placed second with Sundance (Fandango), and Marco Pellegrino rode Venture (Adelfos) to third place.
Tryon CSI3*
Brittini Raflowitz posted a beautiful victory in the 3* Grand Prix in Tryon with Hilton van de Breepoel (Contact van de Heffinck) who she has known for 8 years and which she rides without a bridle, she came in ahead of Canadian rider Sean Jobin on Darius (Warrant) and Australian Scott Keach on Fedor (Kashmir van Schuttershof). "To hear the national anthem for the first time on a podium, my eyes were wet," she said.
Harthill CSI3*
In Harthill, David Simpson won the 3* Grand Prix with Foudre F (Namelus R) ahead of William Whitaker on Galtur (Cornet's Stern). Third place went to Irish rider Daniel Coyle on Jeroen Dubbeldam's former mount, Oak Grove's Carlyle (Casall).
Fontainebleau CSI2*
Young mother Marie Hécart had a nice victory in the CSI2* Grand Prix in Fontainebleau with Vahinee (Lauterbach). Second place went to Nicolas Bost with Bacot (Lavillon), while Alix Ragot completed the podium with Coldplay EJ (Zilverstar).
Vilamoura CSI2*
It was a Portuguese double in the CSI2* Grand Prix in Vilamoura. Hugo Tavares won with Cicero 117 (Berlin) ahead of Duarte Seabra and Hhs Washington (Tinaranas).
Sariego CSI2*
Spanish rider Carlos Lopez-Fanjul Tartiere won the 2* Grand Prix of Sariego with Ashaane Villa Rose (Utrillo Z). The Luxemburgish rider Victor Bettendorf took second place with Atomic de la Roque (Kannan), and the podium was completed by Ismael Garcia Roque with La Costa (Gitano v. Berkenbroek).
Featured photo: © Tops International Arena