Boyd Exell and Julien Epaillard win in Bordeaux and Davidson du Pont wins the Prix de France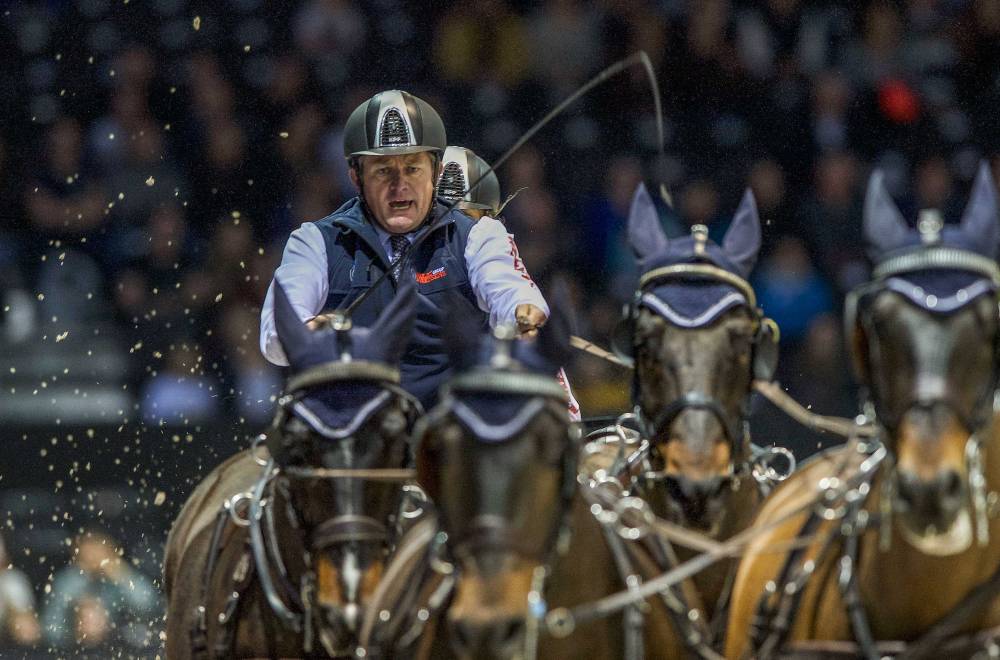 10 February 2020
He's just impressive, and his dominance in driving is not over yet. Australian Boyd Exell will forever be imprinted in the history of the FEI Driving World Cup. In the twelve years of this competition which was born in 2009, the golden-handed driver has won the World Cup nine times, with this new victory occurring in front of his favorite crowd in Bordeaux. This victory is a reconquering of sorts, after a mini transition period last year when he had to give up, or rather lend, his crown to the young Dutchman, Bram Chardon: "Sometimes it's more difficult to win when you know you have very good horses, you lose your concentration. This year, the problems started again from the first round, and I thought it would be good to correct that today." Second at the end of the first round yesterday, where he compensated for his two faults at the obstacles by turning in a great time, today the Australian ensured both performances counted by turning in the best time (8 seconds better than his direct competitor, Koos de Ronde who came in 2nd), and a faultless course, having not touched a single cone. It was a victory that had an extra bit of emotion attached: "It was the last competition for Demi, a 23-year-old mare who is still in great shape. But there comes a time when you have to know when to stop, especially as I've won five World Cups with her." Ijsbrand Chardon, Bram's father, to whom he had lent one of his good horses to keep him competitive in his match against Exell (which did not end up taking place), finished in third place, also going clear, but finishing more than 15 seconds behind the winner.
Bordeaux will again host the World Cup Driving Final from 2022 to 2024.
Driving World Cup Final results.
Quelle journée pour Julien Epaillard ! Après avoir remporté l'épreuve de vitesse ce matin (le Prix France Bleu) avec Alibi de la Roque, le Normand s'adjuge le prestigieux Grand Prix Land Rover avec sa jument baie de 12 ans, Queeletta ! Vainqueur l'an dernier, Félicie Bertrand prend une très belle seconde place avec la rebondissante Sultane des Ibis. Un sacré doublé pour les Français, soutenus par un public exceptionnel, « porteur d'une énergie que nous et nos chevaux ressentons » dixit Epaillard, pour conclure cette exceptionnelle 46è édition du Jumping de Bordeaux.

Il y avait beaucoup moins de monde au barrage de ce difficile Grand Prix aujourd'hui : quatre couples sur les trente-quatre au départ, un Hollandais (Maikel van der Vleuten), un Suisse (pas Guerdat qui a fait une petite faute aujourd'hui, mais Pius Schwizer) et nos deux Français.

Félicie Bertrand est donc passée tout près de l'exploit -remporter deux Grands Prix Land Rover consécutifs- ce qui nous aurait renvoyé à l'époque de ce couple mythique que formaient l'Allemand Franke Sloothaak et Joli Cœur dans les années 90. Si près, mais si loin, mais aucun regret à avoir : avec ou sans faute, le temps de la petite Sultane n'aurait pas suffi à battre la grande Queeletta, seule sans-faute de ce barrage. Il aurait manqué de toute façon 19 centièmes à Félicie Bertrand : « Mais je suis complètement ravie de cette deuxième place. Mon temps était plus lent que celui de Julien alors je n'ai pas de regret. Le seul regret que j'ai c'est ma petite faute hier, en Coupe du Monde. Mais la jument saute incroyablement bien et a montré que notre victoire de l'année dernière n'était pas juste due à la chance ou au hasard ».


What a day for Julien Epaillard! After winning the speed event this morning (the Prix France Bleu) with Alibi de la Roque (Mylord Carthago*hn), the Norman rider won the prestigious Land Rover Grand Prix with his 12-year-old bay mare, Queeletta (Quality)! Last year's winner, Félicie Bertrand had a very nice second place with her bouncing Sultane des Ibis (Quidam De Revel). The French riders, supported by an exceptional audience, "that brought an energy that we and our horses could feel" said Epaillard, achieved a hell of a double to conclude this exceptional 46th edition of the Jumping de Bordeaux.
There were a lot less people in the jump-off of this difficult Grand Prix today: four combinations out of the thirty-four that started; a Dutchman (Maikel van der Vleuten), a Swiss man (not Guerdat, who made a small mistake today, but Pius Schwizer) and our two Frenchmen.
Félicie Bertrand came very close to winning two consecutive Land Rover Grand Prix's - which would have sent us back to the time of the legendary German combination, Franke Sloothaak and Joli Cœur, in the 1990s. So close, but so far… and no regrets: with or without a fault, little Sultane's time wouldn't have been enough to beat the great Queeletta, who had the only clear round in this jump-off. Félicie Bertrand would have missed by 19 hundredths of a second in any case: "But I'm completely delighted with this second place. My time was slower than Julien's, so I have no regrets today. The only regret I have is my little mistake yesterday in the World Cup. But this mare jumps incredibly well and showed that our victory last year was not just due to luck or chance."
But what a great day for French horseback riding: while Félicie just missed out on her double, Julien managed to secure his: with Queeletta on Friday and Sunday, and today double with his two other horses: "What a great start to the year for my team. I'm lucky enough to have incredible partners around me, which is very motivating and pushes me to do my best. It's an incredible opportunity for me to have Queeletta in my stable. I didn't want to compete her in the World Cup stage because I needed to train Toupie de la Roque a bit, as she will be Queeletta's replacement in Las Vegas if something happens to her. By finishing yesterday, I was also qualifying her for this final. But I'm going to defend my chances in the World Cup Final with Queeletta. I didn't want an earth-shattering jump-off, but I had to take a few risks to force Pius into a fault." A winning strategy!
So, it's not by chance that Julien Epaillard is the French No. 1 as of today, and looking to be a good chance to enter the World Top 10 next month! The French colors therefore took out five of the six events this weekend. A blue icing on this magnificent cake of Jumping International de Bordeaux that will leave us all with great memories!
photo: ©Christophe Bricot/Jumping Bordeaux
Grand Prix of Bordeaux Results
In Vincennes, it was the revenge of the Prix d'Amérique trotters this Sunday, with the Prix de France (Gr1, 2100m, starting behind the autostart vehicle). In addition to the distance and the starting mode, there was another big change. Jean-Michel Bazire decided to leave Bélina Josselyn's sulky to another driver in order to drive his star, Davidson du Pont (Pacha du Pont). There was also a change of tactics as Davidson quickly took the race lead, but while all the favorites were in front, this time, Face Time Bourbon (Ready Cash) wasn't sitting just behind him. The winner of the Prix d'Amérique was even blocked in a little. He finally managed to get out of that spot, before setting off on an impressive final straight run where he came back to face his main opponent... but he was a few meters short of overtaking the Amérique runner-up, a winning bet for Davidson du Pont, and a new sumptuous duel that thrilled racing enthusiasts and many more.
Délia du Pommereux (Niky) took 3rd place after a magnificent comeback in the final straight. Bahia Quesnot (Scipion Du Goutier) took 4th, ahead of Vitruvio (Adrian Chip) who placed 5th in the Prix d'Amérique, while Bold Eagle (Ready Cash) finished 6th. Bold Eagle will look to participate in the Prix René Ballière, before looking abroad for shorter races and an American and Canadian tour. And we can't rule out seeing him racing for one last season next year with the Prix de Bourgogne and the Prix de France in his sights, according to his trainer, Sébastien Guarato.