Billy Raymont to Make World Cup Final Debut With Australian Warmblood Oaks Redwood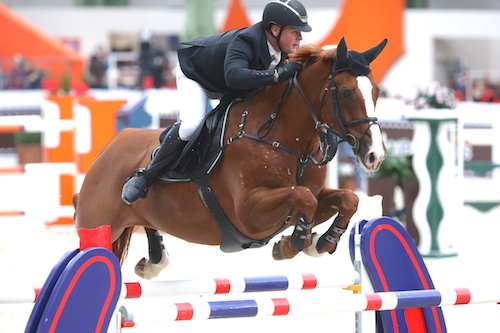 28 March 2018
Billy Raymont is currently on what could be described as a grand tour of the world. The Australian born and based show jumper has hit several career milestones in the last few months, and is looking ahead to his biggest one yet, in a few weeks time in Paris, France.

With an active yard in Queensland, Australia, where he brings along 15-20 horses at a time, teaches and competes, 38-year-old Raymont has, in the past, taken horses across to the USA or Europe for short trips.

Last summer, he was paired with a horse that has changed everything, the Australian-bred Oaks Redwood, a 13-year-old warmblood by ASB Conquistador x Verdi owned by the Tucker family. Known as "Basil", he was sent to Raymont to compete, and together the two won a string of World Cup Qualifiers in the Australian League last fall. That put Raymont at the top of the Australian League rankings, and raised his sights as to what could be next.

"To be honest, a short conversation with [fellow Australian rider] Jamie Kermond a couple of months before the end of our World Cup Series initiated all this," Raymont says. "He asked if I was interested in going to the World Cup Final, and that we should maybe plan on going there and work on doing things together."

Australia's chef d'equipe, Todd Hinde, had already been planning a schedule for Jamie that included the Longines Masters of Hong Kong CSI5*, and Raymont suddenly found himself on the entry list.

"I didn't quite understand what it was like getting into these five star shows, but it ended up that Hong Kong was my first five star show, which was quite crazy," Raymont said. "It's been really good to be able to go along with Jamie and Todd. They've organized so much, and made it stress free for me."

At Hong Kong in February, Raymont and Oaks Redwood jumped three clear rounds amid the big atmosphere of the glittering indoor competition.

"Being around riders who we've mostly only watched on TV is a bit crazy, but I felt comfortable enough," Raymont says. "I had a plan when I went to the Hong Kong Masters that I would just do the medium tour and small classes. My horse went so well the first two days that I was keen to start in the Grand Prix on Sunday, but I decided to stick to my plan. The experience gave me a lot of confidence that my horse was good for it, and that I was too."

With that experience under their belt, Raymont and Oaks Redwood flew onward to Europe, where they are based with Yves Houtacker in Holland, and jumped Peelbergen and Braunschweig. But Raymont wanted one more good indoor experience before April's World Cup Final. With the indoors season winding down and few opportunities left, Raymont and Hinde called the prestigious Saut Hermés CSI5*, and were granted an entry. Suddenly, Raymont was staring down his first international grand prix under the glass-ceilinged Grand Palais over a notoriously challenging 1.60m track in the tight confines of the grandest of indoors.

"Last year, with all of our Australian World Cups being certificates of qualifications for the WEG, they were all pretty full standard, but I was sure a 1.60m grand prix in Europe would be different," Raymont explains. "We don't even dream of seeing a 1.60m track indoors in Australia. But it wasn't hugely different. My horse handled it really well, and I needed that class to really be ready going to the World Cup Final."

In their first international grand prix start, Raymont and Oaks Redwood put in a solid performance at Saut Hermés, with just one fence down. In less than three week's time, they will return to Paris for the 2018 Longines FEI World Cup Jumping Final.

"It's a bit of a new level for Australian breeding, to have a couple of horses at this level, going to Europe and doing this sort of thing," Raymont mentions. "It's nice to give people at home that confidence that our horses are coming over and doing this."

Oaks Redwood has certainly proven his mettle to compete at the very top level in the world, and will have his biggest chance yet at the Final. For now Raymont is focused on a good performance in April, but he's also found himself penciled in for another big entry—the long list for Team Australia at September's World Equestrian Games. Raymont will take it step by step, with a bit of optimism that the world's biggest stage still awaits.