The best of the horse year by Studforlife! (1/3)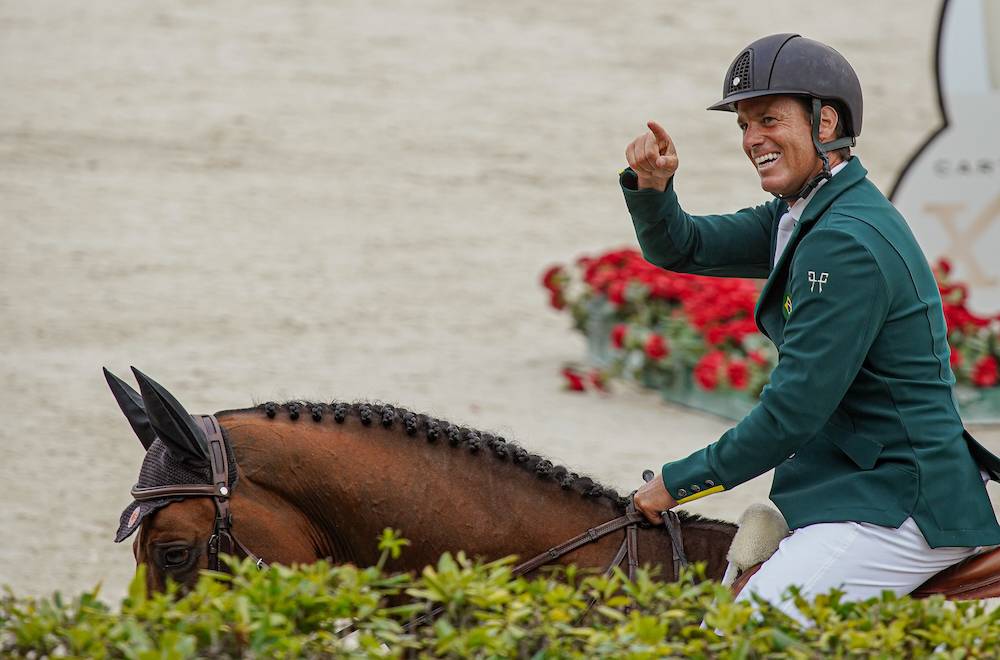 21 December 2021
For the end of the year, the Studforlife editorial staff decided to focus on the photographic talents of their team. Léa Tchilinguirian, a journalist at the editorial office, regularly attends competitions with her camera. Far from the sporting excitement of the arena, what she prefers is the emotion of backstage. She has selected 10 photos taken this year and explains why these have particularly impacted her.
1 – Ioli Mytilineou and Levis de Muze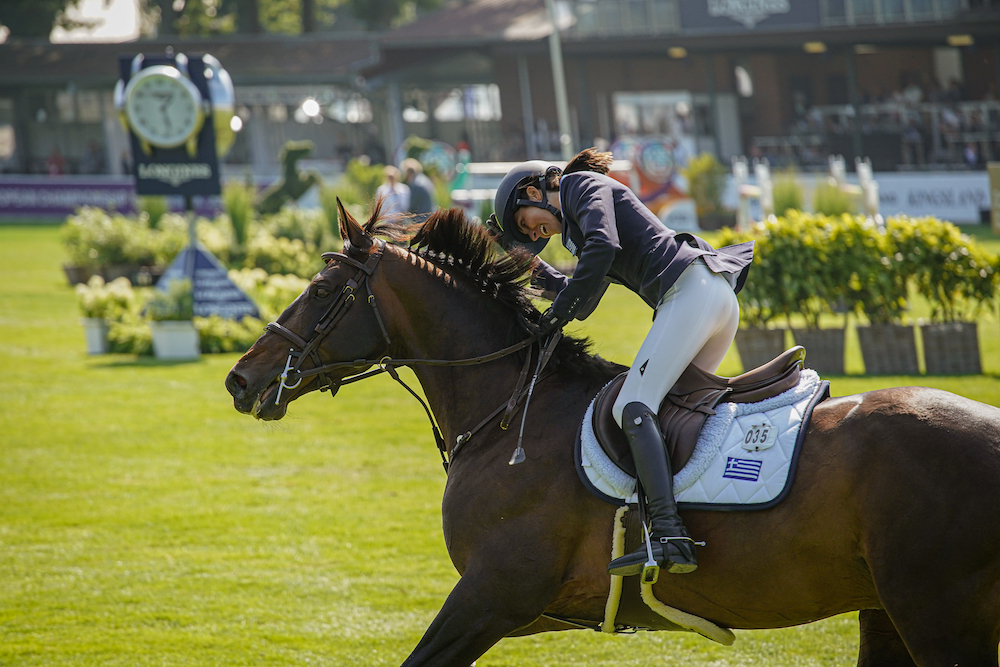 "The pair of the year! This summer, the Greek rider had already excelled in the 3* Grand Prix in Deauville with her other mount La Perla vd Heffinck (Cooper van de Heffinck). Her name was therefore not unknown to me, but I had never seen her in the arena with Levis! In September, during the European Championships in Riesenbeck, Ioli Mytilineou was surely one of the most expressive riders, going between straight determination and thanks towards her horse. Every day, the young woman offered up more than remarkable performances, conquering the hearts of all! I remember that at each of her entries into the arena, I heard: "She'll finish on the podium and will beat the big names, we won't be expecting it!" Prior to her qualification for the final event for the European title, she hadn't knocked down a single rail until a misunderstanding at the start of the triple on the last round forced her to retire. Out of respect for her horse, who had already given so much throughout the week, the Greek rider raised her hand to withdraw. This choice was greatly appreciated, and the public didn't fail to accompany her with their applause towards the exit. This performance was even more meaningful with the words of one of the masters of the discipline, Ludger Beerbaum: "She showed us what a beautiful relationship between a horse and their rider is. Even those difficult courses looked easy. What happened to them was undeserved, but that's sport. She made a very good decision."
2 – Bryan Balsiger and Martin Fuchs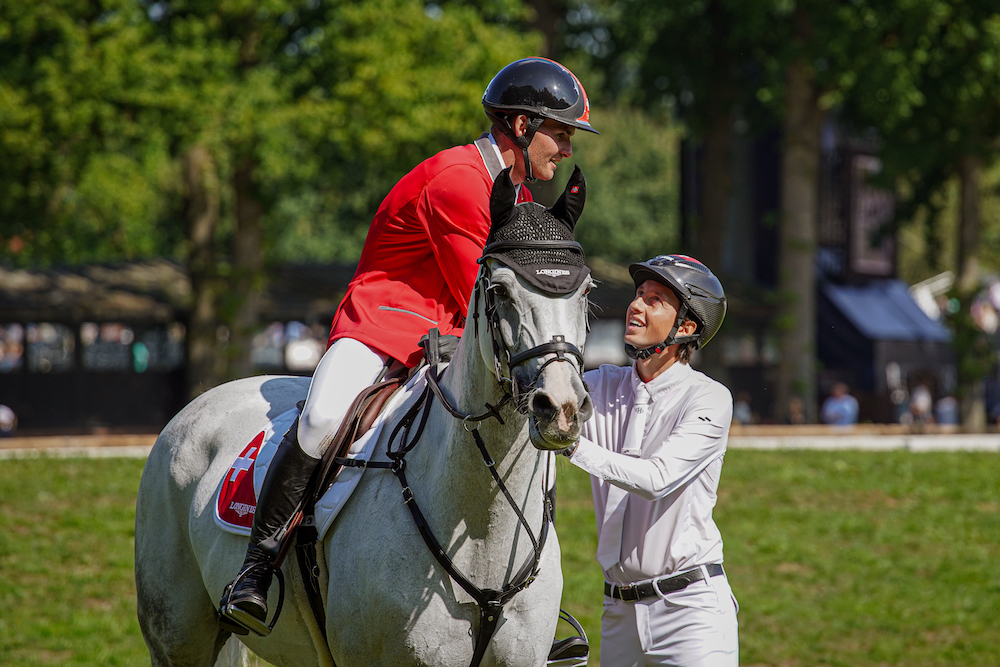 "Still at the European Championships, this time, a little earlier in the week as the European team title was being played for: everything seemed to be going well for Switzerland. Initially, I had left the arena to take pictures of Mark McAuley's team to put in the logbook for his groom, Laura Vivière. It's in these moments that I like to be backstage, close to the warm-up ring: the most beautiful emotional moments happen there. Bryan Balsiger had just completed a clear round with AK's Courage (Chepetto C), of note: this championship was the first for the youngest Swiss rider, who had been competing in the Youth category, but also the first for his mare. Before getting on his horse, Martin Fuchs congratulated his teammate."
3 – Dominator 2000 Z is back after a few months' rest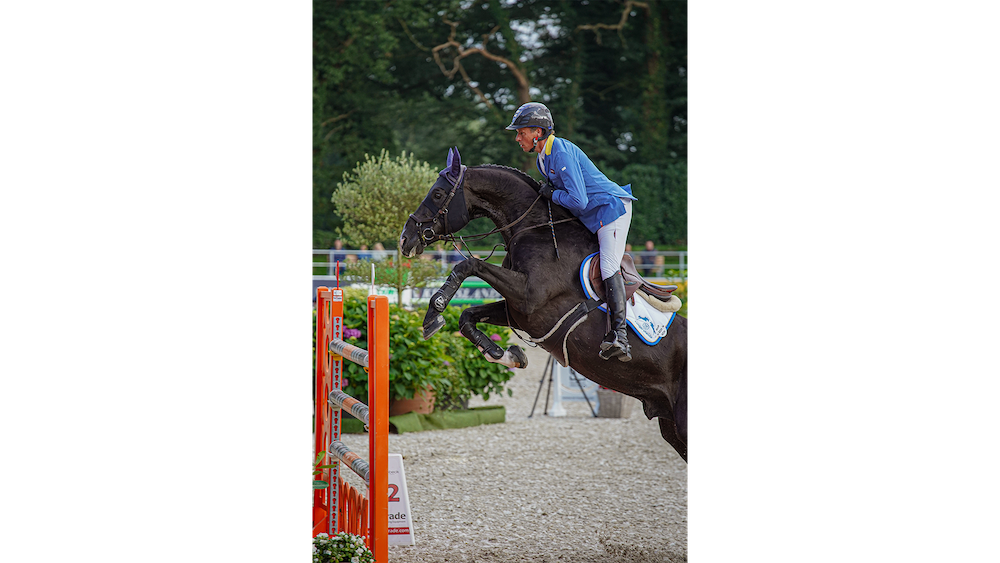 "I didn't want to miss this round at all... who doesn't like this horse? After the Global Champions Tour in Valkenswaard in June, Christian Ahlmann and Zangersheide decided to give the black stallion some time off, as he wasn't performing at his best. This decision ruled them out of a selection for the Tokyo Games. At the CSI3* in Riesenbeck at the beginning of September, Dominator returned to the competition arena with ease and is now back on track."
4 – The master is smiling!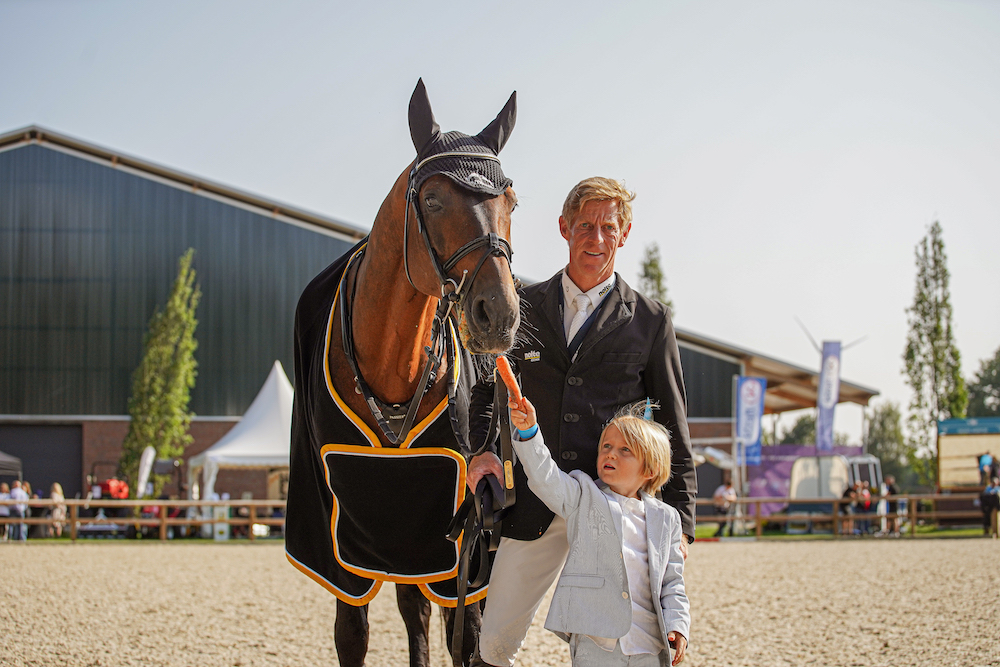 "Marcus Ehning is one of showjumping's pioneers! At first glance, the German doesn't seem to let his emotions show. At the same time as the European Championships, he took the opportunity to make the retirement of his tempestuous Comme Il Faut official. The rider didn't choose Riesenbeck at random for this ceremony: his bay stallion was born here, at Ludger Beerbaum's! While the celebration seemed rather formal with a video, a tray of carrots and a final lap, once his feet were on the ground, Marcus Ehning released his emotions. He shared this moment with his groom, his family and rider friends. Martin Fuchs patted the stallion one last time."


5 - Brian Moggre and Balou du Reventon

"In September, Charlotte Marichal and I went to the Travers Horse Facility in the Netherlands to meet Brian Moggre for our "Rising Star" video shoot. When we arrived, he was riding a certain Balou du Reventon. As usual, he was very neat as always, and Brian welcomed us with kindness and simply played the game. During this shot, I asked him if he could ride along the cobblestone path with his king. Seeing such stars at home, in their everyday lives, makes the moment so different. They can express themselves more easily. In fact, he looked almost exhausted from his session as he yawned along during his walk, sticking his tongue out at us repeatedly. Balou knows who he is: a charmer with a personality that is as calm as it is invigorating... just like his rider (laughs!)!"
6 - Killer Queen VDM and Sean Lynch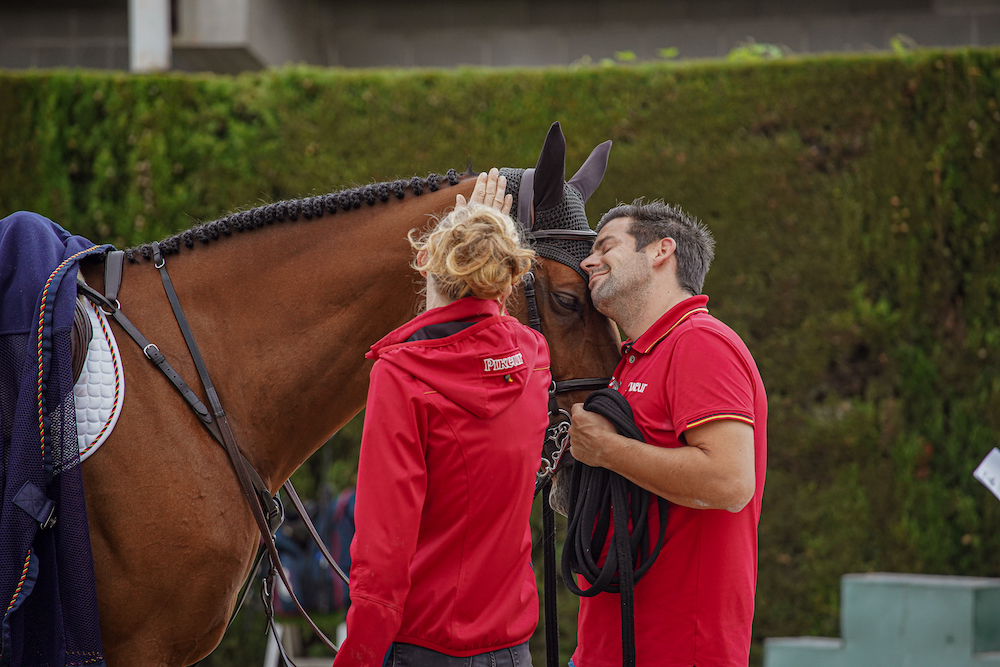 "Killer Queen VDM is one of the most impressive mares on the world circuit! At 11 years old, she has shown her determination and strength to accompany Daniel Deusser to the tops of podiums! In 2021, this daughter of Eldorado vd Zeshoek won two Grands Prix, in Wellington and Aachen, and achieved a double clear in the Nations Cup in Germany! His rider became, for the third time in his career, the World No. 1 for four consecutive months and this is without counting on the precious help of Killer Queen and his other horses! I think this photo reflects a lot of tenderness and calm between her and her groom Sean Lynch before a sporting moment: she was getting ready to compete in the Nations Cup Final in Barcelona."
7 – Olivier Robert victorious with Vivaldi in Madrid

"Thank you Jérôme (Guéry)", these were Olivier Robert's first words when he left the Madrid arena. I must say that we have lived an afternoon of sport worthy of the name! At the Global Champions Tour in Madrid, the public were able to admire the best riders in the world, having been deprived of gatherings for months due to the Covid-19 pandemic. They got a great show! The course designer Santiago Varela had prepared a very technical and challenging course, only two riders managed to qualify for the jump-off. While Olivier Robert was doing a few more jumps under the eyes of his friend Jérôme Guéry before entering the arena again, Kevin Staut asked me: "Was it hard to watch? You can't imagine how hard it was to ride! In the jump-off, Scott Brash (present with Hello Jefferson) is known to be one of the fastest. However, Olivier Robert remained undaunted by that! After his victory, he even told Studforlife: "I never win, but today I succeeded, it took me years of CSI5*s! The Frenchman wasn't expecting to experience the crazy season he just ended with another victory in the Grand Prix of Rome, this time with Vangog du Mas Garnier!"
8 – Mickael Baillieux and Valdocco des Caps

"To be honest, there's not much of a story behind this photo except that it sends out good vibes. Valcoddo (since sold to Saudi Arabia) and his groom are enjoying a sunny day in May at their stable at Sergio Alvarez Moya's home near Madrid. They were heading to the arena to do some work on the flat. Their arena performances are the result of simple everyday moments."
9 – A Maikel van der Vleuten-style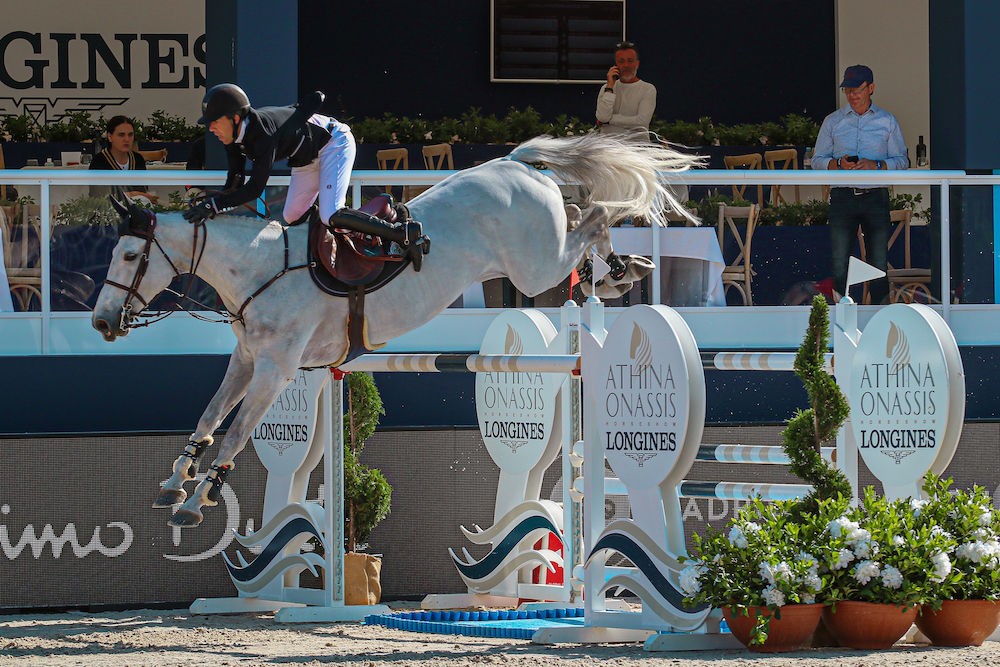 "This picture in Saint-Tropez still impresses me! Some riders mark their time with their performances, others add a touch of style! Bosty is surely untouchable when it comes to this matter, but Maikel van der Vleuten could well compete with him. If their styles may seem spectacular, wondering how they are able to stay up there, it doesn't prevent them from completing their course with brilliance!"
10 – Two feet away from the Iron Lady

"To illustrate the Paris Eiffel Jumping, I chose a photo that I admit is taken with a smartphone. Every time I look at it, I think "Wow, what a competition setting!" Basically, city competitions are far from my favorite, in my opinion, but the Iron Lady adds a real charm to this. Though the sun wasn't out for this edition, the Eiffel Tower was undeniably in all the pictures! This year, the installations were moved a few meters to the Champs de Mars, on the Place Jacques-Rueff. For those who don't know the area, this arena was built on a fountain!"
Soon, Cécile Sablayrolles will present another 5 striking photos taken this year!