Bertram Allen uncatchable in Hong Kong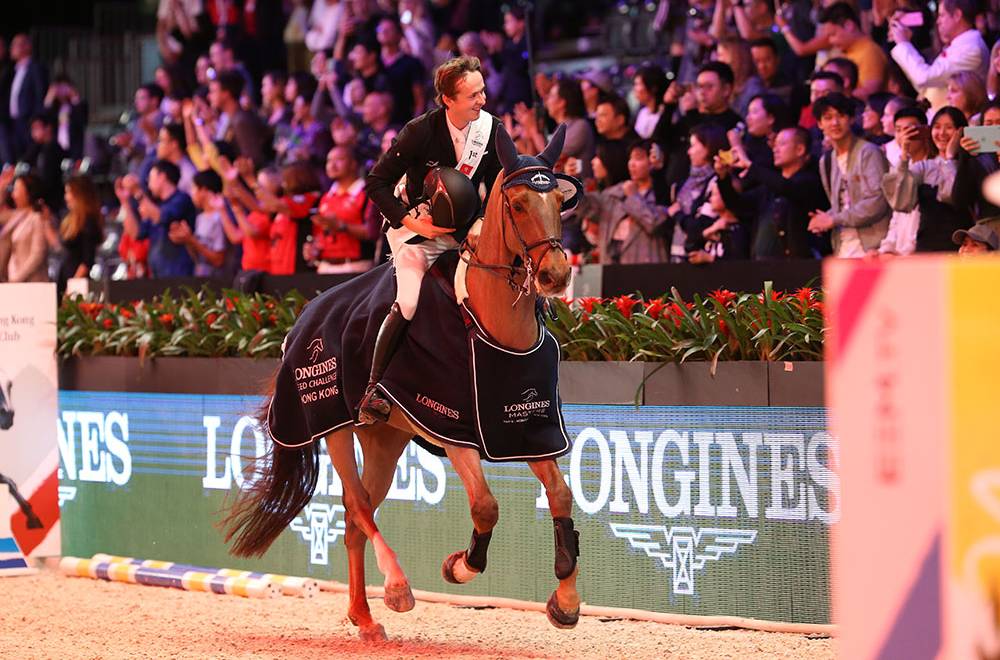 17 February 2019
The competition did not begin to heat up until the seventh rider, the master of discipline Roger-Yves Bost, put in a beautiful performance with Castleforbes Talitha (Cardenio), clocking up a magnificent clear round in 64''92.
But that was soon challenged by Emanuele Gaudiano who, despite a fault from Quinn vd Heffinck (For Pleasure) and the consequent two-second penalty, succeeded in bettering the time by more than a second.
Hopes of victory for the Italian were short-lived, however. Bertram Allen was ready to go, and the Irishman hit the ground running. Christy JNR (Indoctro) responded to every prompt and, even though Allen pulled back a little before the last fence, the time was impeccable – 60''47 and a new leader.
There were still 13 more riders to come, but the challenge had been set. Simon Delestre was unable to avoid a double fault with his magnificent nine-year-old Conbelleza (Conthargos), bred like Bost's horse by Paul Schockemoehle, and moved into third place with a time of 64''83 including a two-second penalty.
"She's a young mare that we bought at six, and who went calmly through her schooling with my riders. I've always believed in her, and I knew her qualities. Then I decided to take her with me to Verona. She began to rack up placings in London, Basel, Offenburg, and now here. She's a mare that I really like a lot. I like the idea of leaving them to run for pleasure until the age of eight, without putting any pressure on them. I know their qualities already, they just need to get some mileage under their belts. These are horse that you don't need to hurry with, that won't change their career at all. We also have her full sister, who has some good things in store for us, too," said Delestre.
Edward Levy managed to slip in just behind his two compatriots, also picking up one fault on Starlette de la Roque (Jumpy des Fontaines).
The French were on form this evening, and Patrice Delaveau—"Mr Hong Kong" himself—completed a magnificent round with Vestale de Mazure (Landor S) but couldn't avoid the final fence. In the end, it would have changed nothing, as their time was still 0.41 seconds off the mark, but even with the two-second penalty that was enough to take second place.
Kevin Staut is a serious competitor, victorious in Paris and a regular on the podium in these trials. He shot off with Ayade de Septon (Wandor vd Mispelaere), but they too were unable to avoid a fault, although they still managed a magnificent round and finished with a fine third place.
The rankings wouldn't change again: Bertram Allen won the challenge for the third time, with the two Frenchmen completing the podium. And in total there were five French riders among the top seven.
"I wasn't completely confident before the challenge because my horse wasn't very well on arriving here. He had a skin reaction, and I couldn't have ridden him yesterday. Eventually, it was much better today, and we were able to start, but I had nowhere to hide. Happily, we had a great round from the start, with a super rhythm all the way. Obviously, you're always a little nervous with riders like Patrice and Kevin behind you, but it turned out well in the end. It's true that I pulled back a bit in the final line and that someone could always have done something special behind me, but to be faster and fault-free today it was really necessary to take a lot of risks. That was also what made me so happy, along with the crowd here which is really very enthusiastic, but my round really went as I'd planned it and that way really pleasing. I'm very happy to be able to come back here. I missed the competition last year, and I really like this place. Then to come back here with a horse as competitive as when I had Quiet Easy in the past, that's really brilliant," said the Irishman, who had brought his younger brother with him. It seems that after Bertram and Harry, the Allen family still has plenty more surprises in store for us.
Patrice Delaveau could only be satisfied with the result of the challenge: "Honestly, on the spot, I was disappointed. But then I had to admit to myself that I just wasn't faster. During the break, I saw Bertram's round on the giant screen, and it looked unbeatable to me. I tried everything, but it was impossible. He set off belly to the ground and dropped a stride in every line. I can't allow myself to do that with my mare. The Speed Challenge is Vestale's favourite event and the goal of the weekend for her, even if there remains a good challenge for her tomorrow, but I can't ask her to drop a stride more than once in a round. I don't have a very big action, so I can't ask her to do it three times in a row like the others do. But once we're off, we don't worry about anything. We put everything into it. Tomorrow, as well as a nice challenge for Vestale, there will be the second five-star Grand Prix for Urcos de Kerglenn. I don't want to get my hopes up, I'm not riding to win, the horse is here to learn... But it's a competition that I do well in, so why not aim for a top five? That would be great. I think that the six-bar today was good preparation for him, as he's a horse that's still a little nervous indoors, and the fact of being in the paddock for an hour, with several trips backwards and forwards to the ring. He put in a good effort. He came back tired, but I think it was a good workout. We'll have the answer tomorrow."
Kevin Staut managed to get a second HDC horse onto the podium. "Bertram was really very quick. The challenge was run faster here than in Paris. It's not just a question of the clock, because there were some small changes that meant that this challenge was much more about the horse than in Paris, as much in the lines as in the corners. It ran faster and was more pleasant to ride [NB: and to watch]. I certainly had the chance to take a stride less, but that wasn't really part of my course plan with her. She gave a lot in the S, so it was a deliberate choice not to ask her for another extra effort. In any case, it might have allowed me to move up one place, but not to beat Bertram, so I have no regrets. The mare is really performing well. She was also eighth yesterday. When you look back on the number of seasons she's completed and the number of competitions she's run in, she hasn't deteriorated, and she's always done it in great style. It's a pleasure to ride her."