Bertram Allen unbeatable in Wellington!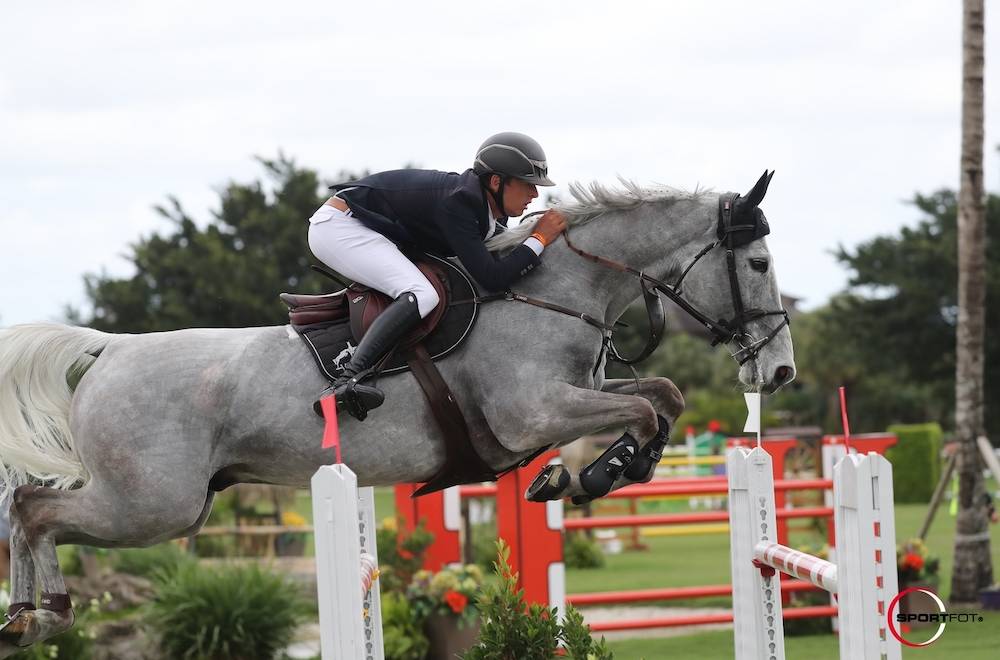 22 February 2021
Are we finally seeing that the competition agenda is getting increasingly steady every week? More than a dozen international competitions were scheduled this weekend and so without further ado, we will take you on a tour of the results!
Vejer de la Frontera CSI4*
The Sunshine Tour started two weeks ago in Andalusia. This weekend the riders competed in a CSI4* with no less than sixty starters in the Grand Prix. After a nine-man jump-off, Belgium's Gudrun Patteet scored the fastest double zero with Sea Coast Kashmira Z (Kashmir van't Schuttershof). She didn't let her teammate Jérôme Guery score a double. He already won a Grand Prix in the same arena last week. Guery had to settle for second place at the reins of Grupo Prom Diego (Verdi TN). Sweden's Douglas Lindelöw rounded off the podium with Casquo Blue (Chacco-Blue).
Oliva CSI3*
Still in Spain, but this time in Oliva. MET II was in full swing with forty-seven starts in the Grand Prix, the major event of the weekend. Tops stables' rider Alberto Zorzi won with Cinsey (Contendro) against eleven pairs in the jump-off. "The Oliva Spring MET II is my first outing after my injury. I fell at Saint-Tropez last October and broke my neck. I recovered well, but it wasn't easy coming back. We had to take it easy," commented the Italian rider. "Cinsey is a superstar. He jumped so well and felt really good today. He really tried! I've been riding him for two years. I even took my first international steps with him here in Oliva in 2019".
© Hervé Bonnaud / www.1clicphoto.com
Alberto Zorzi is followed very closely by the Frenchman Nicolas Delmotte, here on his son of Diamant de Semilly, Ilex VP. Edwin Smits finished third at the reins of Farezzo (Arezzo VDL).
Valencia CSI3*
In Valencia, north of Oliva, several events have been cancelled. These include the CSI3* Grand Prix, without official announcement from the CES Valencia organizer. After several cases of fever in the boxes the Spanish Equestrian Federation (Real Federación Hípica Española) released an official statement announcing the presence of a contamination outbreak in the competition stables. The local veterinary health authorities are currently carrying out analysis and control work. French rider Edward Levy, present on site, confirmed this information: "Some horses have had fever, so they took no risk in going ahead with the events. All the horses that were able to leave the competition were tested by having their temperature measured."
Vilamoura CSI3*
For the first tour of the year, the fourth week of competition was completed at the Vilamoura Equestrian Center! The Great Britain flag was raised over the podium in this Grand Prix to honor Lily Attwood who took first place with Cor-Leon Vd Vlierbeek Z (Calvaro Z). Only the Belgian José Thiry managed to take 2nd place with Jalisco W van de Wolvenhoek (Vivaldi du Seigneur). He is followed by the British rider Stephen Lohoar on Delius F (Nabab de Rêve).
Wellington CSI3*
The sixth week of the WEF ended with a $137,000 Grand Prix victory for Bertram Allen. The Irish rider was paired with his new 11-year-old rookie, Castlefield Vegas (Cassino). This weekend brought a smile to the pair's face as they won the WEF Challenge Cup last Friday. "I knew I had to give it my all," said the Irishman. "I didn't watch Nayel's course, but I talked to a few people and they told me it was very fast and my horse is naturally fast, so my plan was to be as quick as I could without being silly. Everything went very well." Second place went to Egyptian rider Nayel Nassar of Evergate Stables on Igor Van de Wittemoere (Cooper Vd Heffinck). Third place went to Paul O'Shea on Skara Glen's Chancelloress (Chacco-Blue).
Sam Walker and Coralissa © Sportfot.com
The younger generation was also in the spotlight this weekend. A CSI-U25 was held with no less than 64 starters in the Grand Prix! Victory of Sam Walker and his mare Coralissa (Com Air). The duo was followed by the new pair consisting of the American rider Violet Lindemann and Alanine de Vains (Allegreto), formerly ridden by Abdel Saïd. Third place went to Ashley Vogel on Bellissimo Z (Bamako de Muze).
Tonight, at 6 pm, Alejandro Karolyi will be our guest live on Instagram "Welcome to the USA", as we continue to learn more about WEF.
Ornago CSI2*
In Italy, a 2* Grand Prix was held at the Scuderie Della Malaspina. The young riders took the first places at this event. The Swiss anthem was played at the prize-giving ceremony to honor the victory of Bryan Balsiger and his faithful partner Clouzot de Lassus (Ugano Sitte). Harry Allen took second place with Guinness (Nabab de Rêve), followed by Sven Fehnl on Ventago (Van Helsing). "After the Saint-Lô CSI4* last November we left Clouzot in semi-rest. He slowly resumed last week in Organo at 1.30m events. This week he was placed in both rankings: third on the first day and winning the Grand Prix today. He was in great shape. I had a very good feeling, and we had the jump-off we wanted. I'm very happy with his current form! In two weeks' time we will be competing in the CSI5* in 's-Hertogenbosch. Twentytwo des Biches (Mylord Carthago) will also be on there," the Swiss winner told us on the phone.
Royan CSI2*
There was also sport in France with the first week of the Royal Horse Jump! The first-round course smiled on more than 20 pairs, producing a 100% French podium! The event ended with victory by Charles-Henri Fermé and Jaqui (Ogano Sitte) ahead of Aymeric de Ponnat, associated with Elize (Bamako de Muze). The rider also took sixth place with Hoover (Clinton).
"I took a break of about four months during the winter to fine-tune some of the settings on the flat. My two horses that ranked today were already very competitive last year. They rarely make a mistake and jumped very well this weekend. Hoover was sampled in January and that allowed me to do two 1.40m events and the Grand Prix. We were fortunate to be a small group of riders, so we were able to have two horses in that event. That was good for me to get them back on track", explained the rider. These two horses are the property of his main sponsor, the Ecurie de Montchevreuil. "It's been a very good week for my owners! Last Sunday, they had Azuro de Laubry Z (Aktion Pur Z) approved in Zangersheide and then today the classification of these two horses."
The winning trio was complemented by the third place of Marc Dilasser and his faithful son of Diamant de Semilly, Arioto*du Gevres.
Azelhof CSI2*
Fifty pairs competed in this Belgian Grand Prix. Ten of them made it all the way through to a clear round and Germany's Guido Jun. Klatte won the event on Qinghai (Quidam de Revel), ahead of Brazil's Thiago Ribas Da Costa on Kassandra van't Heike (Epleaser van't Heike). Dutchman Bart Bles took third place with Fernando-H (Calvino Z).
Photo credit: Sportfot.com