Bertram Allen continues to build momentum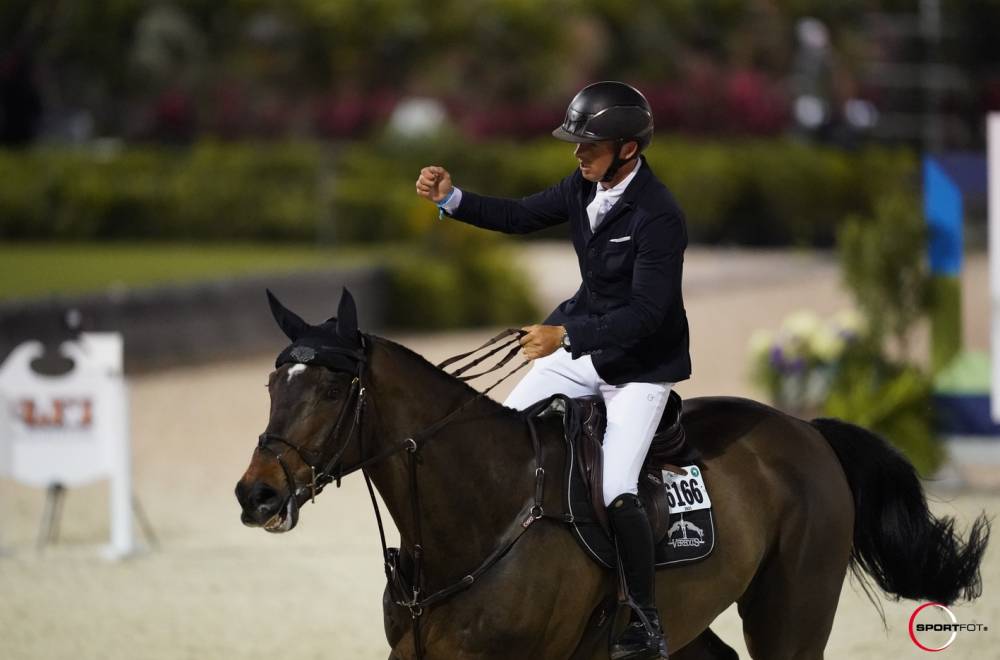 01 March 2021
Bertram Allen strikes again in Wellington, while his younger brother places in a Grand Prix in Italy! A summary of all the International Grands Prix of the weekend.
Doha CSI5*
A tough Grand Prix – held over two rounds, then followed by a jump-off - awaited the 40 riders at the start of this event on Saturday, as part of the CSI 5* in Doha. Germany didn't take it easy at this competition, as three of the six double clear combinations were red jackets! One of those pairs won; Christian Ahlmann and his magnificent stallion Dominator 2000 Z (Diamant de Semilly). Ten hundredths of a second behind, we find the tricolor rider Olivier Robert in saddle on his French Champion, Vivaldi des Meneaux (Chippendale Z). Belgian rider Niels Bruynseels also stopped the clock in the same second but had to settle for third place, accompanied by his son of Toulon, Delux van T&L.
Wellington CSI5*
Last weekend, a new CSI5* was offered to the riders present for the Winter Equestrian Festival. With a US $401,000 prize pool, this event saw five jump-off riders compete against each other, and was eventually won by Irish rider Bertram Allen, with his promising Pacino Amiro (Pacino), coming in almost two seconds ahead of his compatriot Daniel Coyl on Legacy (Chippendale Z). Canadian rider Mario Deslauriers secured third place with Bardolina 2 (Clarimo).
At the press conference, the young Irishman looked back on his victory with Pacino Amiro, who had already won the CSI3* last week: "He has never jumped a CSI5* or been in the spotlight, and he handled the situation very well. He has a bit of a special temperament and I know him very, very well. Since the first week he's been getting better and better, and he's a lovely horse who always wants to do his best and learn."
Vejer de la Frontera CSI4*
Ireland also won the 1.50m CSI4* Grand Prix at the Sunshine Tour in Spain. In the saddle on Lapuccino 2 (SIEC Livello), Michael G Duffy won after a six rider jump-off. Britain's Joseph Stockdale followed with Equine America Cacharel (Cachas), just ahead of World No. 1 Steve Guerdat on Albfuehren's Maddox (Cohiba 1198).
"Lapuccino has been with me for five or six years now and every year he's gotten better and better and has taken us to competitions all over the world. I love him. Today he gave me his all to win in this Grand Prix and he is a very special horse to me," said Michael G Duffy after his victory.
Sunshine Tour Grand Prix Results
Oliva CSI3*
There was a French double at the Mediterranean Equestrian Tour! Nicolas Delmotte won the 1.50m Grand Prix with his mount Urvoso du Roch (Nervoso), coming in one second ahead of his compatriot, Melie Gosa, on Alouette d'Eole (Mylord Carthago). This international podium was completed by Spain's Ismael Garcia Roque on La Costa (Gitano V Berkenbroeck).
Vilamoura CSI3*
At the Vilamoura Atlantic Tour, another European tour that is on offer to riders at this eventful start of the season, the legendary John Whitaker won with his son of Zandor, Unick du Francport. German rider Marc Bettinger could do nothing to catch up with the British combination and had to settle for second place with Undercover Z (Ugano Sitte). French rider Juliette Faligot completed the podium with her bouncy mount Arqana de Riverland (Cornet Obolensky).
Thermal CSI3*
It was Portugal that won in Thermal, United States, where a 1.55m CSI3* Grand Prix was held, with a US $137,000 prize pool. Luis Sabino Gonçalves, who was in the saddle on Argan de Beliard (Mylord Carthago), beat American rider Michelle Parker against the clock, who was accompanied by Easy Does It (Eurocommerce Dubai). Her compatriot Richard Spooner completed the podium with Quirado RC (Quinar).
Luis Sabino Gonçalves looked back on his victory and the reason for his presence in Thermal: "For the last three years, I've been flying to the United Arab Emirates. This year in the UAE, they are organizing CSI2* events and one or two 3* events. I kind of decided that it wasn't for the best. I have a good friend here, Bruno Diniz Das Neves. He spent the whole of last year pushing me to come out here. I had the courage to come this year and I'm very happy I did. I like it here; the facilities are really good. I like the surface because you can't even hear the horses, it's like cotton. The atmosphere, the mountains, the desert... it's all wonderful! And the people; they're also very nice."
Royan CSI2*
In Royan, it was, unsurprisingly, a French victory since, of the 59 starting riders, only three were foreigners. In the end it was the reigning French Champion, Benoit Cernin, who won riding Vitalhorse Seurat Galotière (Iowa 960), one of Thomas Levêque's former mounts. Romain Bourdoncle and Jérôme Gachignard completed this podium respectively on Vaillant de Tivoli (Toulon) and Cissro van Birthe Z (Cicero Z).
San Giovanni CSI2*
To Italy now, the battle was fierce between the local riders and the Swiss. In the 2* Grand Prix of San Giovanni (1.45m), it was Italy that finally won with Ciriesi Federico and Calais d'Argile Z (Calvaro Z) taking out the honors. Swiss riders Paul Estermann and Niklaus Rutschi followed just behind with Dover 9 (Diarado) and Quinao de Chandor Z (Qlassic Bois Margot).
San Giovanni Grand Prix Results
Gorla Minore CSI2*
In Gorla Minore on the other hand, the domination was 100% Swiss in the CSI2* Grand Prix! The reigning Swiss Champion, Brian Balsiger, won with his fabulous Twentytwo des Biches (Mylord Carthago). The Züger family completed the podium with Annina coming in second, and her brother Philipp secured third place respectively on Berlin Blue (Berlin) and Acolino (Acodetto 2). While his older brother won the CSI5* in Wellington, Harry Allen placed fourth in the 1.45m Grand Prix.
Gorla Minore Grand Prix Results
Featured photo: Sportfot.com