Ben Maher wins in Valkenswaard!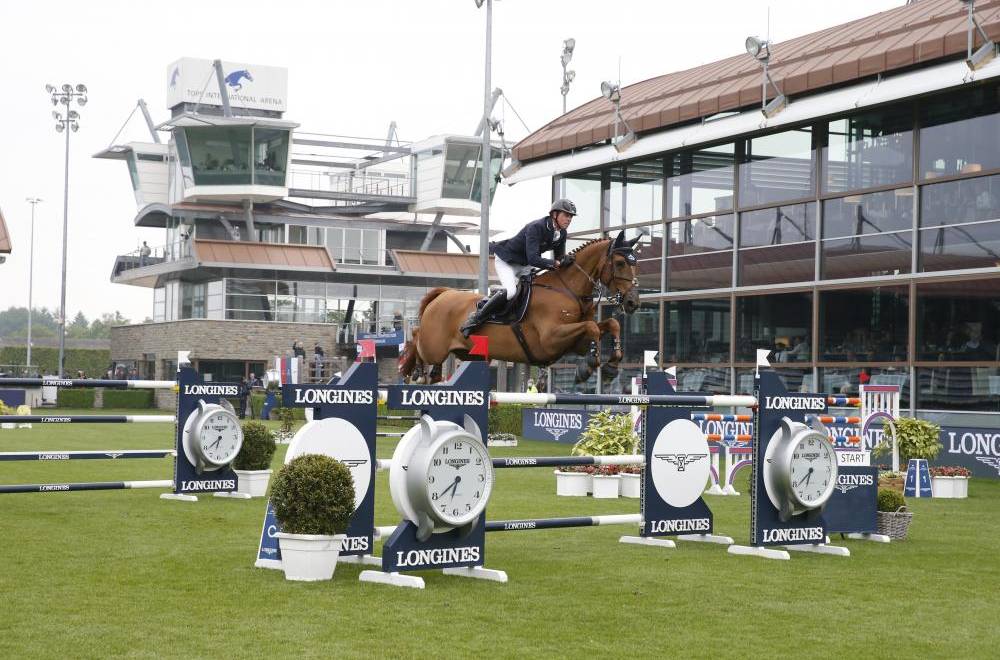 07 June 2021
This time, all the lights are on green. This first weekend of June was busy, with many international competitions scheduled. Back on the main results, as every Monday, on Studforlife.
Valkenswaard CSI5*
The stage of the Global Champions Tour in Saint-Tropez was replaced by that in Valkenswaard. Five riders managed to qualify for the jump-off on the magnificent grass turf of the Stal Tops, no less. Eric Lamaze and his evergreen Fine Lady (Forsyth), as well as Harrie Smolders on Dolinn (Cardento), could not achieve a clear round, Franck Schuttert had to settle for the third place with Lyonel D (Little Joe) just behind his compatriot Maikel van der Vleuten on Beauville (Bustique) Once again, Ben Maher dominated with more than two seconds advantage in the jump-off with the inevitable Explosion W (Chacco Blue).
"It's amazing, it gives me so much confidence, every time I ride him, he makes me feel like I can do anything. The arena was amazing, the team had to work all night so we could jump on the grass today after the amount of rain we had last night. This is definitely one of the best arenas in the world, if not the best," said Ben Maher after his victory.
Valkenswaard 5* Grand Prix Results
St. Gallen CSIO5*
This weekend Oriane Grandjean took part in the very first CSIO of first division of the year, and offers you the chance of reliving the strongest moments in two dedicated articles: the Grand Prix and the Nations Cup.
Peelbergen CSIO3*
Portugal's Romao Duarte won the CSIO3* Grand Prix in Peelbergen on Sunday with Cayman Jolly Jumper (Hickstead), ahead of Koen Vereecke on the Stals de Muze stallion Lector vd Bisschop (Bamako de Muze) and Ireland's Eoin Gallagher on Faltic HB (Baltic VDL). The French rider Benoit Cernin was at the foot of the podium with the stallion Uitlanders du Ter (Clinton). He had the fastest jump-off but unfortunately a fault, whereas the pair had already achieved the double clear round in the Nations Cup on Friday. A Nations Cup won by Ireland with three pairs having achieved a double clear round!
Cabourg CSI3* and CSIO Youth
Alexis Deroubaix won the Grand Prix with the homebred stallion Aldo du Plessis (Orient Express), making his return to the forefront ahead of Kevin Staut on Bulgaria d'Engandou (Vargas de Ste Hermelle) while Philippe Rozier was accompanied by Christian Baillet's gray stallion, Le Coultre de Muze (Presley Boy).
"I am really happy because we have always believed a lot in Aldo who has always done very good things in young horses. Unfortunately, at the age of 8, he got lyme disease which is very problematic in horses. We were patient, it took a long time but André Chenu never doubted because he never lost his qualities. He always remained very respectful and today he's feeling good in his body again. As a result, he lets himself be pushed around, and he's more malleable and what's more, he's even becoming fast! He really surprised me in this jump-off. We always had high hopes for him but today he showed us that we were right. There is still a long way to go before the great sport, but I think he really has everything to get there and we are really happy to see him in such a shape. Today, he is healthy and he shows it", Alexis Deroubaix rejoiced after this victory.
On Friday, Belgium won the Nations Cup ahead of France in the junior class with the only double clear round of the team being achieved by Louise Ameeuw on Daniel Neilson and Tiffany Foster's former star, Zigali PS (Kigali). France then took its revenge in the young riders' category by beating... Belgium with a double clear round by Antoine Ermann on Azur du Vinnebus (Robin du Vinnebus)!
"I have a very good feeling after this win because my horse was really responsive. Everything becomes easy when he's like that. To win in the French team and in France is a very pleasant feeling. I knew that Azur was capable of great things but it's hard to hope of being the only double-clear rider in such an event. With a horse like this, you can dream of great things, but I don't want to set myself too big a goal", said Antoine Ermann, who seems to be a real promise for the future of French sport.
Opglabbeek CSI2*
Nicola Philippaerts won the CSI2* Grand Prix in Opglabbeek with the stallion Gijs (Kashmir van't Schuttershof) ahead of Karel Cox on Curiano van Maarle Z (Canabis Z) and Spain's Mariano Martinez Bastida, who had bet on Cleartoon (Carthago)
Courrière CSI2*
This time Julien Counet was present for this new international competition in Belgium. Find his reports on this first edition of the international jumping of Courrière with the 6YO Grand Prix and the 2* Grand Prix !