Ben Maher in Windsor, Darragh Kenny in Monaco, and Sanne Thijssen in Rotterdam!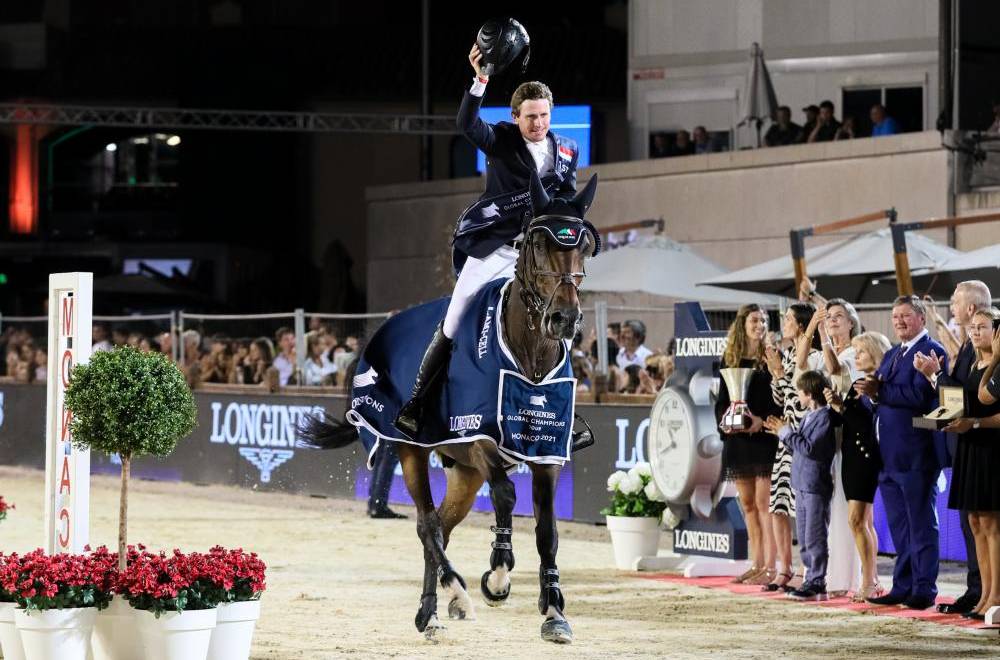 05 July 2021
Three CSI 5* were scheduled during this weekend of competition! Beautiful sport with some surprises, summarized in this article!
Rotterdam CSIO5*
The Dutch youth achieved all-round agreement in Rotterdam! Sanne Thijssen, riding the stallion Con Quidam RB (Quinar), beat McLain Ward on Contagious (Contagio) in this CSIO5* Grand Prix ! Her compatriot Kim Emmen climbed onto the third step of the podium with Jack van het Dennehof (Toulon). "I knew I had done a fast round, but I had to calm my horse because he was a bit too enthusiastic, so I thought that my time could be beaten but it wasn't. For this level you really need a good horse and unfortunately, he had been injured for a little while but today he's fine and I have a really good horse", said Dutch rider Sanne Thijssen.
Windsor CSI5*
At home, the British rider Ben Maher won the CSI5* Grand Prix in Windsor with his unstoppable Explosion W (Chacco Blue), ahead of the eternal Swiss duo: Steve Guerdat on Venard de Cerisy (Open Up Semilly) and Martin Fuchs with Clooney 51 (Cornet Obolensky). After winning the 5* Grand Prix in Paris recently, the Englishman seems to be in better shape than ever for the Tokyo Olympics.
Monaco CSI5*
The Global Champions Tour circuit was visiting Monaco this weekend. Irish rider Darragh Kenny won with the BWP Idalville d'Esprit (Carabas vd Wateringhoeve) whose dam is none other than Dali van't Plutoniahof who competes in 3* Grands Prix, as well as full sister to Vici van't Plutniahof. The Irishman had not won a Grand Prix at this level since Chantilly in 2019. He was ahead of Austrian Max Khuner on his Selle Français, Coriolis des Isles (Zandor x Dollar de la Pierre), and Olivier Philippaerts on his faithful Legend of Love (Landzauber).
"My horse is fantastic! I've been a little unlucky lately, with a fall in my last Grand Prix. I told my owner last week that I just needed to ride him better and that he would jump better. All weekend he was fantastic. He loves this arena in Monaco. I was just thinking about today and I just wanted to do a good job for him," the Irishman explained in the press conference.
Grimaud CSI4*
Belgium's Constant van Paesschen won the CSI4* Grand Prix in Grimaud with his faithful Isidor vd Helle (Canturo) ahead of the Spanish rider Manuel Fernandez Saro with Jarlin de Torres (Jarnac) and Aymeric de Ponnat who is getting stronger with the KWPN stallion Hoover (Clinton). He left his compatriot François Xavier Boudant in 4th place on Brazyl du Mezel (Haloubet de Gorze)
"I am very happy. Isidor has nothing left to prove, but every week he continues to please us. He has an incredible will, and it really is a pleasure to be able to count on him. I am even happier that I also took 5th place in the 2* Grand Prix with Zahara who was for only the second time in her life jumping a competition of this level. She is a late bloomer but with great potential. I took my time in the jump-off and I am very happy with her progress. I was in luck today because Isidor was just in time to compete in the jump-off - just 28 hundredths faster than our closest competitor in the jump-off and we avoided the four penalty points for time overrun with Zahara. So everything was perfect," Constant van Paesschen said with amusement.
The 2* Grand Prix was won by Michael Jung on the Nybor Stables' mare Chasandra (Sandro Boy) ahead of Robin Muhr on Dalakani Chardonnet (Paddock du Plessis) and Pieter Clemens on Crescendo MB Z (Clinton I)
Knokke CSI3*
On Saturday evening, the Grand Prix victory went to Stephex stables, this time thanks to the American Michael Hughes on Kashmir Van d'Oude Pastory (Thunder vd Zuuthoeve) ahead of Matias Albarracin on Cannavaro 9 (Cornet Obolensky) and Guillaume Foutrier on Clin Doeil du Paradis (Stakkato). The Frenchman also won the 2* Grand Prix the next day with Sex Appeal 111 Z (Spartacus), beating Norway's Maria Louis Kingsrod on the Selle Français stallion Urisoso de Laume (Diams du Grasset).
Royan CSI2*
Royan witnessed a French triple win in the Grand Prix. Victory went to Jérémy Le Roy on Razzia des sables (Zandor Z) ahead of Olivier Guillon on Vitot du Chateau (Toulon) and Margaux Rocuet, riding her faithful Trafalgar Kervec (Quaprice Bois Margot).
Peelbergen CSI2*
In Holland, there was a Belgian double in the 2* Grand Prix of Peelbergen with Benoit Moeskops on Kiarado (Diarado) ahead of Tristan Guisson on Naturelle vh Legitahof Z (Nabab de Rêve). Brazil's Victor Mariano Luminatti completed the podium with Cipollini Second Life Z (Carthago).