Ben Maher, on the verge of an Olympic title?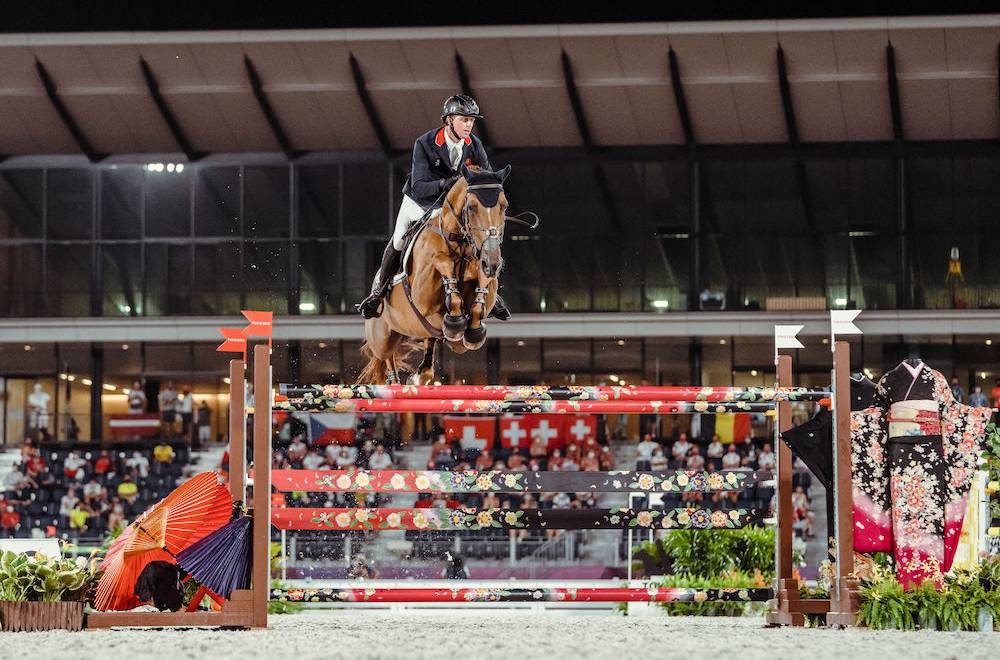 03 August 2021
Author : Eléonore Magnien
The show jumping competitions have kicked off. All the favorites, starting with Ben Maher and Explosion W, were present for this first qualifier. All got through, except Steve Guerdat and the Americans.
This afternoon, it was the turn of the show jumping riders to enter the Baji Koen stadium arena to run the individual qualifier round. In order to build this course in the most accurate way possible, course designer Santiago Varela had some sleepless nights. It had to be tricky enough to single out the world's best, but not too much so as not to hurt the riders of the emerging nations, for whom a 1.60m course is already a challenge in itself. The presence of such nations is the will of the International Olympic Committee (IOC): by reducing the number of riders per team to three, the objective was to open up equestrian sports to more countries. There were no less than 35 countries represented today, all with the same objective: to qualify the maximum number of combinations for tomorrow's final.
Thirty medal candidates
With only 30 places at stake, and 73 pairs at the start of the round, there was no room for error. Some of them were able to make the most of the situation, like Japan, which achieved the great feat of qualifying all three of its riders (Eiken Sato, Koki Saito and Daisuke Fukushima), as well as Ireland (Bertram Allen, Cian O'Connor and Darragh Kenny), Sweden (Malin Baryard-Johnsson, Peder Fredricson and Henrik von Eckermann), Belgium (Niels Bruynseels, Jérôme Guery and Grégory Wathelet) and Great Britain (Scott Brash, Harry Charles and Ben Maher).
Ben Maher and Explosion W completely comfortable in Tokyo © Sportfot.com
Ben was the fastest rider of the day and is one of the favorites for this championship. He has been suffering from back pain for a long time and underwent surgery last year. "I had to have a physio travelling with me – I couldn't even walk very well. Actually, on a horse, I was doing OK and I felt more comfortable, but life wasn't much fun," he explained. However, at that time he was already formidable with Explosion W (Chacco Blue): they had won seven 5* Grands Prix and just missed out on a gold medal at the European Championships in Rotterdam. Now that he is in full command of his body, there is no doubt that the British rider will be a competitor to watch. The new Olympic format could also work in his favor. The individual final is run with scores reset to 0 on a Grand Prix format, which undoubtedly favors fast horses, like Explosion W, Clooney 51 (Cornet Obolensky), Killer Queen (Eldorado vd Zeshoek) and H&M All In (Kashmir van Schuttershof)... However, it will be difficult to predict the winner. More than half of the qualified pairs are in fact capable of winning a medal, but sport can hold many surprises, as today's event proved. Indeed, who would have thought that this qualifier would deprive Steve Guerdat, Kent Farrington and the rest of the Americans of a final?
Steve Guerdat and Kent Farrington, a wasted opportunity
For Kent Farrington and Gazelle, the Olympic gold isn't to be for now © Sportfot.com
At the beginning of the qualifier, the clear rounds were few and far between. The fact that the event takes place at night probably didn't help, some horses seemed a bit rattled by the lighting and the colored obstacles proposed by the Japanese. The French can testify to this: Quel Filou 13 (Quidam's Rubin) and Vancouver de Lanlore (Toulon) refused to jump obstacle number 10, putting an end to Mathieu Billot and Pénélope Leprevost's hopes. Only their final representative, Nicolas Delmotte, is still in the running. In full confidence after his victories in La Baule and Chantilly, the northerner played a perfect game with Urvoso du Roch (Nervoso), and he wasn't the only one.
However, it soon became apparent that riders had to avoid having a rail if they hoped to qualify for the next round. In the end, there were 25 clear rounds and five others with a few time faults. All the pairs who had a rail down won't go through. Among them, Steve Guerdat and Venard de Cerisy (Open Up Semilly). "I underestimated this triple bar because it's one of my horse's favorite obstacles. That's why I take responsibility for this mistake," he admitted. Knowing the Swiss rider's appetite for medals, it's not hard to imagine his disappointment tonight, as well as Kent Farrington's. The American's list of achievements is as long as your arm. Having placed fifth in Rio, he was hoping for a medal this time with Gazelle (Kashmir van Schuttershof), winner of the tough Grand Prix in Aachen. But neither he, nor his compatriots, Jessica Springsteen and Laura Kraut, managed to complete this round without knocking down a pole. Let's hope that they'll be able to get back on track for the team championships which will start on Thursday. In the meantime, the individual final will take place tomorrow at 12:00 (French time).
Featured photo: Ben Maher and Explosion W © FEI/Christophe Tanière