Ben Maher & Explosion W Sweep LGCT Madrid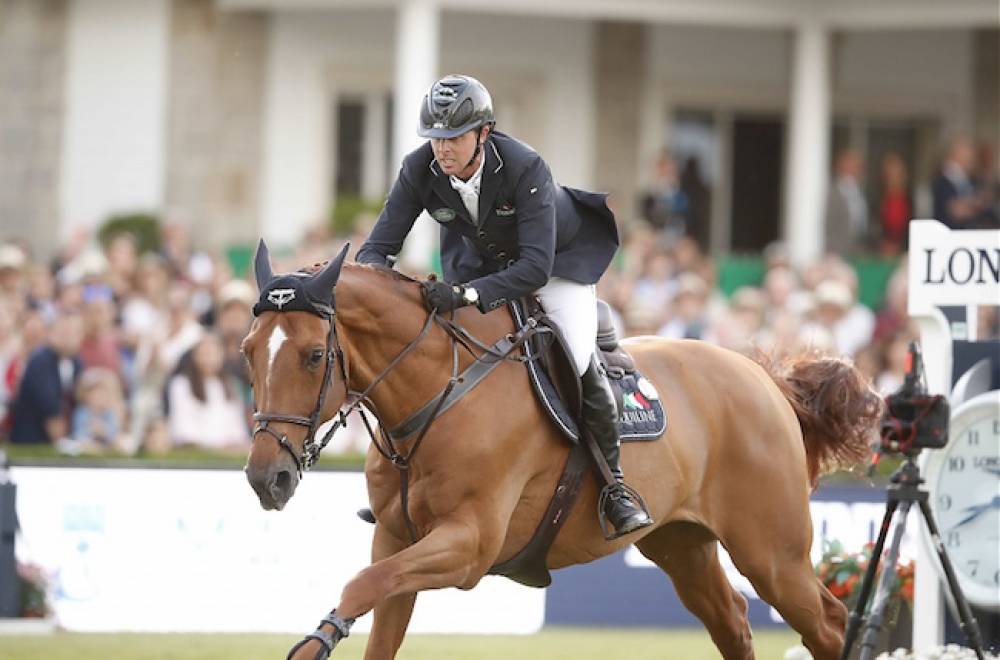 05 May 2018
Ben Maher stood out on the Longines Global Champions Tour of Madrid with a spectacular day on Saturday, May 5, 2018 that finished with victory in the LGCT Grand Prix of Madrid CSI5* aboard new mount Explosion W. The British rider has been on an upswing as of late, with strong results that included 2nd place in last month's LGCT Grand Prix of Shanghai with the 9-year-old KWPN gelding (Chacco Blue) that is owned by his sponsor, Poden Farms.
It was a close victory ahead of a rare, joint 2nd place in the grand prix recorded by Belgium's Nicola Philippaerts on Harley vd Bisschop (Dulf vd Bisschop) and Spain's Eduardo Alvarez Aznar on Rokfeller de Pléville (The Arc de Triomphe). the Pieter Devos of Belgium was pushed to 4th place on Espoir (Surcouf de Revel) despite a double clear that broke 40 seconds in the jumpoff.
Spain had plenty to cheer about, with Paola Amibilia jumping to the first clear in Round 1 with Gaudi. The Spanish rider would finish 10th in the ten-horse jumpoff.
For Maher, it will remain a day to remember; he took both titles in the individual 1.55m class that is also the Global Champions League final preceding the grandprix. Indvidually he was best with Explosion W and also won the team ranking of the same class.
"It was really about riding the course how it needed to be ridden and it was great sport," said Maher about the jumpoff. "Explosion has always been a good horse, but this year he as really come forward."
Complete Results Belgian riders Belgium, which was in great shape on Friday, where the young Belgian sprinters won the Linz Nations Cup with Gilles Dunon's double clear rounds on Fou de toi vs Keihoeve (Toulon) and Yves Vanderhasselt on his big promise, Jeunesse (Eldorado vd Zeshoeke) who will become a mother in the night of a filly of Mylord Carthago!With a clear round in the second set, Frederic Vernaet and Just a Gamble (Toulon), Wilm Vermeir will not even have to start in the second run! Cups of nations that will be successful in Belgium as the junior team won a victory in Fontainebleau ahead of Ireland, Germany and France while Switzerland won the Young Riders in front of Denmark, Germany and Belgium.