Bellezza Electra DK Z at auction at Zangersheide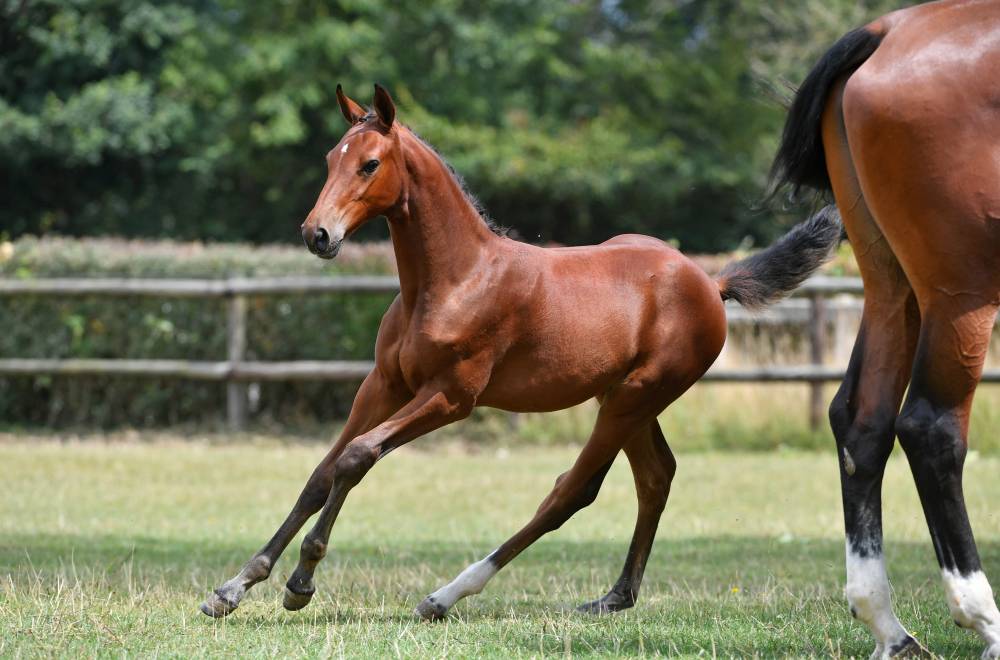 10 September 2019
As is the case every year, Zangersheide has managed to gather an impressive catalog with well-known sporting pedigrees such as Funky Music, Hardrock Z, Mylord Carthago, Illusionata van't Meulenhof, Ideo d'O, Action Breaker, Jeunesse, All In, Big Star, Pialotta, Dominator, Candy, London, Royal Kaliber, Vigo d'Arsouilles, Dragonfly de Longchamp and Wariska de la Falize, but also direct offspring of former stars who competed at the highest level, including Funke van't Heike, Oh d'Eole, Coriana vd Klapscheut and also Electra van't Roosakker. And all that was just on the first evening of the two-day auction!
The next day sees the brother of the very recent winner of the Calgary Grand Prix*****, a daughter of Queen Fairy of the Hazalles, and offspring of the pedigrees of Liscalgot, Claire Z, Boyante de Muze, Linotte de Sohan and many others.
Bellezza Electra DK Z with her carrier
Last year, Electra van't Roosakker (Carthago x Darco x Chin Chin) moved to Normandy, to the Ick stud farm near Deauville. It was therefore not easy to imagine that the following year at the Zangersheide sales there would be a filly out of Jos Lansink and Janika Sprunger's old star. Before her sporting career, the chestnut had already devoted herself to breeding with great success, including the approved stallion Kassander van't Roosakker, now ridden by Gregory Wathelet, and also the former 6-year-old Belgian champion, Kaprice van't Roosakker, as well as the international James Bond & Imke van't Roosakker and the Grand Prix horse Horpleasure van't Roosakker.
Electra van't Roosakker enjoying her retirement in the Norman pastures of the Ick stud farm.
"For many years, I have tried to acquire very good mares with very good pedigrees. Last year, I had the opportunity to acquire Electra in co-ownership with investors. It was a fantastic opportunity for a mare from a flawless pedigree. It is probably one of the best blood lines in Europe, with a mare who was a dream for so many riders in the sport, who has incredible strength and a lot of character. In addition to that, we must also consider the fact that she's a daughter of Carthago, who is a sire of dams. The combination of these three factors makes her an exceptional mare," Richard Dick explains.
"She's a really very pleasant mare with an incredible character. I would define her by saying that she is 'blood under muscle'. When you look at her, you see a very strong body and a nice mare, and as soon as she starts to move, you notice her sensitivity and the blood that is present as in all the line of her granddam, Usha van't Roosakker.
"Bellezza is from the first generation of Electra's offspring to be born at home. Personally, I had two fillies by our stallion Black Cera DK Z, which I also co-own with the same people as Electra. The choice to sell one of these fillies was not easy but you have to run the business and be pragmatic. Since I have had Electra at home, a lot of people have shown interest in her, so I finally agreed to put one on sale and the Zangersheide team chose Bellezza.
Bella Electra DK Z is a full sister to Bellezza Electra DK Z. Siblings by Cornet du Lys are expected for 2020.
"We chose Black Cera because we think he's a real star and he matches the mare. Moreover, he's a very exclusive stallion because we have decided not to sell him despite the many requests. He is a son of our stallion By Cera (Stakkato & Fein Cera)
out of our mare Teekitiezzie de Muze, who is also the dam of the Grand Prix horses Go Easy, Iceman and Hocus Pocus de Muze. He has not yet been out very often, but the enthusiasm he generated at each of his outings confirms our idea. I think he will bring to the mare a certain finesse; he is a very flexible horse with a very good technique which is perhaps the only thing we can fault Electra for a little. He brings size, blood and chic. I think that the fact that he is still not well known is not a disadvantage because it makes for something very exclusive, like the mare with whom embryo transfer is performed and not oocyte retrieval. ICSI is something very tempting but it takes a little exclusivity away from a mare's offspring."

The stallion Back Cera DK Z (By Cera d'Ick x For Pleasure x Darco x Chin Chin) competed for the first time in 2019 at the age of four.
Photos : Studforlife, Les Garennes & Pixel Events