Belgium takes the lead in Rotterdam!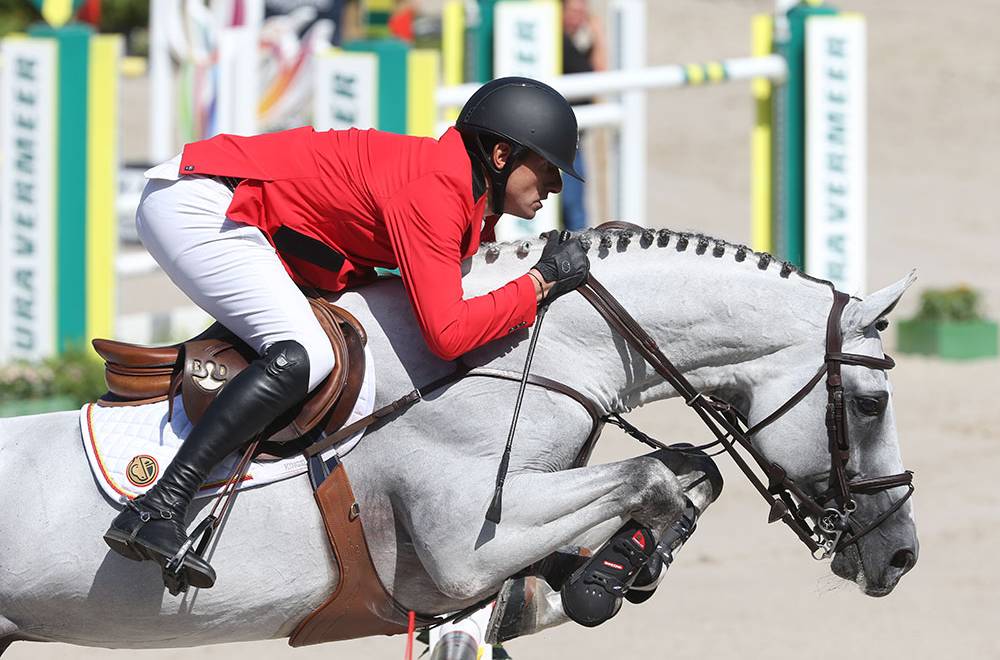 22 August 2019
We were expecting a change after yesterday's round in Rotterdam, and we were not disappointed! Once again, Louis Konickx has done a fantastic job maintaining the suspense.
The Irish team had a disastrous day with two very high scores from Cian O'Connor and Shane Sweetnam, while Peter Moloney and Darragh Kenny weren't able to go clear. They fall to 8th place with 30.36 points.
Switzerland have relied on its two Captains: Steve Guerdat with Bianca, and Martin Fuchs with Clooney were snapping up the clear rounds after the two very high scores from their teammates Paul Esterman and Niklaus Rutschi. They take 7th place with a score of 26.83.
Sitting in eleventh after the first day and going in the first group of the second day, Italy leapt ahead thanks to good rounds from Luca Marziani on Tokyo du Soleil (1 pt) (Montender), Giulia Martinengo on Elzas (4 pts) (Diamant De Semilly), and Riccardo Pisani on Chaclot (5 pts) (Chacco Blue).
It was a disappointing day for the Swedes who haven't been very far off, but have added up the 4 point rounds: Henrik von Eckermann knocked a pole at the lake with Mary Lou (Montendro), Malin Bayard on Indiana (Kashmir van't Schuttershof) had a pole, and even Peder Fredericson took a pole at the last fence of the first combination that hadn't fallen during the rest of the event! They had a final score of 18.81.
It was a complicated day for France also, who were relieved to see Alexis Deroubaix's faultless round on Timon d'Aure (Mylord Carthago*HN), stopping the team's misfortunes so far. Penelope Leprévost on Vancouver de Lanlore (Toulon) and Kevin Staut on Calevo (Casall) are out with a score of 8 points, while Nicolas Delmotte is out with 4 points. The French team's score is 17.39.
The British team impressed, with the impressive Ben Maher launching over the rails, completing a faultless round with Explosion (Chacco Blue), and Holly Smith did the same with Hearts Destiny (Heart Throb). Unfortunately, a small tap by Scott Brash and Hello M'Lady (Indoctro) at the lake stopped them from completing the clean score sheet, but with a score of 13.41, they're in 3rd place provisionally, and are in position for their Olympic qualification.
With impressive ease yesterday, Germany began in the same rhythm again, with a faultless round from Simone Blum and DSP Alice (Askari), but behind them are more influential riders. Christian Ahlmann and Clintrexo (Clintissimo Z), then Marcus Ehning with Comme Il Faut (Cornet Obolensky) come out with eight faults each! Daniel Deusser redeemed the team with a flawless no fault round, but it's not quite enough: 12.22 is their score... and they sit in second place provisionally but wait, there's a surprise!
Sitting in eighth place after the first round, Belgium was flawless in the second! Pieter Devos went first with Claire Z (Clearway), and they were far more reassuring than the day before. Then it was Jos Verlooy's turn, he was excited and determined to show that the confidence the Chef d'équipe placed in him was justified: success! Jérôme Guery had a blip, knocking two poles down with Quel Homme de Hus (Quidam De Revel), but the team Captain was watching and Gregory Wathelet cemented the team's place, turning in a third clear round, propelling Belgium to the top of the placings!
"Our goal coming here, is above all, to qualify for Tokyo. We still have a day of competition, and we saw how much everything can change, so we need to stay focused." said Peter Weinberg, just a touch away from being euphoric.
"Personally, yesterday was the most difficult day for me, because having to go fast on the first day it's still difficult for me. I had to put that out of my mind today, and my mare jumped beautifully. You have to keep going," Pieter Devos responded.
"This is Igor's (Emerald Van't Ruytershof) second Championship here. He has that experience, and this year we didn't do much. I felt he was coming to form at the right time, and he's confirming that here," Jos Verlooy said.
"I hope tomorrow will be my day to go clear. We must. I've had him for 6 months and a small track like this isn't ideal for him, so that's a shame, especially since I knew that the two places where we knocked poles down were difficult for us. Fortunately, I'm part of a very strong team," said Jerome Guery.
"I think our team has experience, and everyone feels better at big events like these. This is the first Championship for Nevados but these recent results have shown the quality that he has. I think we have a strong team, but we must stay focused because there's still another day tomorrow, it's been good so far, the rest will be just a bonus," Gregory Wathelet explained.