Belgium are the European Champions!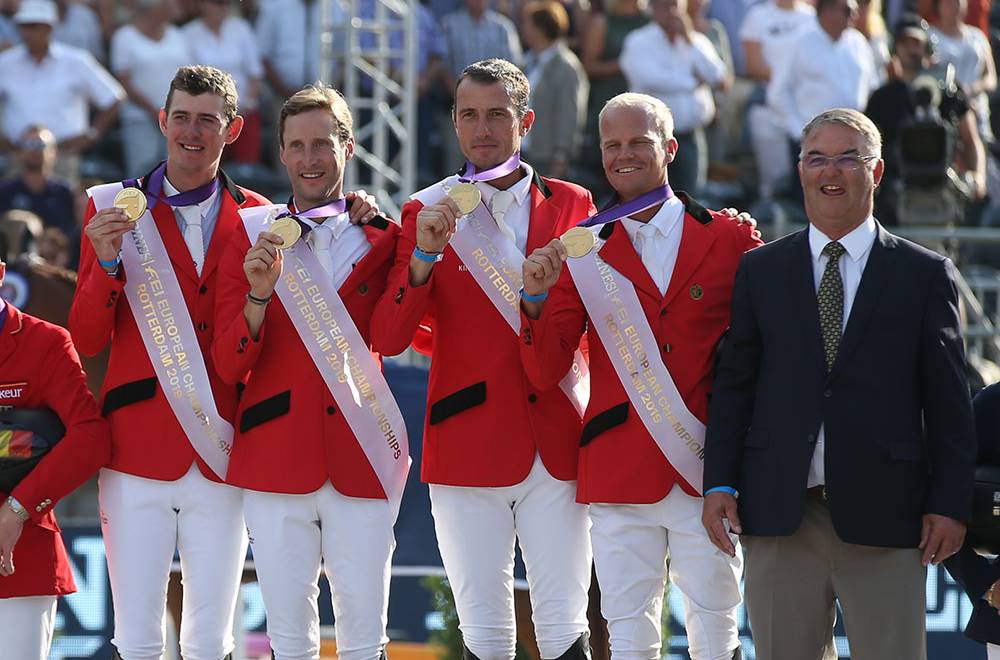 23 August 2019
The third day in Rotterdam heralded a new day of top sport, with a course that was bigger and more formidible than the day before.
The main issue, that of Olympic qualification, didn't garner too many surprises. Italy, who were without their leader, were unable to turn in a single clear round in this second round of competition. It was impossible for them to recover from there.
Ireland put everyone on notice when Cian O'Connor flew over the obstacles, turning in a faultless round with PSG Future (Toulon). Peter Moloney did the same with Chianti's Champion (Lys Champion), but it wasn't enough, because no one cracked under the pressure.
Paul Estermann decided to retire Lord Pepsi (Lord Pezi) who wasn't in good shape, and Niklaus Rutschi reacted by turning in a 1 time fault round with Cardano CH (Charmeur), to start his team off well. Martin Fuchs managed to keep the team on track with a new clear round on Clooney 51 (Cornet Obolensky), and although Steve Guerdat couldn't avoid four faults with his princess, Bianca (Balou du Rouet), it didn't change much for Switzerland, who finished in 6th place.
Just ahead, Sweden weren't been able to react. Only Henrik von Eckermann and Tovek Mary Lou (Montendro) managed a flawless round to start his team off on the right foot, but following him, his team didn't fare so well. Frederik Jonsson significantly improved upon his performance from the day before, with just four faults with the beautiful Cold Play (Contendro), but it wasn't enough because, surprisingly, Malin Bayard riding Indiana, and Peder Fredericson who rode All In (both by Kashmir van't Schuttershof) were not riding up to their usual standard, with 5 and 4 points added to the meter respectively, so they too were out luck in hoping for a podium finish.
The French also fought hard for the podium and weren't unworthy... but they weren't able to translate that to medal glory. Pénélope Leprévost was able to rectify her team's scores with an in form Vancouver Lanlore (Toulon), to post her team's first clear round... the other blue jackets were unable to imitate her, and the 4 point rounds added up. They've got the important part, the Olympic qualification is in the bag, but it was impossible for them to put the pressure on Great Britain.
The podium remained unchanged and Great Britain, too, have had to rely on their only clear round, which came from Ben Maher and Explosion W (Chacco Blue). Behind him, the two young shots of the team responded by turning in a 4 fault round each. Holly Smith would not be distracted by Hearts Destiny's (Heart Throb) losing of a shoe in the paddock, while Amanda Derbyshire rectified her round from yesterday and brought her best to the table to win the Bronze! Scott Brash's 8 point round with Hello M'Lady (Indoctro) didn't change anything... and their Olympic qualification is also secured!
The Belgian team also secured their Olympic qualification but they wanted more than that, and were engaged in the only real battle of the day: the battle for victory! Facing off with the German team!
Things had not started out well for both teams: Simone Blum knocked a pole down in the triple combination with DSP Alice (Askari)... while Pieter Devos finished on 5 points with Claire Z (Clearway).
After him, Christian Ahlmann and Clintrexo (Clintissimo Z) rattled a few poles but this time, luck was on their side, and the combination came out without fault. Jos Verlooy was under pressure, but he resisted and finished the new course clear with Igor (Emerald van't Ruytershof) who was in great form: the race for victory was on.
Marcus Ehning also had to do better than the day before. His star, Comme Il Faut (Cornet Obolensky) is one of the star attractions of the Championship... and posted a magnificent clear round. Jérôme Guery was now under pressure to perform, and he also wanted to redeem himself from the day before... and he executed a very nice round with Quel Homme de Hus (Quidam de Revel), they were penalized by just one time fault! A time fault that put enormous pressure on their last two competitors. Belgium now had 12.07 penalty points, while Germany was sitting on 12.22.
If Daniel Deusser wanted to maintain the suspense with Tobago Z (Tangelo vd Zuuthoeve), he needed to go clear, but the pole of the final obstacle of the twice-faulted Number 10 obstacle falls.
Gregory Wathelet couldn't breathe easily just yet, but he had a bit of manoeverability now: he had a pole in hand or some time faults, but nothing more. The Belgian maestro likes the pressure, and once again, he came to play. His round was sumptuous, masterful: MJT Nevados (Calvados) went clear; Belgium was in Gold Medal position for the first time in history!
Once again, it's when their backs are to the wall, that Belgium surprises. Without the expertise of Nicola Philippaerts and Niels Bruynseels, the team seemed to have lost two of their biggest cornerstones but, once again, it was their heart that made the difference. A beautiful lesson to learn from the sport that we all love.
"I'm more than happy with this medal! We've built up a young team in recent years and we've often missed out on Championships, but we've gained experience, and this time, we've done it. This victory is the icing on the cake... but we also have to dedicate it to all the people behind the team. Today, we saw people like Olivier Philippaerts who was our reserve rider, and also Niels Bruynseels, who was here, showing that we, above all, have a group that gets along well, and that is headed in the same direction," Pieter Devos said.
"I knew I had a pole in hand or some time faults, but I like the pressure, I know how to handle it. I stayed focused until the end, even though Nevados gave me a good feeling right from the beginning of the course. I think everything has been going in the right direction for several years. Of course, we have to thank Peter Weinberg, but the previous Chefs d'équipe have also done a great job, and we're reaping the benefits today," said Gregory Wathelet.
"I must admit that yesterday, I was happy with my teammates work, but I was disappointed with my own. The course didn't suit me as much, and we saw that in the results. I had to turn in a good score today and I'm very happy, but what's even more amazing is that it's really a team win. It's amazing," described Jérôme Guery.
"I'm very happy. I really think that we deserved this medal. My horse is really in fantastic form and everything is better for it. I can't wait for Sunday. I think when you're lucky to have a horse in such great form, you have to believe in them. You have to stay focused and do your best," said Jos Verlooy.