The Belgian juniors forged a path to victory ahead of France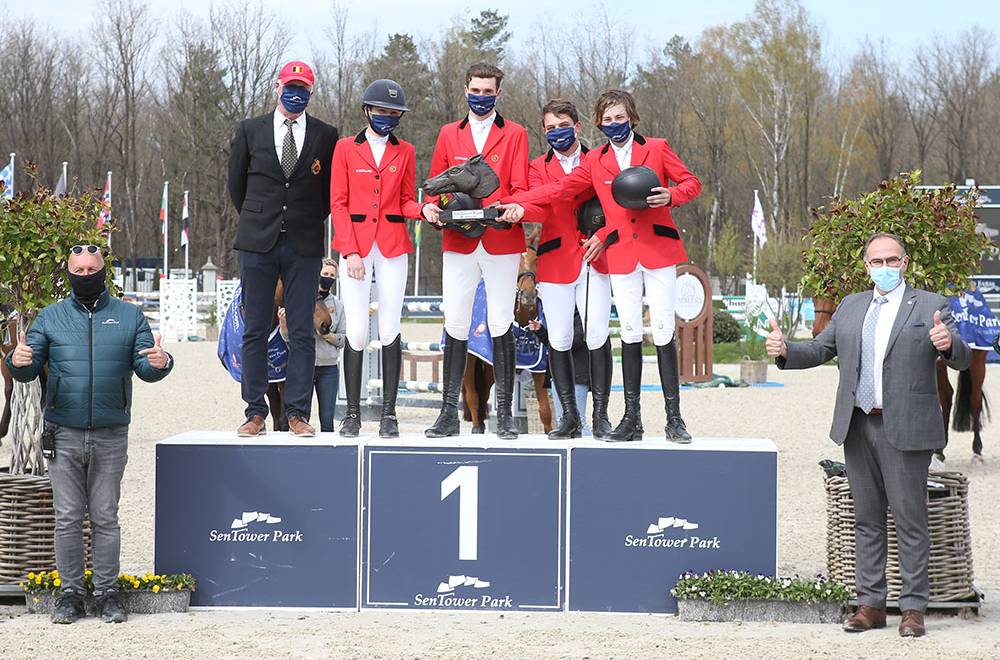 19 April 2021
It was a great start for the young riders who were back reveling in the joys of competition, with a CSIO held at the beautiful facilities of Sentower Park in Opglabbeek, Belgium.
A few countries finally committed themselves to the competition, but the opposition was nevertheless very strong as the host country welcomed France, Germany, Holland and Denmark, as well as a young team from Monaco that competed in the juniors. The organizers therefore offered the Chefs d'équipe the opportunity to field a second team per category if they so wished. It was an opportunity that was seized by Belgium and France.
Although the competition was held behind closed doors, the young riders were able to count on the support of many major high-level players who took advantage of the absence of high-level competition to come and watch their youngsters compete, such as Dutch coach Rob Ehrens and his French counterpart Thierry Pomel, as well as Grégory Wathelet, Wilm Vermeir, Guillaume Blin-Lebreton and Edouard Mathé, who came to coach their pupils and children.
The organizers complied with all the sanitary rules in force to contain the Covid-19 pandemic as well as rhinopneumonitis (EHV-1). PCR testing was mandatory for entering the show grounds, a daily temperature check of the 400 horses on site and all participants had to respect the rules. Everyone was delighted to be at Sentower Park.
"We mustn't forget that people are suffering from this disease and we must remain vigilant. Nevertheless, I think that it is critical for all these young riders that a European Championship can be held this year. I think that this Belgian competition has been able to show that it's possible to organize an event while respecting the sanitary measures, including having pathways so that the horses don't come into contact with one another. Everything was done so that people and horses do not take any sanitary risks. Under these conditions, we can hold competitions long term," explained Olivier Bost.
This is an opinion shared by his Belgian counterpart Rik Deraedt: "We're really happy to have organizers such as these in Belgium because the easiest thing would have been to do nothing. For them, it's very difficult, it brings a lot of additional worries. There is no audience, it's difficult to manage everything, but we can see that nevertheless they succeeded in doing everything magnificently. We haven't seen a single issue anywhere and I'm happy because everyone has complied with the rules well."
But above all, there was sport, and here again Olivier Bost had great reason to be satisfied with this competition restart: "The schedule was a little particular for this competition restart, but the course designer was really good. He created very progressive courses that allowed the horses to all jump very well in the Nations Cup."
During the first round, Belgium took the lead with three clear rounds. The Netherlands paid dearly for Amber van Marle and Gregorius vd Vrendt's (Emilion x Corland) time fault, which deprived them of the final battle despite Senna Everse's sumptuous double clear round on the stallion Grodino (Eldorado vh Zeshoek x Celano).
But in the second round, the fight tightened up: Germany achieved two clear rounds first up while France then lined up three with a magnificent double clear round from Rose de Balanda on Babacool (Dollar de la Pierre x Urbain du Monnai).
The Belgians had to deal with two four-point rounds but were able to count on Anthony Philippaerts to stop the bleeding with J'adore van't Schaeck (Vagabond de la Pomme x Darco).
The last round was to be the decider. Germany had to get a clear round, but Johanna Beckmann wasn't able to avoid a mistake with her susceptible mount, Alphajet DB (Arpeggio x Cornet Obolensky), and had to settle for a podium finish.
Tristant Guisson entered the arena with a homebred mare: Naturelle vh Legitahof Z (Nabab de Rêve x For Pleasure). It was the first round for the young man who didn't start in the first round after the three clear rounds of his teammates, but the rider achieved a magnificent round, offering up the much-awaited clear round which allowed Belgium to win without having to compete in a jump-off against France.
"I'm very happy. I obviously had a lot of pressure on my shoulders, but I stayed very calm and just focused on my riding. It went very well. My sister, who is a year younger than me, was also part of the second Belgian team here. Last year we got the chance to ride in Nations Cups together and even won the Nations Cup Final together! This makes the feeling even more special. We ride homebred horses that are started in our stables and that we often start riding ourselves when they are 6-7 years old. It's often my mom who chooses who will ride which horse. For my part, this is my last year as a junior and I would really like to have the opportunity to participate in the European Championships," said Tristan Guisson.
"We had a lot of fun watching our two junior teams. The second team was a little less fortunate, but they showed that they also have the ability to do very good things. We are lucky to have a very important pool of juniors and unfortunately, it's usually either one or the other. Here, everyone was able to participate. There is no team one or team two in my mind. The only thing is that we learned about the possibility of fielding a second team after having already announced the first one, so the question of how to distribute the riders did not arise. The choices were already made. The juniors and the young riders are already almost professional riders who have been able to jump throughout the winter and at the beginning of the year, whereas the amateur riders have had a lot less opportunities. It's certainly easier when you have more competitions but here, the riders had to train themselves and that's where we see the quality of the supervising teams. We saw it in the management of Tristan Guisson who didn't jump in the first round because he couldn't improve the team score, and he had a magnificent second round with a spectacular exit from the triple combination while remaining calm and focusing on his job," commented Belgian Chef d'équipe Rik Deraedt.
Olivier Bost was also satisfied with his team's performance, which had a sumptuous second run: "I think that the kids rode the first round as well as they rode the second. We just lacked a bit of luck in the first round. I think we can see that the work we put in place with the federal training courses is paying off. As it was a re-run competition, some riders decided they would prefer to stay on the Grand National circuit, which is also very good. Nevertheless, we've brought a strong team here. I'm glad we came, and I think we can now compete with the big European teams, which is very promising. I think there is nothing more formative than these Nations Cup circuits for young people."
Photo credit: Julien Counet