Belgian Juniors crowned European Champions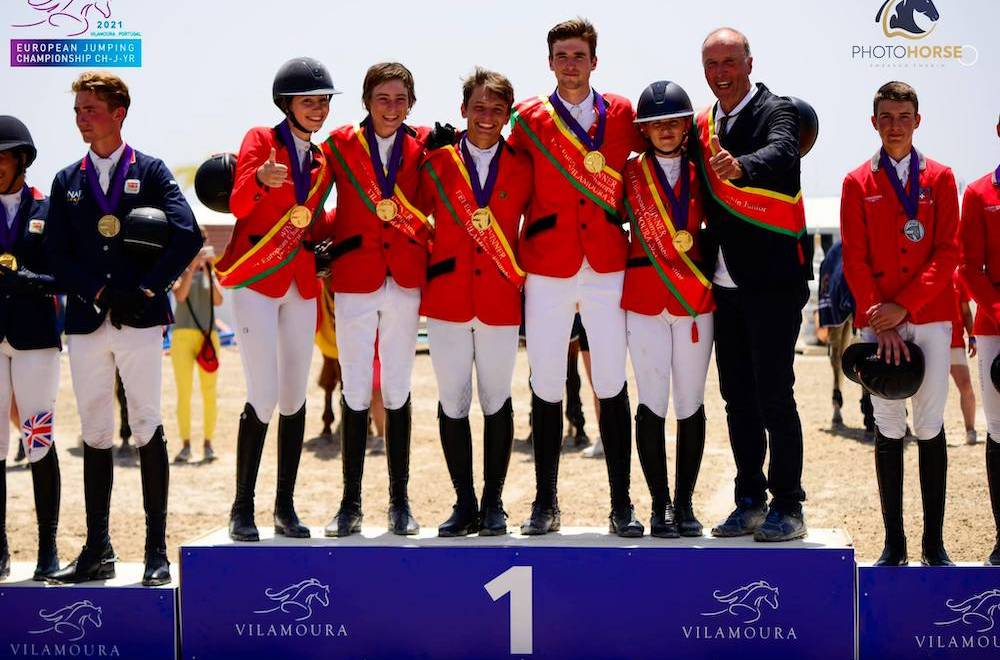 22 July 2021
Author : Mélina Massias
After the speed event and the two team event rounds, the Belgian Juniors won the team gold medal at the European Championships in Vilamoura, ahead of Switzerland and Great-Britain.
After the first speed course on Tuesday, July 20, the Juniors competing in Portugal for the European Championships were today divided for the two rounds of the team final. The riders found themselves faced this Thursday with a technically very serious course. Only three pairs found the key to the double clear round. With 9.83 points in total, Rik Deraedt's Belgian protégés climbed to the first step of the podium. The team leader was able to count on the performances of Tristan Guisson and Naturelle vh Legitahof Z (Nabab de Rêve), who scored a clear round and four faults. Anthony Philippaerts, already a member of the team when he finished fourth in 2019, was not far off the same score, but was awarded a small time fault in the second round with J'Adore van het Schaeck (Vagabond de la Pomme).
These results not only allowed Belgium to go ahead of Switzerland – the silver medalist – and Great Britain – bronze – but also to be in good position for individual medals thanks to the fifth and sixth places of Tristan and Aurelien Guisson. The ranking is currently dominated by the Irish rider, Tom Wachman and HH Fireball (Number One d'Iso) and the British rider, Ava Vernon, associated with Jolie Fleur van de Noordheuvel (Cassini II) – who both achieved two perfect rounds today. The French riders Alice Lainé and Emerald Sitte (another product of Nabab de Rêve!) make up the rest of the interim podium. We look forward to seeing all the Juniors on Saturday for the individual final!