Behind the scenes with the French team in quarantine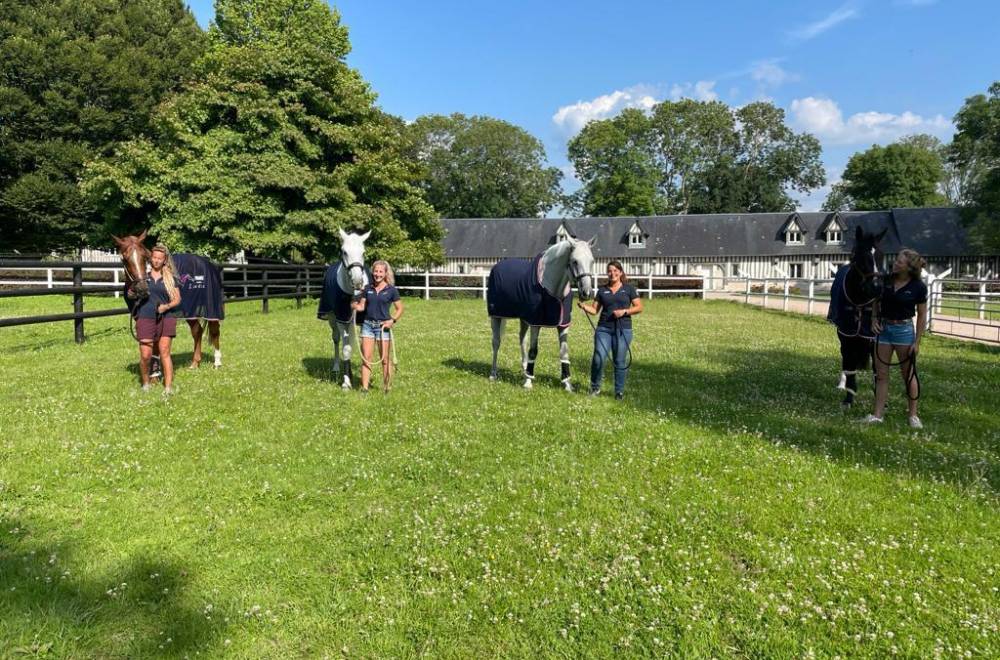 22 July 2021
While many nations are quarantining in Aachen for the Tokyo Olympics, the French show jumping team is quarantining in Vauville, Normandy. A few days before the start of this quarantine - scheduled for Saturday - Claudia Guichard, Nicolas Delmotte's groom, tells us about her daily life and the final preparations!
Claudia Guichard, who arrived with Urvoso du Roch last Friday, and her French colleagues are in quarantine, and explains to us that she hasn't changed her companion's daily life. "Urvoso is used to going out to the paddock in the morning, so he starts his day that way. During this time, I clean his box, and bring him fresh water and hay. I bring him in mid-morning depending on the heat. Some days, Nicolas rides him in the morning and in the afternoon, and then I finish by walking him in hand."
Urvoso du Roch takes full advantage of the Normandy air. Photo credit: Claudia Guichard
Now, two weeks from the start of the Olympic events, the goal is "to make sure the horses are still in good shape and in good spirits. They are training over some small jumps and their riders are fine-tuning a few things, but it's business as usual in our stables. As for his care, I haven't changed anything. I put additional bandages on him at night, but that's the only precaution we've added. As for his food, I give Urvoso an extra supplement so that he drinks and drains well to prepare for the flight."
Nicolas Delmotte and Mathieu Billot. Photo credit: Claudia Guichard
Sport and mental performance coaches, federal staff, riders and grooms are also entitled to their preparation! "On Monday, the riders met with a Mental Performance Coach and at the end of the day, we did some sports exercises together. We started warming up by running and working in pairs. The final exercise was to have one person lie on a stretcher and together we managed to complete a course with obstacles and water." Nicolas told me, "If we tell this story, nobody will believe us" (laughs). "The goal was to help each other and to find solutions while maintaining cohesion as a group.
Photo credit: FFE
During this time, the mental performance coach observed the grooms. Then on Tuesday, individually he made us work on our main fault. With me, he noticed that I don't like the negative and always make everything positive. If I'm really in the red, with no way out, I can get upset and run away. So we worked on that and listened to recordings to improve my focus. Overall, we were all pleasantly surprised and happy with the outcome."
The French team equipment. Photo credit: Claudia Guichard
Speaking of the team, and because the Olympic Games want to bring all athletes together regardless of their sport, the French will all be united wearing the same colors, with the equipment received for the jumping team this week! "We were spoiled with a suitcase, a bag, six T-shirts, jackets, sneakers... It's great to have this pack to represent our nation."
Photo credit: Claudia Guichard
In two days' time, the horses will take the road to Liège airport. How do they prepare for this long flight? It will take about 19 hours, with a stopover in Dubai before arriving at Haneda airport in Japan. "On Saturday, we leave with the horses at 6am and have until noon to arrive at the airport. For my part, Urvoso has never flown but travels very well in a truck, so the only thing I'm apprehensive about is entering the stalls and the conveyor belt before boarding the plane. During the flight, the horses will be able to eat and drink, but for take-off and landing, I will provide lots of carrots so that they chew to keep popping their ears. After that, I have full confidence in the Peden Bloodstock team who know what to do and in Kallisté Lahalle, Mathieu Billot's groom, who will travel with them. Once the horses are in the air, Audrey Morandat, Simon Delestre's groom, Mélanie Cloup, Penelope Leprevost's groom and I will go to Paris-Charles-de-Gaulle airport to take our plane, which will have us arriving before the horses. Upon their arrival, I will be with veterinarian Jérôme Thevenot at the airport to welcome the horses, who will land on Monday at two o'clock in the morning (Japanese time), since Kallisté Lahalle will go to PCR testing, which can take several hours, before she can meet the horses."
Top to bottom: Audrey Morandat, Kallisté Lahalle and Claudia Guichard.
"For the moment, the atmosphere is quite relaxed and we aren't feeling the pressure. We know that we may have some more difficult moments than others, but I tell myself that it's still a competition like any other. Of course, it's the Olympic Games, but we have to prepare the horses as usual. My work will be the same before, during and after. Nicolas also knows what he has to do. I haven't forgotten that horses are living beings, we can't control everything. In any case, I wish us all the best!" ends Claudia Guichard.
Featured photo: Rights reserved
Description: Left to right: Claudia Guichard and Urvoso du Roch, Berlux Z and Audrey Morandat, Kallisté Lahalle and Quel Filou 13, as well as Mélanie Cloup and Vancouver de Lanlore.