The Beerbaum Stables win it all in Diriyah!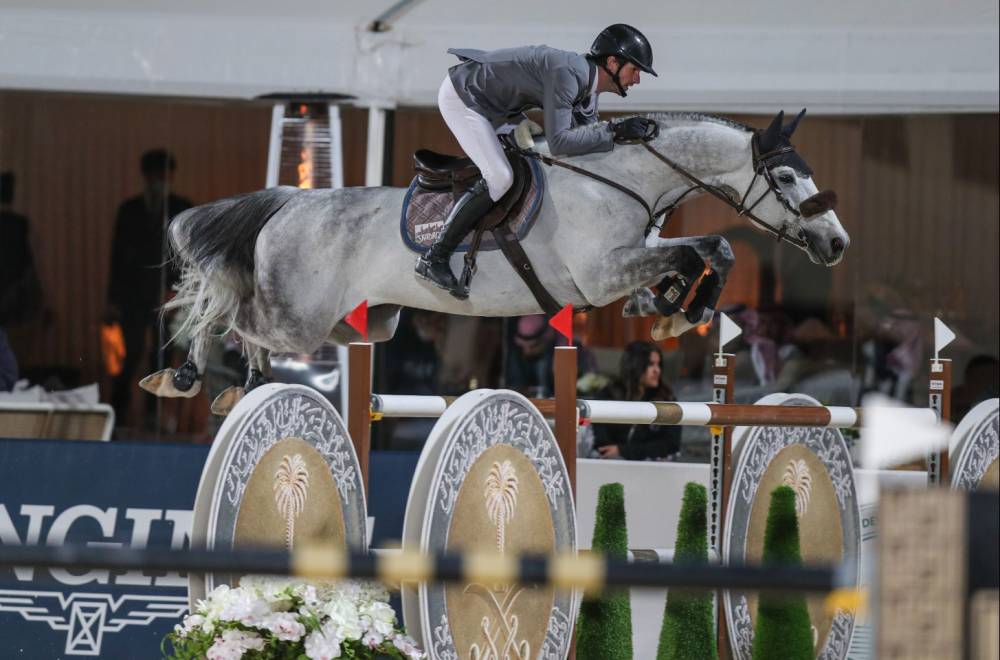 21 December 2020
Diriyah CSIW5*
All eyes were on Diriyah this weekend, as they had the only 5* of the winter! The highly-prized event of the weekend, the World Cup stage, took place on Friday with a surprise victory coming from Christian Kukuk with his 8-year-old mount, Mumbai van de Moerhoeve (Diamond of Semilly x Nabab of Dream). Sold by Woodland's International Sales, this powerful gray didn't wait long to make his mark on the international scene! Especially as he has allowed the Beerbaum stable rider to beat his compatriot Daniel Deusser on his top mount, Tobago Z (Tangelo vd Zuuthoeve), as well as the double Belgian Champion pair, Jos Verlooy and Varoune (Verdi).
"I'm very proud of Mumbai today. It was his first 5-star Grand Prix... but I almost forgot he was only 8 years old because he looked like he'd been doing this all his life. It's a really great way to end 2020!" said the German rider.
The Beerbaum stables went on to conquer Diriyah the following day, with the Grand Prix victory going to his colleague, Philipp Weishaupt on Coby (Contagio) who came in ahead of... Daniel Deusser once again, who had bet, as he did the day before, on Tobago Z (Tangelo vd Zuuthoeve) while this time, 3rd place was secured by Kevin Staut with Toledo de Mescam (Mylord Carthago) who was very consistent throughout the weekend, having already placed 6th the day before.
Gorla Minore CSI2*
Léon Thijssen won the Italian Grand Prix with Faithless MVDL (Ukato x Clinton), ahead of German rider Hans-Dieter Dreher on Vestmalle des Cotis (Baloubet du Rouet x Landor S) who is none other than a sister of the Grand Prix mare Urane de Talma and granddaughter of the former 7-year-old French Champion Karla de Toscane, herself a maternal half-sister to the Olympic Team Champion, Rahotep de Toscane. Swiss rider Bryan Balsiger completed the podium with Dubai du Bois Pinchet (Kashmir van 't Schuttershof).
Lier CSI2*
The Netherlands also won in Belgium. Michael Greeve won on Guan GJB (Namelus R) ahead of the young rider Gilles Thomas on Konak (Nabab de Rêve) and Sanne Thijssen, daughter of the winner of the Gorla Minore Grand Prix, who took 3rd place with Con Quidam RB (Quinar) at the end of a very long jump-off which ended up having no less than 17 riders out of the 73 starting candidates.
Spanish Championships
Oliva hosted the Spanish Championships this week where Sergio Alvarez Moya won with the Selle Français, Valdocco des Caps. Number One d'Iso's son regained the limelight by beating another Selle Français, Aldo du Manoir (Iowa) under the saddle of Alberto Márquez Galobardes, while Eduado Alvarez Aznar put aside his faithful Selle Français, Rockfeller de Pléville in favor of the 9-year-old BWP, Legend (Ogano Sitte), who is trained by Delphine Goemaere.
Senior Spanish Championships Results
Of note also, the competitions that are always organized in Villeneuve Loubet, where one can always wonder about the level of interest, both from the organizers and from the few participating riders, of organizing such farces... sorry, these competitions!