Aurelia Loser; mixing psychology and competition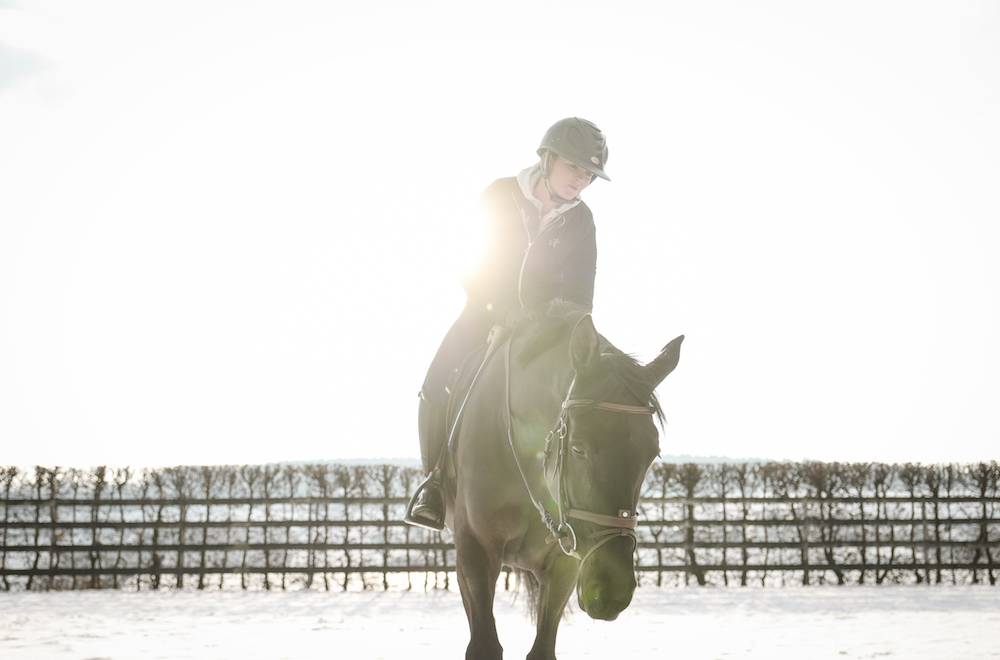 13 February 2021
In the first part, Aurelia Loser told us about her beginnings and particularly about her arrival at the Gian-Battista Lutta stables in Lossy. In this second part, we'll talk about life as a rider for a horse trader, with its good and not so good sides. We will also find out about this 26-year-old Swiss woman's goals
Aurelia and her new asset, Molly Mallone Z
Aurelia Loser is a rider for a horse trader, but she occupies a special place within the Lutta stable's management. She is a Master's student at the University of Fribourg, but she's back with her horses again as soon as classes are over: "We each have our own string of horses. In the stables we have Séverin Hillereau, who recently returned to the team. He has taken over Romain Duguet's stables, where his own horses are based, and he rides Gian-Battista Lutta's horses as well. It's really good to have him back, as he's one of the pillars of our team. After Alain Jufer moved to Steve Guerdat's, there was a bit of slack in the team. We also have Victoire Echelard, who took part in the 'Européens de la Relève', competing for France."
Aurelia Loser and Anaba Haize in a snowy Lossy paddock at Gian-Battista Lutta's stables
Gian-Battista Lutta, who has himself competed at the top level, has two sons who are now shining at the junior level: Thibaut and Noah. "Gian-Battista Lutta's children are also part of the team," explains Aurelia. "They ride really well and it's normal that his children have priority. When you have good, easy horses, and when you have enough, it's natural that the boss's children get to ride them. Noah, the youngest child, is still at school, while Thibaut, the eldest, is doing an equine apprenticeship. They work a lot. The eldest has also started a little business. Within the team, we get along well and it's very motivating to be part of a team. There's no competition. Séverin's return is a plus. He helps us with the horses and he's always there. When Alain left, we needed another leader in the stable."
In the stalls of the Lossy stables, there are many good horses and Aurelia Loser can therefore count on some choice mounts: "I never wanted to know the price of the horses I was riding. Sometimes I know because I'm told, but in general I prefer not to know. I'm here to ride the horses and to present them. Trade and business are Gian-Battista Lutta's job." However, the other side of the coin is that the role of a commercial rider is not always obvious when the horses are sold: "You've got to admit that it's not easy. When you become attached to a horse, it's never nice to see it go, but you know that going in. We're lucky because Gian-Battista always tries to keep the good horses for us. This was the case with Tic Tac, who I was able to ride for a year and a half when he had planned to sell him right away. He wanted to keep him for me so that I could compete in some big events, which in the end didn't happen in 2020. I still had the opportunity to participate in the Nations Cup in Vilamoura and it went well for me, so our story ended on a good note. And it was the right time to sell it. It's not easy though, because you get attached to them. When they give us great results, it's trickier than if it's a 6-year-old that you've only ridden over two courses." A brilliant young rider like Aurelia is also an asset in a commercial stable: "With me riding, the horses are easier to sell. They sell well when you see that they can be ridden by a young woman."
Aurelia Loser and Anaba Haize
Among the advantages of riding for a trader is the multitude of horses that there are to ride: "When I arrived, I rode at a good level, and had quite a lot of feeling, but riding in a trading stable like this made me progress incredibly fast. I rode so many different horses. For a sport perspective, I skyrocketed thanks to Alain and Gian-Battista." Aurelia's specialty? Hot horses: "It's true that I currently have some challenging horses, but I like that. I like it when there's a little bit of a challenge. I like the special ones, the hot ones. In principle, I do well with those kinds of horses. I have more trouble with horses that need to be stimulated. I owe a lot to Laurent Fasel in the way I ride. He always goes with the horse, in the natural way. He lets the horse do things. I think I have retained that from him. Here, I have learned how to work the horses and that it is essential that horses listen when aiming for the top level."
The young rider likes to work with a coach on a daily basis: "I train with Fabien Acide. He helps us a lot. In 2020, I worked with him a lot. He is very 'horse-minded', he never works a horse under duress. He has an eye for immediately getting the horse to work in the right way. Gian-Battista is also always there when we jump, he sometimes gives us advice or makes us jump, because he sees so many different things. He doesn't talk a lot but sees many little details that make a difference. I think I could work alone, but it's important for me to have someone by my side. For example, in competitions, I appreciate having someone like Gian-Battista who'll tell me before entering a jump-off, 'Go, go!'; it gives me confidence."
What strikes you when you see the young rider in the arena is her self-control. Moreover, her mastery of the mind is making her consider becoming a sports psychologist: "In two years' time, we'll see if I move into horses full-time or if I continue training to become a sports psychologist; that motivates me a lot. From the very beginning, Laurent Fasel has always told me that I was a cold rider and that this was an immensely useful quality. It's true that I'm lucky because I can handle the pressure well. And when there is pressure, I manage to use it in the right way. Whenever it's important, I'm able to push myself to go further. I wish I could pass that on. I don't really know how yet, because for me it's natural, but I would like to be able to share this ability."
Aurelia Loser participated in the CHI Geneva in 2019 and in the Nations Cup in Vilamoura in 2020 with the good performer, Tic Tac, before he was sold. © Sportfot
Despite the sale of Tic Tac, Aurelia Loser can count on a solid string of horses and look forward to the 2021 season: "I'll focus on Molly Mallone Z (Mylord Carthago) for the big events. She's still green even though she's a 9-year-old. When she turned 7, she had hardly done anything, it was like riding a 5-year-old. I think she has the potential to go all the way to the top. I have Hotaowa de la Tourelle (Centurio 22), an 8-year-old mare for the future, I think she's going to make it to her first 1.45m event and get her first rankings this season. I'm also lucky enough to have two horses owned by Arturo Fasana: Anaba Haize (Ravage de Mars) and Curtis Sitte (Ugano Sitte). Curtis has already competed in some big events, he has nothing more to prove, so we'll see what he still agrees to give us. Anaba is a very hot mare. I really like her because she's typically the kind of horse I love: warm, beautiful and endearing. At home, she jumps incredibly well, but in the arena, she loses a little bit her quality because she's too hot. I'll be able to count on both for Grand Prix events."
Aurelia Loser can count on the promising gray Molly Mallone Z.
In 2020, Aurelia Loser was able to take part in the Nations Cup in Vilamoura and this gave her another taste of the high level and team events: "I really hope to be able to take part in other Nations Cups, because it's something that motivates me a lot. Of course, the national Grands Prix are the best, but the Nations Cups are at a higher level that I would like to get to."
In the long term, the big championships are a dream that the young woman keeps in mind: "If I'm lucky enough to have horses and able to get there, then yes, that's a goal that would motivate me."
If she's not getting stuck into her books or on a horse when you come across the smiling young woman, it's probably on the Crans-Montana ski runs that you'll have the best chance of seeing her: "When I lived in Crans-Montana, I didn't realize how much I loved the region and the mountains, I hardly skied anymore. Now that I live in the Fribourg Canton, I love to go back to Valais and enjoy some skiing. Of course, between the horses and my studies I don't have much time for anything else, but in the winter, I take some time off to go skiing. My parents are still up in Crans-Montana, where my mother is a doctor." It's with her family and in the pure Alpine air that the rider gets the energy to face the many challenges she sets herself.
The End!
Photos © Clément Grandjean