Aurelia Loser; mixing psychology and competition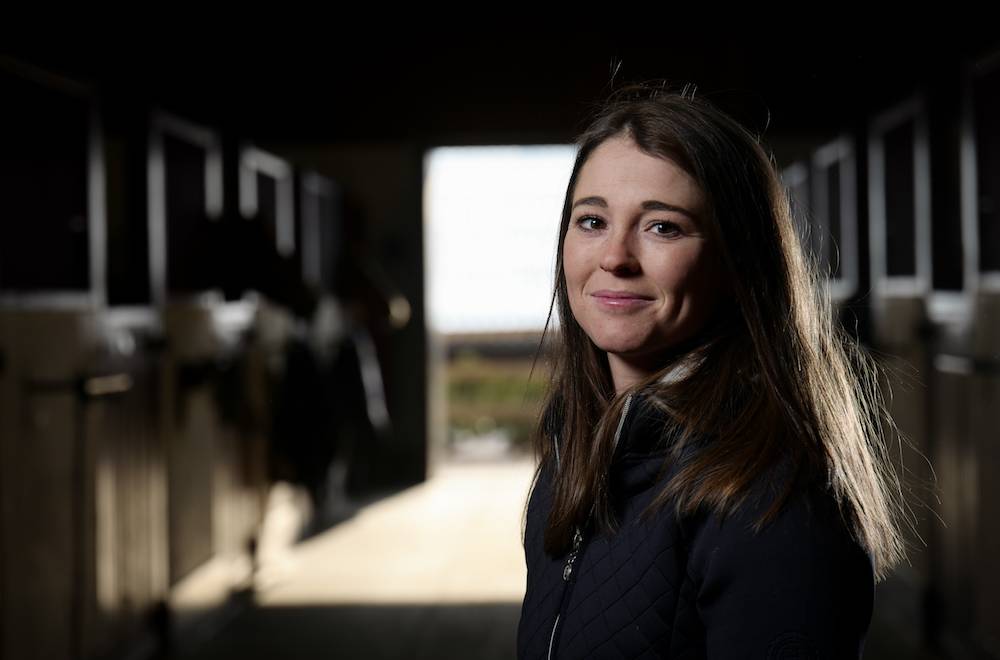 12 February 2021
At the age of 26, Aurelia Loser is part of the Swiss elite and already has a fine track record: she was ranked in La Baule, and a member of the winning team in the Rabat Nations Cup in 2017, to name but two of her outstanding achievements. Based in the stables of trader Gian-Battista Lutta, near Fribourg, the Valaisan rider is pursuing a career as a rider and also studying psychology at university. She has been riding for this well-known trader since 2014. He discovered talents such as Jalisca Solier (Alligator Fontaine) and Quorida de Treho (Kannan).
At the beginning of 2021, Studforlife went to meet Aurelia Loser in Lossy. Read our two-part report here!
Aurelia Loser with the very sensitive Anaba Haize, in Lossy, one of the two mounts that Arturo Fasana has made available to her.
Even though Aurelia's mother has ridden in competitions up to 1.35m and horses have always been a passion for her, Christine Loser preferred to see her daughter channel her energy towards dance. So she offered her... a tutu. "Dancing was out of question for me! I took two classes to please my mom, but putting a leg on a bar was not for me," jokes Aurelia. Aurelia made her debut at the equestrian club in the alpine village of Crans-Montana: "It was really love at first sight when I saw a horse. I spent all my free time at the riding school. I had a nice group of friends there, it was great."
Aurelia Loser is based in Lossy, where she rides for the stables of horse trader Gian-Battista Lutta.
The years went by and she wanted to move towards competition and jumping. So she moved down from her home in the mountains to train with Laurent Fasel, in Granges, a stone's throw from Sion. "I had my second pony and that's when I got a taste for competitions. Laurent and I got along very well and I owe him a lot. He passed on his values to me, especially the fact that he always went with the horse. Never in conflict. That's something I've kept. I stayed with him for 10 years." Aurelia became seasoned in the Junior and Young Riders categories with Maestro du Gonge (Fétiche du Pas). At the same time, she leased the good, but very hot Quinette Theod (Helios de la Cour). "It was difficult at first; I thought I'd never make it. She had too much blood. The first time I tried to ride her, she wouldn't even let me approach her to put her boots on. But after that, we got along well very quickly."
Once she had her Bachelor's degree, she decided to take a gap year to focus on horses. "My mother agreed, but she wanted me to go abroad to perfect my German. As Laurent Fasel didn't know many people in Germany, he asked Alain Jufer for advice. The Lutta stable rider was about to leave at that time and Alain advised me to come and introduce myself. As I had already bought a horse from there, and Gian-Battista had seen me in competition and liked the way I was riding, I got the position."
Aurelia with her dog Maya
At the end of 2014, Aurelia Loser settled in Lossy. During this gap year, she rode 5-6 horses a day in addition to the two mounts she owns. She cleaned the boxes and worked as part of the team. In 2015, she resumed her studies. First, she studied law for two years, then psychology, where she is currently in the first year of a Master's degree at Fribourg University. In her free time, she rides the Lutta stable horses; her own horses having since retired - Quinette, her heart horse, is actually in foal to Mylord Carthago for this spring. "Gian-Battista's confidence in his riders is very encouraging. He trusted me very quickly. I was lucky to be entrusted with Grand Prix horses only a year after arriving here." It must be said that the quality of the horses in the stables means that all the riders are extremely well equipped. "We each manage our own string of horses, and set our own schedule. If one day I have classes all day long, I can count on the team at the stables to get the horses out."
She also benefits from her family support, especially from her mother, who is often right by her side at competitions: "My mother comes with me when she can; she helps me prepare the horses. My father follows me from farther away. My brother isn't passionate about horses either. He works hard because he is finishing his training as a Neurologist, but he follows my results. It's nice to feel supported."
2017 was the year in which Aurelia Loser got a taste of the high level. "It was incredible. It was a year where everything was going well. I rode Hunter, one of Arturo Fasana's horses, who is now in the United States and is doing very well with Lucas Porter. I also had Quelmec du Gery and Quinette. I could count on three horses to do the Grand Prix. Everything was perfect. I had the opportunity to go to La Baule, but I only rode Quinette there. It was a very enriching experience. Alain Jufer wasn't able to come, so Steve Guerdat helped me. I was able to walk the course with him and he came to help me with training. It was nice of him to have coached me. I was also able to see how he did things, because at that level, everything really changes, like the number of jumps in training... Moreover, it went well: I won a placing and the 1.40m event on the first day. I also met my mare's breeder, who hadn't seen her for years. He almost cried when he saw her in La Baule."
The year continued to build momentum and Aurelia was able to set off for Morocco to take part in the Morocco Royal Tour. She achieved an amazing feat with Quelmec du Gery (Pamphile) in the Nations Cup: "In Rabat, we won the Nations Cup. I must say that it remains as one of my favorite memories. You don't ride a Nations Cup like a normal event. You put a little more pressure on yourself. I felt an emotion that I had never experienced before. I'd already competed in Nations Cups with the Juniors and Young Riders, but it wasn't the same. You really want to do well for the team. It's a feeling that's hard to explain, but it gives you an extra boost. It's good pressure. I had a pole down in the first round, but a clean run in the second round; awesome!"
And it's not over yet. In 2017, the Swiss rider concluded her season at the CHI Geneva, where she took part in the very delicate combination event: "That's also an excellent memory. When I entered the arena with my little Quelmec, who is only 1.58m at the withers, I was very impressed. During the course walk, I had already found the jumps to be huge. I had never seen such a big first fence! But I made a mistake because Quelmec stepped on himself and lost a shoe."
Aurelia Loser has achieved great results with the small but bouncy Quelmec du Gery, namely at the 2017 Nations Cup in Rabat, which was won by the Swiss team.
© Sportfot
To read the rest of our interview with Aurelia, see you tomorrow!
Photos © Clément Grandjean