Athos d'Elle to move to Katie Dinan's.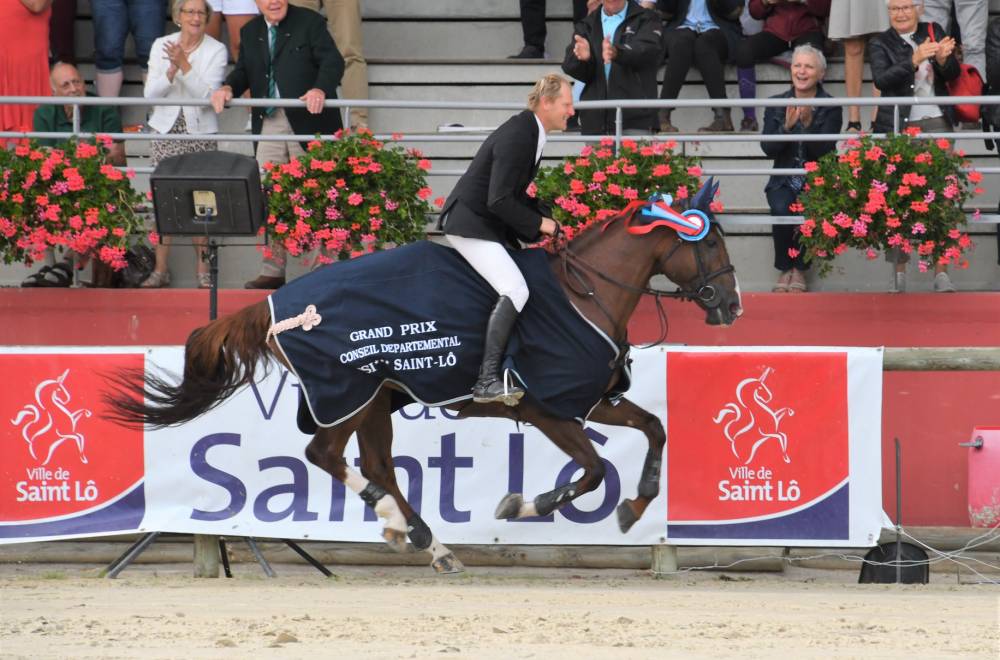 07 September 2019
As a French horse lover of the likes of Nougat du Vallet (Scherif d'Elle), and more recently Sydney Un Prince (Baloubet du Rouet), Katie Dinan has once again set her sights on a Selle Français, the stallion Athos d'Elle (Apache d'Adriers x Papillon Rouge). He has had a great season and only a few weeks ago took out the victory in the Grand Prix*** of Saint Lo during the Normandy Horse Show. He is Nikyta d'Elle's maternal half-brother, who herself has also had many fine moments under Hubert Pignolet's saddle, before continuing on with Roger-Yves Bost.
"I would obviously have liked to continue riding Athos, especially since he has really progressed well in recent months, but unfortunately, we also have to be realistic. Especially since we were co-owners of Athos with Mr. Aubé, with whom we always decide to sell the horses at a certain stage, as was the case with Urano de Cartigny (Diamant de Semilly) and many others. It's always sad to see a good horse leave, especially as Athos is a really competitive horse that has already shown us so much of his ability, and it would have been easier to keep him if breeders had been more interested in him, but despite having very promising offspring, unfortunately that's not the case. I'm still lucky enough to have Nilane (Nippon d'Elle) and Upsillon (Quick Star), and we'll continue to train our other young horses with my brother, as we've done for many years.
Katie Dinan knows the d'Elle breeding well as Nougat du Vallet was born 10km from the house and is bred on the Scherif d'Elle x Spahir d'Elle cross. "For a while I'd been thinking that Athos had many similarities with Nougat, and we had already made contact with Beat Mandli at the beginning of the year, but it didn't go further; after Saint Lo, we made contact again and also during the CSI of Deauville, and they took the opportunity to come and try him on Saturday morning. On Saturday night, they told us they were buying him! We'll follow their progress now and hope to see them at the most beautiful competition grounds," explained Hubert Pignolet.