Ashlee Bond Changes Flags from USA to Israel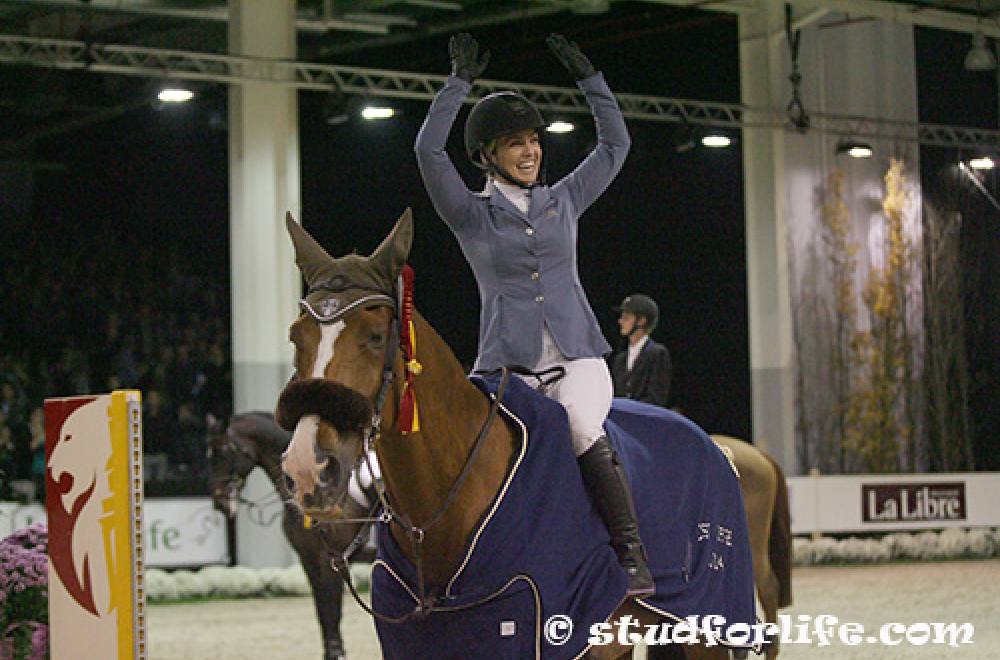 19 April 2018
Lifestyle and career goals are just two of the reasons that American rider Ashlee Bond of California will no longer ride for the United States, instead switching flags to Israel this year. Because Bond's last international appearance with Team USA was in 2014, she is exempt from the FEI's required two-year waiting period before competing under a new flag.
In short, that means that Team Israel Show Jumping, already of interest ahead of this September's World Equestrian Games Tryon, has just gained a powerful new resource.
Thirty-three-year-old Bond is very well known in the United States. She broke out big on the international scene in 2009 and 2010, memorably claiming victory at 2009 CHIO Aachen and helping team USA win Nations Cups at 2009 St. Gallen and Rome with the now-retired Cadett 7. Since then, Bond has been a consistent winner in Europe (she's made four, FEI World Cup Final appearances) and closer to her home on the West Coast of California.
Bond has slowed down slightly in more recent years, although only slightly. Among her many victories was a 2014 win in the HITS $1 Million Grand Prix in Thermal, California with her longtime mount Chela LS. But in addition to riding, she put a priority on family; in 2015 she married professional soccer player Roy Meeus, and gave birth to daughter Scottie in 2016. Just four months later, Bond was back in the saddle, picking up a World Cup Qualifier win with Chela LS, and has continued to campaign the young horses bred by her family's Little Valley Farm.
Family and her continuing drive to compete at the top of the sport led Bond to sit down with her father, Steve Bond earlier this year. Steve was born in Israel and moved to the United States at the age of 12. He went on to be a famous soap opera star and Hollywood figure, and passed on his longtime passion for horses to his daughter. He also passed on his nationality: Ashlee, of course, has always been half Israeli by birth. She had quietly considered changing her nationality before, and now seemed like the right time.
"I chose to have a family, and I live in California, and to be at the top of the sport, on this side of the country, when I don't want to travel every weekend, is impossible," Bond says. "My dreams and aspirations to do the WEG and the Olympics and Nations Cups have not changed. But I don't want to sacrifice my personal life for my professional life. It just seemed like the right time, with Daniel and Danielle now riding for Israel and killing it, with a team that could have really good depth.
"I said to my dad, I just have this feeling that I need to ride for Israel. I've always loved Israel, I have family there, and while I'm not Jewish, I am a Christian, and for me, Israel is a special place as Jesus was born in Bethlehem." Last week Bond traveled to Israel with her family, and officially became an Israeli citizen. "I feel a deep connection to Israel, family wise and faith wise," she adds.
In Bond's own string of horses, there will also be new depth this season. While Chela LS, the 14-year-old La Silla mare (Chapultepec La Silla x Elisa LS), has spent some time out of the sport recovering from injury, Bond expects her to be back in full competition by this summer. If Chela LS needs a back up, Bond will have two, new exciting horses: Cornetiero and Belo Horizonte.
Philipp Weishaupt brought the 10-year-old Holsteiner gelding (Baloubet Du Rouet x Cayenne IX) Belo Horizonte up through the levels along with Richard Vogel. Weishaupt won at CSI5* S'Hertogenbosch in March, and Bond welcomes him to her stable this week.
Bond has also been getting to know Cornetiero, the 12-year-old Westfalen gelding (Cornet Obolensky x Liberty Life) that has been seen under Mavis Spencer and Erynn Ballard. Bond plans to debut with both horses at the Del Mar International in Del Mar, California in May.
Bond is well aware that Team Israel is so new that its first team appearance in the sport will be at the 2018 World Equestrian Games in Tryon, and she hopes to be there for it. It's still early days, but if all goes well for her this summer, she will be able to step up as a valuable asset for Israel.
"I'm going to have a few months to get to know the new ones, and get Chela back into competition. Daniel is killing it, Danielle is killing it, Abi is always competitive, and we all have experience at the top of the sport," she says. "I'm excited to be a part of the team, and if we come out together and we're ready, we will really have a shot."