Are young horse circuits unavoidable today?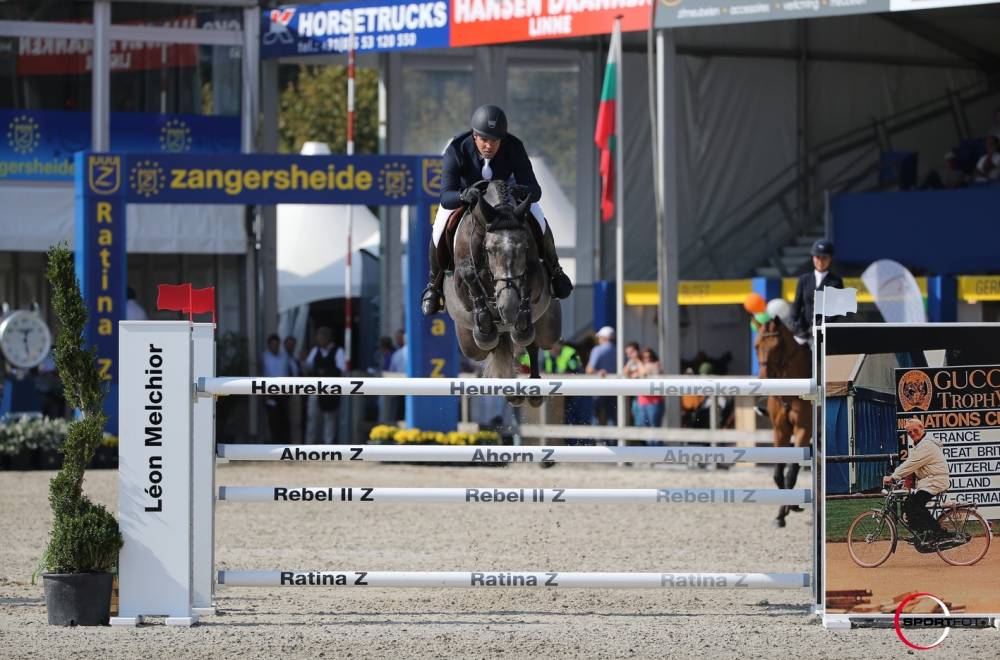 11 September 2020
As the Young Horse circuits were the first events to be able to resume in the post-lockdown era, we looked at a question that raises many debates: are they unavoidable today in order to prepare the stars of tomorrow? We called upon a French young horse rider, Grégoire Hercelin, as well as the founder of the famous de Muze breeding farm, Belgian Joris De Brabander, to discuss this subject. It's the question of the month!
Grégoire Hercelin, young horse rider: "I think we're lucky because the young horse circuit in France is well developed. It's a well-designed tool that offers two categories of tests: those for training and those for qualifying for the finals in Fontainebleau. A training test is a preparatory test that allows a young horse to work in competition conditions over courses that aren't as hard as those of the qualifying tests. The cost of these preparatory tests for qualifications are reimbursed as soon as the horse has a clear round. These tests are quite popular among riders because they allow the horse to be trained gently. Training and qualifying events can be alternated, which is a valuable option. Unfortunately, this category is much less valued by many owners who perceive it as less prestigious and even devaluing, and who, therefore, prefer to push their riders to enter qualifying events.
I disagree with those who believe that the courses' obstacles are too big for the horses. I find that from a technical point of view, the courses are satisfactory. They meet very strict specifications where all the parameters (number of strides, height, etc.) are defined and strictly controlled. Living in the Manche department, I would like to underline the quality of the Young Horse competitions located near my place, such as Saint-Lô and Auvers, which offer magnificent competitions on quality grounds, with numerous arenas, spacious boxes and cross-country courses provided. Previously, the level was higher in Normandy, but nowadays it has been standardized at the national level. No excessive effort is required from the horses if they have received adequate training and have done enough basic work to compete on such courses. The risk arises when young horses are sent out that have not been well prepared for these courses. A certain technical and physical background is required to face the difficulties of the tests calmly. I was pleased to note that, since the resumption of competitions, the horses are well suited to that level, and are better worked than usual for this time of year. The containment effect, combined with the good weather conditions of the last few months have had a very positive impact on the young horses' work. It's therefore up to the young horses' team to make their decisions according to the horses' ability in order to optimize its training and work.
Again, the Young Horses circuits are a tool for me that must be used wisely. Some safeguards have been put in place such as the creation of a quota per age category to control the amount of practices and limit abuse. It's important to underline this because it's not the case in all countries. The problem is not the tool itself, i.e. the Young Horses circuits, but how, and in which conditions it's used. When an owner entrusts his horse to a rider, there is often a performance or marketing objective behind it. It's the achievement of this quest that can compromise the physical and moral integrity of young horses if it's mismanaged. It should also be pointed out that only a minority of the horses presented on the classic circuit will reach the top level. Most of the horses presented will compete in intermediate or amateur events. Many young horses are therefore not seen at the high level because of a lack of quality or because they were started too early.
My philosophy has evolved over the course of my humane and professional encounters as well as the accumulation of my experience. My view of the profession has been refined over the years. I have exchanged a lot of ideas with people in the field, especially high-level riders, in order to understand their expectations, i.e. horses that have progressed according to their physical capacity and that have not been overexploited. Therefore, today I'm less focused on performance with my horses and prefer to focus on training. By this I mean that I don't chase after the qualification for Fontainebleau (Editor's note: where the finals of the Young Horse circuit take place) with all my horses and that I don't systematically take all of my qualified horses to the final. However, when I enter events, I know that my horses are ready and that I can aim for a clear round. I establish a program according to each horse's progress, its growth, its precocity or lack thereof, and its needs. A horse needs to work while young but also take lots of breaks. I usually break them in at 2 years old, I work them again at 3, 4, 5 and 6 years old, with big breaks in between so that the horse recovers and grows. A horse that is not worked until it is 6 years old will not be ready to have a career; its skeleton will not be developed like that of a top-level sporthorse. It's therefore necessary to regulate the amount of work, the level of requirement and to leave time for absorption of the information. Therefore, a horse must be worked a little every year. With experience, I have learned to optimize the training and work of each horse.
Today, the circuit benefits from good visibility because it is one of the ways to showcase our industry. On the one hand, it's an attractive prospect for many breeders. On the other hand, it allows many dealers and riders to spot future stars. Indeed, the price of a CSI5* horse is so exorbitant these days that many riders are looking to invest in young horses. This circuit is therefore, in my opinion, essential for our industry and unavoidable from an economic point of view. That's why many stakeholders are taking part in an ongoing survey aimed at making this system sustainable. Today, the Société Hippique Française is in charge of this circuit. However, the SHF is mainly publicly funded. We know that the State is gradually disengaging, so we're not immune to budget cuts. It's therefore necessary to come up with a system where we can reach a financial balance for the circuit without depending on substantial public aid. The SHF has faced a lot of criticism but I think it's important to underline that it's at the origin of many initiatives aimed at young horse riders, such as the advanced training courses that are offered every winter. It is attentive because, following the pandemic, along with other stakeholders, it's thinking about setting up a winter circuit for young horses. I think this idea is excellent because we're seeing a drop in activity at this time of year when demand is high. The way SHF runs isn't perfect, but it has the merit of existing. If we were to look at ways of improving it, I think it may have to refocus on its core business. The diversification of its activities started out with laudable intentions, but its efficiency may have suffered a little."
Joris De Brabander, founder of the de Muze breeding stud: "Young horse circuits have been part of the Belgian landscape for some time now. To judge their usefulness, you have to put yourself in the shoes of the different stakeholders. For some of them, these circuits have become unavoidable since they have built their business model on them. As the number of engagements on the Young Horse circuits are very high, so we can deduce that they are popular among a certain number of people. Among its fans, let's mention stud books, horse dealers and young horse riders, as well as some breeders. These different participants often have a privileged relationship with these circuits. Stud books base themselves on them so that they can understand the reproduction quality of stallions and establish statistics. Dealers use them as part of their searches for new horses. Young horse riders, for their part, have specialized in the training and development of 4, 5, 6 and 7-year-olds, with the classic circuits being most often favored by the profession. As for breeders, the success of their offspring in these competitions is a serious calling card in terms of credibility and visibility. Succeeding in this type of event requires specific preparation, which is why we often see the same stables and the same riders on the podiums.
Nevertheless, for other players in the sector, the Young Horse circuits are less commonplace. Indeed, they are, in my opinion, useful for only a minority of horses, I would say that the best 10 percent of a generation, which have the quality, the ability and the training necessary to pass these tests. For these horses, having good official results is of interest. They are able to get prestige, a wonderful valorization of their bloodlines, and these events also make them commercial valuable. For the remaining ninety percent, these engagements will be synonymous with expenses at a loss. The cost will be exorbitant compared to the amount that's possible to get back. It may even be counterproductive because if a horse accumulates too many underperforming results, it will be very devalued on the market. However, for a breeder or horse dealer, a horse that has these results costs as much as a horse that doesn't. So, what's the point of charging for uncertain results and risks, to sometimes end up with a horse with physical problems because the technical level is very demanding? I'm therefore tempted to say now that, for most horses, the Young Horse circuits are useless. It must be pointed out that we often don't know in advance which horses will be the most talented, that famous 10%, for whom the official results will be useful.
I personally train my horses at home and I prefer small regional competitions where the results are less visible and easier to hide than the official results of the classic circuits. This allows me to train and groom my horses without devaluing their commercial value if they don't go clear. I also enter certain Young Horse competitions each year, especially those close to home. Competing on all the circuits is too expensive and time-consuming in my eyes since they last almost a third of the year at a rate of four days a week, a dozen times a year. I would like to make it clear that when I participate in these events, I do not "compete" with my horses, i.e. the objective is not to win. I use these courses to educate and train my young horses. Originally, these events were designed to further their education by putting them in competition situations. This allowed trainers to train them to deal with noise, the public, and an environment they don't get to experience at home. Since then, the situation has evolved. A business has been built on them, competitions were created, then national finals, and finally a World Championship (Editor's note: Which takes place in Lanaken every year.). I find this completely absurd because the horses are in the middle of their education, they're not finished growing. The risk, by focusing on these Young Horse circuits, is that some horses have finished their careers at 4, 5, 6 or 7 years old and do nothing afterwards. I'm not saying that these events "break" horses. If the young performing horses disappear, it's often because they don't have the ability, nor the quality to go to the more important events. It should not be forgotten that 90% of the horses presented at these events end up in intermediate or amateur events. Nevertheless, I ask the question, what's the point of having a 5-year-old World Champion in Lanaken if they don't perform at all afterwards? In my opinion, a horse's real career should start at about 8 years old and end at about 18. Everything that happens before then is based on that career-to-be. What is important is to train well and to make the horse last while preserving its health."
Interview by Manon LE COROLLER. Featured photo: © Sportfot.com