All In, the unusual one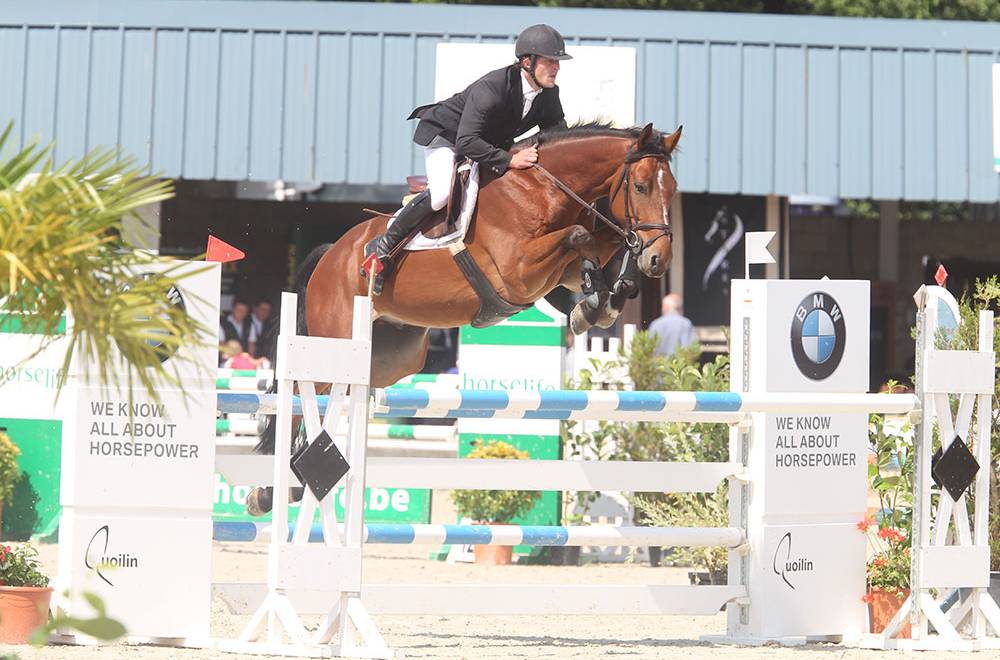 21 August 2021
He is the first horse to have won two Olympic medals in the individual competition, and what's more they were consecutive, but also a gold medal in the team competition! But that's not all because All In is a great regular at the championships. Tenth of the 5-year-old Belgian Championship with Bart van Hove, fourth in the 7-year-old World Championship with Nicola Philippaerts, he then joined Peder Fredricson with whom he won the European Championship in Gothenborg, as well as five 5* Grands Prix.
In 2006, All In was born in the Netherlands, near the Belgian border, at Bas Huybrecht's: "I had a mare that was full of blood. When I saw Kashmir van't Schuttershof for the first time, he was 6 years old. I was impressed by his ability and thought he would really suit Fortune. That's how All In was born. I think in my breeding career I used Kashmir seven or eight times and bred five Grand Prix horses. I decided to enter him into the SBS because Kashmir was accepted in that studbook. I have always enjoyed working with this studbook because it's accessible, and it always helps its breeders. When you have a question, you call, and they always do their best to answer you. In the last few years, we have seen some studbooks get bigger and less accessible. Beyond that, I honestly think that breeders have access to all stallions now. I think that we shouldn't need a studbook anymore, and a less expensive system. When I was young, All In was a very easy horse to take care of... Except when you rode him. He was afraid of his rider, so it was quite complicated. That's why I decided to sell him to the van Hove family, whom I had known for several years, because I knew they would do things right. Now my kids are older, I would have kept All In for them because I knew he had a lot of quality, even though you don't know if he's going to jump the biggest events in the world. But I knew that he needed people who could take care of him calmly and the contract was perfectly fulfilled. Today, he is one of the best horses in the world and I am delighted. I had the opportunity to visit him at Peder Fredricson's place. We were invited by H&M to go to the European Championships in Gothenburg. The week before, we went to see him in his stables before seeing him win there, it's a fantastic memory. However, I think I have never seen the horse go as well as in Tokyo. I am delighted that a friend and I have one of his full brothers at home who is 18 months old. We bought a surrogate mare in foal with this embryo from Haras de Hus and my friend proposed that we raise this foal together. I went to France to get the mare and I think we have a future stallion in our stables."
All In took his first steps in competition the winter of his 3 to 4-year-old year, in a small competition judged by Piet Raymackers, which he won. It was there that Bart van Hove discovered him and made his first offer to his breeder... who decided to keep him. However, two weeks later, Baas Huybrecht called the Belgian rider back to see if he was still interested in the horse, which proved to be quite complicated. The deal was quickly closed and All In moved to the De Vinck stables in the Antwerp suburbs. "The beginning wasn't easy. He was fast and very sensitive. We didn't do many shows at 4 years old. I took him to a few normal regional shows and some LRV young horse shows. At 5 years old, things started to get better and better. He became more attentive to what I was asking of him. We went to the selection in Gesves where we qualified for the Belgian Championships. We reached the final where we again went clear but made a mistake in the jump-off. Nevertheless, we finished a good 10th place. At the beginning of his 6-year-old year, I met Nicola Philippaerts at the CSI4* in Antwerp, and I told him that I had a second Carlos VHP Z for him. He laughed a lot, but didn't take me seriously. After four rounds of the 6-year-old classic cycle, we were second in the provisional rankings. The next round was in Woutershof and I had entered All In in a 1.20m class at the beginning of the weekend, as well as in the 6-year-old class. I called Nicola and offered for him to ride All In in the 1.20m class. If he liked the horse, he could also ride him in the 6-year-old class. That's what happened... except that All In went straight back to Doperheid and never came back here again. Today, I think All In is a real legend. I'm very proud of him and so happy to have been part of his life. A few years later I also bought his dam, but I didn't have much luck with her. I got two foals, and both were approved by the SBS, but one died and the other went to Sweden. Today, I unfortunately don't have any more progeny from that line. That's probably a mistake but that's the way life is. However, we have planned a little trip to Sweden to visit All In with his breeder. I'm really happy about that and I'm looking forward to it," says Bart van Hove.
Nicola Philippaerts hasn't forgotten his adventure with All In either: "During the 4* event in Antwerp, Bart van Hove told me about All In. He showed me a video and I thought the horse was good, but I don't know why, we couldn't find a moment to try the horse. Finally, I tried him at the show. He was a bit hot. He could be a bit difficult because he had so much blood and jumped a bit forward, but he immediately showed great quality. In the end, he stayed with us for a year and a half. We completed 37 courses, including 32 clear rounds, and he never had more than four faults. When he was at home, he went to the paddock a lot and we rode him in the forest a lot too. We try to work all our horses that way, but he needed it in particular. He was also worked a lot on the lunge so that he spent as much time as possible outside. Peder also continued in this direction and his management was fantastic. Today, All In has showed us that he is one of the best horses in the world and it's a nice story to know that he spent time with us. It gives me a lot of pleasure to watch him evolve as he did in Tokyo where I paid particular attention to him."
All In and his three riders: Bart Van Hove, Nicola Philippaerts, and Peder Fredricson
Another person has been following All In's adventures with great interest as he currently owns Fortune, the dam of Peder Fredricson's star. The man behind the vd Berghoeve suffix, Paul Van Den Bosch is also very happy: "I am always interested in buying good mares. Two years ago, Fortune was offered to me while she was at the Haras de Hus. Of course I knew All In, and I had followed him during the Olympic Games in Rio. We always hope that other results will come but to imagine such a scenario in Tokyo after a quieter year, it's incredible. It was even more incredible that on the day All In won the team gold, his full brother, Kashman vd Berghoeve, was presented at the Flanders Foal Auction and was sold for 130,000 Euros. I think the timing was perfect for such a sale: Belgian horses in the spotlight on medal ceremony day! My goal is, above all, to produce good horses, but I finally agreed to put this colt up for sale and it was a real surprise on all sides."
After such a top price, one wonders if the embryo of a future full sister to All In, which has just been announced in the Haras de Hus Embryo Online Auction which closes at the end of August, will go the same way.