"All my young horses are unshod" Julien Epaillard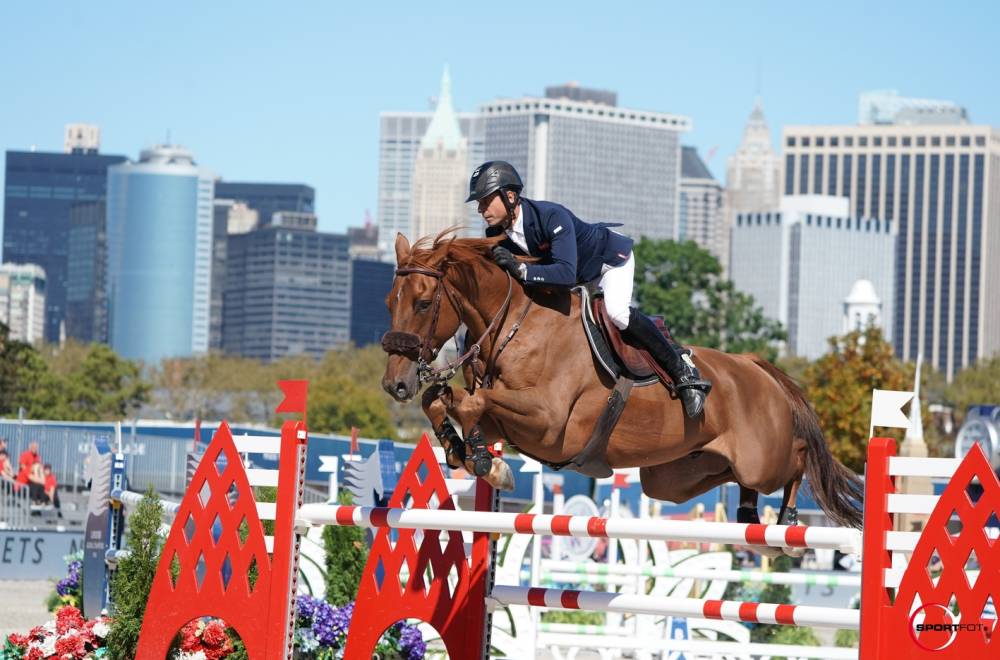 27 October 2019
Increasingly feared on the competition grounds, Julien Epaillard is now ranked twenty-first in the world ranking of riders. We met the French rider at the Autumn Meeting in Saint-Lô last October, where he confided as he rarely does. Read this interview here, on Studforlife.com!
YOU WERE BORN IN NORMANDY; CAN YOU TELL US ABOUT THE PLACE OF THE HORSE IN THIS REGION?
"I was indeed born in Cherbourg, and the horse undeniably has a big place in the region. It's an important sector which generates a good number of jobs, and employment... It's certainly better to be born in a region like this than in another when you do a job like mine!"
IS IT AN ASSET TO HAVE A MADE BY "EPAILLARD" BREEDING FARM?
"I really think so! My wife, Susana, already started breeding about twenty years ago, and we are now starting to have a number of top level horses. Usual Suspect d'Auge, for example, has won in 5* Grand Prix', Safari d'Auge is a good horse too, and also has an interesting offspring in Tecla d'Auge (Asathir) who has won two Grand Prix' with Philipp Weishaupt... For a "young" breeding facility, we are already satisfied with our evolution! It gives me an additional source of horses, so it's really an asset. As I get older it's something that interests me more and more, and we try every time to produce good horses."
YOU HAVE A LARGE NUMBER OF VERY GOOD HORSES; HOW DO YOU MANAGE ALL THESE ACTIVITIES?
"It's not always easy, you can only take two horses to CSI5*. That's why I regularly go to Oliva on tours lasting several weeks so I can bring other horses and train the next generation. For example, I've just come back from three weeks in Oliva, and I'm going back for two weeks next week, all that between two big competitions. The idea is really to have my back by training other horses, younger but still in the making."
AFTER VIRTUOSE CHAMPEIX, OLIVIER SADRAN SECURED QUEELETTA FOR YOU; CAN YOU TELL US SOMETHING ABOUT THIS COLLABORATION?
"I met Olivier Sadran a little more than two years ago at the Global Champions Tour in Rome, he told me about his project to set up a team for the GCL circuit and everything started from there. Things got done, we did two seasons together. He's someone who loves high level competition, whatever the sport, he's also the owner of the Toulouse soccer club. He has a team of young riders at home that he would like to develop towards the top level and provide the necessary means to do so. That's what our collaboration is all about: bringing the youngest riders, Jeanne, Louise, Nina, to the highest level thanks to this circuit and encourage them to evolve at the highest level. The goal is to evolve as much as possible and to get the whole team to evolve with me as a pillar to coach them with my experience. Despite all that can be said about the Global Champions Tour, they are still the best riders in the world, apart from a tiny minority that give it the cold shoulder."
WHY HAVE YOU FAVORED THE LONGINES GLOBAL CHAMPIONS TOUR OVER OTHERS IN RECENT YEARS?
"I don't consider myself to have favored the LGCT circuit, I happen to be part of a team on that circuit, but I won't give up the Nations Cup circuit. Last year I didn't have any horses to compete in the Nations Cup, that's the one and only reason for my strong presence on the circuit proposed by Jan Tops. Next year, if all goes well, I should have five horses capable of jumping CSI5*, then I will have enough horses to jump both circuits. It's no secret anymore that Usual Suspect can't do Nations Cups: he doesn't jump water and Virtuose wasn't regular enough. There could have been Aachen, where we wondered whether or not I would join the French team but thinking about it, it was a little too early, the horse had run quite a lot, so Thierry Pommel and I made the choice not to go. I have nothing against the Nations Cup circuit, I know that I might have this image there, but it's not because I ride the Global circuit that I can't ride CSIOs. You just have to be consistent. I will never take Usual to Aachen when I know that he jumps badly on grass and that he doesn't jump water, that would be shooting myself in the foot and I don't see the point!"
DON'T YOU MISS THE BLUE JACKET?
"Of course, I do! It's always nice to ride as a team, but you must have a competitive horse. I'm not going just for the sake of being there. The fact that there are more and more circuits is a good thing, it allows more riders to reach the top level, so I don't see the negative side of the Global Champions Tour for example... It has changed the pool prizes in the Nations Cup as well, indirectly."
DO YOU LIKE TO PASS ON YOUR KNOWLEDGE?
"Yes, of course, it's an interesting thing to do, I've always enjoyed coaching! Until now I haven't necessarily had the time, but now that with the Chev'el team we meet regularly on the same competitions, it makes things easier. I go to their home in Toulouse one or two days a month. We're in a transition period since the youngsters were previously trained by Eric Louradour, and he's now devoting himself to other projects in Italy. So, I am making the connection between Eric's departure and the arrival of Katy and Henry Prudent next April. In the future, the latter should take over while integrating me into their team. I really appreciate the Prudent family and I am very much looking forward to their advice. The idea for the future is to try to put our heads all together to try and evolve in the best way possible. This is what we are gradually putting in place but we are limited by the school obligations of the younger ones."
YOU RECENTLY MADE THE CHOICE TO LEAVE YOUR HORSES UNSHOD. CAN YOU EXPLAIN THIS CHOICE TO US?
"This idea to remove their shoes came about thanks to the Hecart family. I ride Michel Hecart's horses, and it is true that he was the pioneer of this method of natural trimming in French show jumping. The idea is to make the horse rest on its feet and not on the outside wall. The transition for older horses which have already been shod for most of their lives is difficult. Horses are not at all used to working on their sole so the adaptation time can be really long. For the moment we are in the middle of the transition phase. There are pros and cons, especially the constraints on grass tracks where we will probably have to re-shoe horses. However, horses have no problem in being reshod after having been unshod. There is no strict rule anyway, you have to know how to adapt to different situations."
DOES THIS APPLY TO ALL YOUR HORSES?
"My current lead horses like Virtuose Champeix, Queeletta and the horses which perform at CSI5* at the moment are still shod because I haven't had the time to adapt them. On the other hand, all my young horses and the horses which I took along to Oliva, which resume competitions at a lower level, are unshod. It's a good experience, some of them I had to re-shoe because they were not so good, and I didn't necessarily have the time to wait. The adaptation takes between two months and two years for horses of that age. For the moment I don't want to say "I'm unshoeing everyone and that's the way it is", this change is not radical. On the other hand, I have had very good results with some horses that have locomotion issues. Horses that were not necessarily perfect have become straight without calling the vet and without infiltration, which is very positive for me."
WHICH WERE THE FIRST HORSES TO UNDERGO THIS CHANGE?
"I unshoed quite a few, notably Safari d'Auge and Quincy Lady, so we had to give them a break for their hooves to get used to functioning as they should always have done. Safari jumped again with my wife in Oliva and he was very good. Quincy Lady is starting to jump 1.40m again after four months off, and the results are amazing. She won four events in Oliva and will be doing the Silver Grand Prix for the next two weeks. It's quite interesting. The Hecart family's horses, on which we have more distance, like Toupie and Alibi de la Roque, are perfectly at ease when they're unshod. They have an incredible foot and everything is ok.
I think you can apply natural trimming to all horses, but some take a lot of time and you don't always have enough at a high level. Usual Suspect has been off for two months because I wanted to give him some rest and I see that his foot is regaining its function. However, in January, if I see he's not comfortable when I'm bring him back into training, then I'll re-shoe him. Whatever happens I think it can only be good to take off the shoes from time to time so that the foot regains its function, and then we adapt to the horse and shoe it if we really analyze the need."
ISN'T THE MAIN ISSUE WITH THIS ALTERNATIVE METHOD THE WAY PEOPLE LOOK AT IT?
"I don't think it's the people's eyes, but the eyes of the owners who don't have all the knowledge, perhaps. They may be worried. However, It's still an open question as far as I'm concerned, I have horses like Jalanta P (owned by Jane Richard Philips) where the question doesn't arise because I respect the owner's choice. I will continue to ride shod horses, but with mine I do as I like. Horses that have never had shoes can very well evolve all their lives like this. The problem starts from the moment they are shod, when they are very young. We don't ever question what has become fundamental. You have to ask yourself when you have too many horses that break down, when there are too many tendons or joints issues, when you have to perform infiltrations every fortnight... You have to think about it and change your method! One thing for sure is that Michel Hecart and I have noticed there's a lot less work for the veterinarians, which is hard luck for them. I think that reducing infiltrations really has a positive impact on the longevity of the horse's sporting career. We take the problem at its root rather than burying our heads in the sand."
AS A MOTORCYCLE ENTHUSIAST, WHAT IS THE LINK BETWEEN THESE TWO SPORTS?
"Motocross is a very physical sport, I'm forty-two years old and I don't really have the build to do this sport anymore. It's true that from time to time I have a bit of fun just to clear my head, but it's still really leisure, it's more of an escape when I have free time. It's just for the morale! On the other hand, you can't compare the motorcycle with the horse, although there are certain similarities like balance, especially in jumps and turns, but on a motorcycle, there's a brake and a gas pedal that usually work instantly. On horses this is not the case!"
SAFETY IS PARAMOUNT IN THESE TWO SPORTS; WHAT CAN YOU TELL US ABOUT IT IN THE EQUESTRIAN WORLD, ESPECIALLY WITH THE UNFORTUNATE ACCIDENTS IN EVENTING?
"I don't know enough about Eventing to talk about the evolution of fixed obstacles, for example. On the other hand, in our discipline, a lot of effort has been made, especially with the safety sheets that have been in existence for several years. We mustn't forget that at one time, we didn't even wear helmets, today this has become unavoidable, we've even seen the appearance of air-bags, and new solutions coming all the time... The sport is evolving and so is safety. I think above all that the closer we get to the top level, the less risks there are because the riders are more and more precise. Still, the zero-risk option does not exist."
Interview by Alice BONNEMAINS. Featured photo: © Sportfot.com