Alexis Deroubaix: There are still real horsemen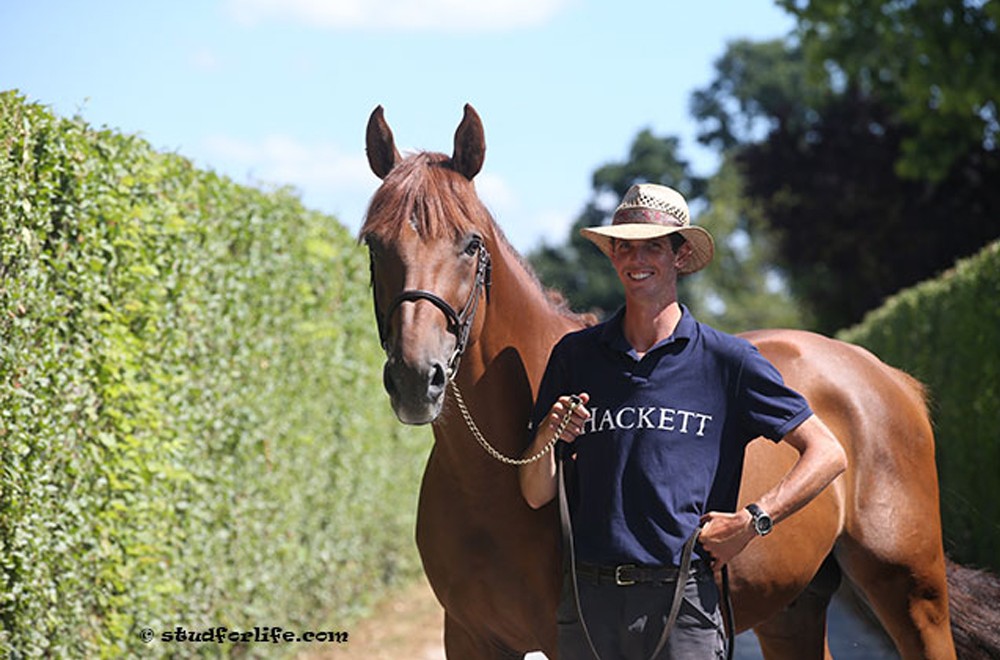 06 September 2018
Last part of our meeting with Alexis Deroubaix.
What type of horses do you particularly like?
A.D.: "There is no particular type. The small horses with rich blood, with a lot of commitment, stretched out in the back a little bit like an American, that you can ride against, but also all horses that jump well are fine with me. We can ride them all, I think. There is a way of molding them a little bit in relation to what we do, and what we repeat as riders, but I think there are horses that need to be closed to engage. I think there are other horses that need their necks to be as high as Timon's to engage. Each horse works in its own way. They cannot be identical. Each works according to its physique."
Now that you are discovering the top level, what difference do you see in terms of career development? What more do these contests have? Does it make you dream even more now or is it the same for you as going to do 2 or 3 stars?
A.D.: "It's still nicer to be at a big competition because you still get to see the horses before you jump. There is a way of doing things that is not necessarily the same as when you get to see the paddocks only in the morning. It's really interesting. This has made me evolve in my work on the flat for example. I want my horses to be more connected."
Appetite comes with eating...
A.D.: "True, and then I hope that in two years' time we will have two or three horses to jump like that. It won't be easy but, yes, it makes you want to achieve great things, but not to sacrifice your life and be away most of the time, no. I also like being able to stay at home."
Is this the really difficult part, when you see some riders who are away every weekend?
A.D.: "I wouldn't be interested, at all! I don't think so, because I like being at home, riding horses here at home, starting a family later, we'll see, but I think it's a special lifestyle choice. I mean, I don't like being away for four or five days at the same competition... (laughs) Well, I like being at home at night. Now of course, some people do it all the time... but it gets hard. Flying, running around... No, at most to have horses, to walk around quietly and then to aim for a good championship when possible, that's the best. But running after the rankings every weekend – no thanks."
Do you understand the people who do it? Do you understand the system that encourages that, too?
A.D.: "The system encourages it, but I'm not a fan and I think it's not good for horses. I never knew the old system, but I think this one is a little less suitable for horses and I think that real horsemen are gradually disappearing. In the past, a good rider had a very good horse, he did one really good competition per month, and then there was rotation. But today, I'm not criticizing (laughs), but I have the feeling that some people do it to prove themselves, and not for the love of horses, work and everything else."
Now, when you have a horse like Timon and the doors are finally open to enter the big competitions, is it sometimes difficult to say: "No, we won't go to such and such competition, we need to preserve the horse"?
A.D.: "I don't know if it's difficult, but we do it. When Timon was a nine-year-old, we had done a good Nations Cup and we were offered another one that followed directly after that, and we declined. He was only nine, and we preferred to do it quietly. The horse has always been physically and morally well... precisely because we made these choices, in fact. But yes, it's not easy. When we came back from Rotterdam, we said three weeks and three weekends without competition, without jumping anything at all, even if we were offered something. It was healthier, but it's not easy!"
Are these really collegial decisions?
A.D.: "Sure. Anyway, if I think my horse is tired, I don't like it, it's going to be in my head. I'm going to say to myself: "Oh, he's still jumping." And I'm not going to perform because I'm going to say to myself: "It sucks that he's jumping today!" I'm not going to give it my all. I think that to have your nose to the grindstone all the time, you have to stop caring about your horses anymore. It's true, we have to say it! If I'm on my horse, if I feel it getting tired, I'm not going to be in the running, and that annoys me. A horse like Aldo du Plessis, who is only eight, he does two rounds on a weekend, and on the third day I think to myself, OK, let's go easy, because I think growing old is better."
Alexis Deroubaix was offered his first opportunity to test himself at the highest level in Geneva.
What do you expect for the future?
A.D.: "May it continue as long as possible with Annick and André and that the three of us evolve together as we're doing now. It's been three years and I hope that in three years I will still be here..."
I remember when you started here you said it was really to get you to the top level. Now you're there, but in the end, you seem almost surprised not only that it happened so fast, but that you've got this far at all?
A.D.: "Indeed... Surprised. I'm not sure actually because it was gradual, and I try not to get worked up, nothing has been won so far. Tomorrow, we can go back to 135 and do the job we love..."
Wouldn't that be a problem for you?
A.D.: "It would certainly be less pleasant, but that's why when you get there you mustn't get worked up and you have to be content with your place. I think it's the best way not to get frustrated (laughs). There's more in life than that, but you also have to enjoy those good times."
What else is there in life?
A.D.: "Spending time at home, starting a family later, being in good company."
Are there any other passions you have?
A.D.: "I love cars... even though I only have a small car. Then I like to meet friends in the evening, have barbecues. We don't have time for extra hobbies that take time... because we are already living out our passion."
The end...