Alexis Deroubaix: There are still real horsemen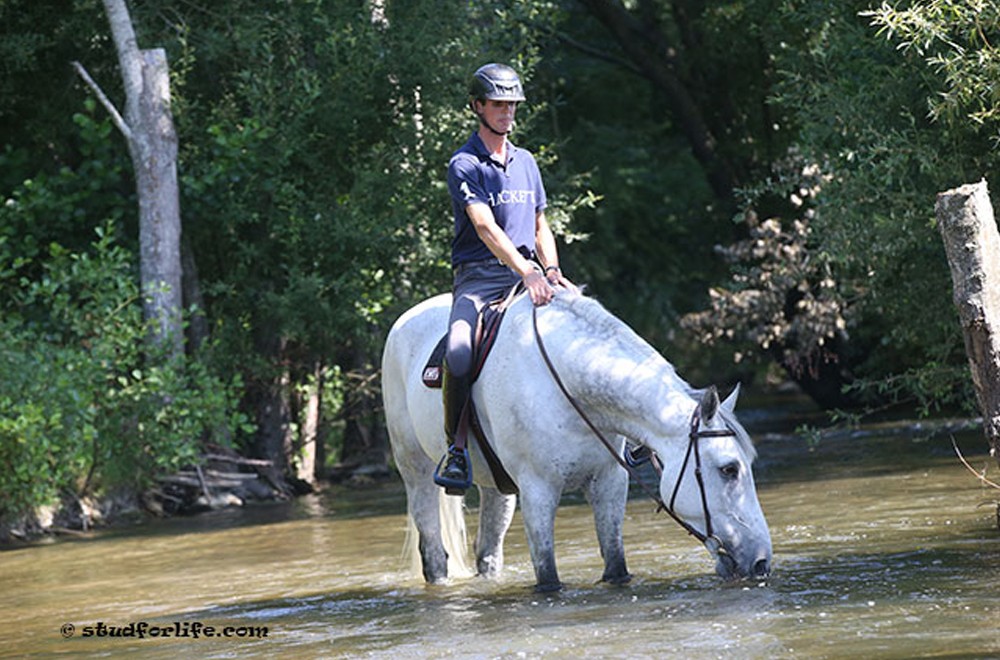 05 September 2018
Second part of our meeting with the French rider Alexis Deroubaix!
On the other hand, when you were riding in a pony club and told your parents that this was the job you wanted to do, what were you thinking of?
A.D.: "I wasn't really aware of that when I was young. I used to ride. I used to ride a lot of horses in a stable and compete like many young people. But then you realize more and more how it works, but it takes years..."
And your parents didn't immediately say no?
A.D.: "They did at first. They were wondering where I was going, because I went in there on my own. They had no knowledge of the business at all. So at the beginning they were not very keen and then they eventually understood a little bit. Then they supported me, and now, they don't come too often to the competitions, but they follow it a little bit "
They don't?
A.D.: "No, no! ( laughs) We are always travelling all over the place. Plus I have a brother and two sisters, so they have grandchildren... They have work to do, but they follow it on the Internet, all weekend and stuff... They live in the North, in Lasbroeck... I'm from the North originally!"
And you chose this agricultural school – didn't it create any problems at home?
A.D.: "Oh, yes, it did! Yes, my brothers and sisters took the BAC S (scientific studies) and stuff. You had to do general studies and school wasn't really my thing. I was happy to find this system in order to reduce the school hours a little bit. Afterwards, it motivated me, it was good. When I was at school I was more looking outside. I saw myself more outside than locked in a classroom."
Are there moments in your career when you said to yourself: "What the hell was going through my head?"
A.D.: "No, no. I look on the brighter side, telling myself that it's going to develop, that you have to start small and then think smartly to develop in another direction. It's a job where you develop every day and learn every day. That's what's interesting, too. Now, when I first wanted to make it my job, I had no idea what I really wanted to do. I was already hoping to have a good level, to have horses, but for me a "good level" meant 140! (laugh) And then to have good horses, to pass them on, to sell them, and make more. I didn't claim to have this level. So obviously today it's more and more of an asset to have had the proper training. I think that when you find the right horses, you can go down the same path several times over a career."
Training with the Chenu family behind you and a little with Henri Prudent... What do they bring you compared to what you knew before?
A.D.: "First of all, a lot of support, because we all want to get the best performances. And then, it's a great team for me, I think. Annick is present all the time, looks at the tracks, walks them. She gives me good technical input on the course. André is there all the time in the paddock, putting the bars on, he brings me a lot and we understand each other very well, which explains why things are going well. Then, with the Prudents, they come from time to time before a big competition to make us work. Working with Henri is also great. You don't jump much, it's very simple, it's straightforward. Henri, he's been André's friend for at least 40 years, so it comes naturally, and it's done well."
When did you start really considering the top level?
A.D.: "When I started riding Timon! There had been Rapide d'Helby with whom I progressed to a high level, but to be honest, the top level – I didn't even know what it was! The first big competition I attended was the Gucci Paris Masters in 2012! I remember it very well, it seemed huge to me to jump, like it was almost inaccessible, and then... today, we participate in these competitions!"
But by then you were already a professional. Was that really the first big competition that you'd ever seen?
A.D. : "Yes, it was. I wasn't at all sport- and competition-minded. What I liked was horses, thinking about how to make them progress, how better to make them jump, grooming them. All that, but not necessarily competitions. It wasn't my thing. This is the icing on the cake, I would say. Thinking about the temperament of the horses or their way of working, their physique, learning... and then, yes, the competition is the icing on the cake."
How do you analyzehorses? How do you make them progress?
A.D.: "I look at the way they work and ask myself: "What can we use as an exercise to make them jump better, rounder, with more style... how to give them more engagement, how to sort the gallop in a natural way, obviously! I like to think for myself. It's always fascinated me."
On the other hand, do you do a lot of outdoor work with your horses?
A.D.: "Yes, that's all I do. That's almost all we do... except when the weather doesn't allow it. But even in winter, we are very often outdoors. It's more pleasant for the horse and for us, too. Spending my life in a sandbox annoys me. I find the time drags. Whereas when you go outdoors, you have so many routes, so many tracks, that eventually you stay 45 minutes on a horse and it's fun for the horses, it's nice. It's very hilly and that provides a lot for the competition. Going up and down gives them abs, it's good for their mouth, it gives them balance, and horses that feel right in their heads are a real advantage."
Even if we find that more and more tracks are made of sand and very flat?
A.D.: "Yes, whatever, it can only give them more. That's my opinion, anyway."
And when you go outdoors, is it real work? Conditioning? What do you do? How do you manage this?
A.D.: "I don't go the same way every day, for sure. Every day, I try a different way from the day before. With a horse that needs to work a lot on its mouth, I do a lot of steps. I go into the woods, going down, going up. It does them a lot of good. At walk, they learn to function correctly. Then, if there is a horse that needs to gallop hard, a horse that will make more of a career, I naturally try to do that with a little feeling. And then for the condition there are the big fields, and when I have a horse that has too much condition, I do that. Otherwise there is a whole route to the village, there are 7 km to go, we go three days in a row, at a gentle trot so that those who need to can be warmed up before the big competition... Not too much rein, because afterwards I find that the horses get fed up. The truth is you don't jump much and if you jump, it's pretty low. The objective is above all to maintain the moral and physical integrity of horses, especially since this is our capital. We do what it takes to get the horses to work physically, but to go from there to jumping and mechanizing the horses is what we really don't want to do. It is very rare for us to practice bounce slopes. That is not our way of doing things."
But then when you talk about exercises to make them jump better, what do you have in mind?
A.D.: "I make them jump freely, they like that. I set combinations and also, when working with a horse that has difficulty covering, or in relation to a particular fault it has made in a competition, I implement a method in the circle according to what needs to be worked on".
What about Timon? Do you still make him jump freely often?
A.D.: "No, not Timon, but the young ones up to seven years old. This can happen, but it's rare. Explained like that, it sounds a little simple, but it's our method."
To be concluded here tomorrow!