Alexis Deroubaix: There are still real horsemen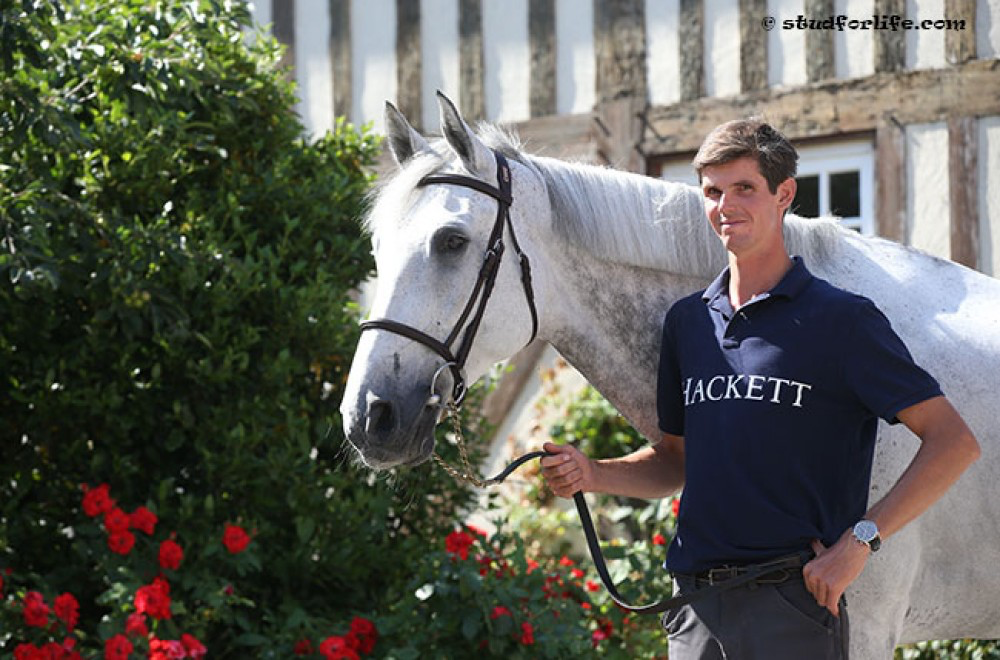 04 September 2018
A member of the French team that will go to Tryon with Timon d'Aure, Alexis Deroubaix is a shy but focused boy who wants above all not to pretend to be someone else. Unlike many, he's not guided by ambition but by a passion for work done well – a significant difference that became a real asset when he met a couple as passionate and reserved as he is. With André and Annick Chenu at the Haras du Plessis, he found a real refuge and rapidly climbed the ranks to join the elite, but without ever forcing the pace. A clever mix of determination, straight-talk, conviction and knowledge. A beautiful meeting of the kind we like on Studforlife.
What were your first steps in the horse world?
Alexis Deroubaix: "With ponies on a farm at my uncle and aunt's. My older brother and I were having fun riding, we must have been six years old. My uncle and aunt had a farm with many animals and they had a bed-and-breakfast where they hosted children. It was a bit like an educational farm. Afterwards I started riding in a club when I was ten, and then when I was 15, I already knew what I wanted to do. Then, I went to a specialized school, an LFR (Liaison Fermière Rurale) with two weeks of training and two weeks of school. I started in Normandy with Alain Janvier in Moyon and after that, I got my BAC PRO in farm business management. Three days later, as I already knew Thierry Lambert, who owns a stable in the north, he hired me. That's when I really learned what the real job was. I rode in competitions and at home. I stayed there for 3 years and rode young horses and then, Thierry had become a friend, but I had to ride horses to progress. Unfortunately, he could not put me on them because he had many horses whose owners paid retainers for him to ride them. So, he sent me to Hervé Francart, where he was trained and where I learned a lot because he allowed me to ride young horses until the age of six, and old horses up to 135. I was 24 years old at the time. It was there that I made my first young horses' final at Fontainebleau. After that, I went to Eric Février in Brittany for two years, and there I rode 500 courses a year. They were young horses and old horses, but I wasn't on board with his way of doing things. On the other hand, he gave me the chance to ride a lot of tracks, a lot of horses, including some beautiful races. I remember a month or two after I arrived, I didn't have much experience in the 135s and Eric didn't hesitate to sign up for a 3-star grand prix, 1.50 m. It was the only way for a young person to ride grands prix. There are not many stables that would allow that and that's a wonderful opportunity. I also rode a lot of young horses. And then, we used to do all the boxes. There were no grooms, we groomed and saddled our horses. We were three riders there, with 60 horses at work. The first year at Helby's breeding operation in Fontainebleau I had 18 young horses. So, after that, the second year, I stayed and then I had two good mares and then we jumped to four stars. Not very regularly at all, but I remember that I finished at the 4-star Franconville. It was in July at the end of my second season. After that, I didn't really know what I was going to do but Michel Hecart wanted me to come and work with him, so I went to the Haras de la Roque. At first, it was only to do the Villamoura tour, so I said OK and when we got back in April, it had gone well and I stayed. Then, a few months later, the family wanted me to move in with them and then we had a little dispute because I didn't want to (laughs). I didn't want to because I had the ambition to do it but not with them, not at home, and so in my head, my objective was to start my own business. And so, I met Annick and André and I told myself, I have all the tools to evolve further. I was happy to hear all this, and I told myself: "If I don't do it now, I have to start over from scratch and that's all I wanted to do." But at the same time, I had the opportunity to evolve further, and I told myself: "If I don't do that, I'm a little stupid, so let's put everything else aside and go in that direction."
SFL: Was that the most difficult choice of your career?
A.D.: "No, because it happened naturally here. I did want to start my own business. I was 28. But as I had the opportunity to evolve in sport, and then evolve in everything, I told myself: "Well, I'll go with them."
SFL: So when you first came here, were you sure that there would be horses ready for that level of sport, or was it a gamble?
A.D.: "No no. Timon was eight years old and there were other young horses. Good young horses, but not many horses to jump the hard stuff. Then, after Timon, André wanted me to ride a 3-star in Saint-Lo at eight years old. There were already people interested, but André said: "No, we wait." And so we waited and we progressed. I progressed with him, thanks to the highly efficient horse that I had, which got very good results. He was the first in the long term. And we didn't know that he was a horse who could jump at the level he is at today. At the time, we weren't sure yet. He did the 2-stars correctly, and then this horse progressed really well. Then, others have progressed too, namely Secret du Pays d'Auge who came on well and rides in 3-star grands prix. There were others, but they have been sold. Today, we really have a quality team of young horses. We have really good young horses: Aldo du Plessis (Orient Express), eight years old, Bornthis Way Chapelle (Kashmir van't Schuttershof), who is a seven-year-old star, and then we have six-year-olds. We have three very, very good six-year-olds at the top of the string. The outcome is obviously not certain, but if we continue to work well, we should have several horses like Timon in two years, and the objective is to make them progress on their own, and then either sell them or keep them. I don't think Aldo will ever be for sale but, well, you need several horses for the high level... The goal is to have a team for the great competitions."
Do you enjoy business part, too?
A.D.: "Yes, what I like is to train, to train young horses, to accompany them up to the level as we do now, as we've started to. It's very recent, but one step after another. My dream is not to leave all the time. My goal is to train horses, do fun competitions, once in a while do a real great competition, and now after Timon, I hope we'll do more. Keeping horses up to 17 years old for competitions is not in my best interest. For me, what is honourable is to train and then sell them because you have to, and then start again. That really is the job, OUR job. What characterizes us is that we work over the long term. You don't bring horses in to sell them a month later. What we really want here is to train young horses up to the finished product, as André and Annick always did in their careers. It's a long-term business, and that's nice."