Alban Poudret, the multi-tasking Swiss equestrian journalist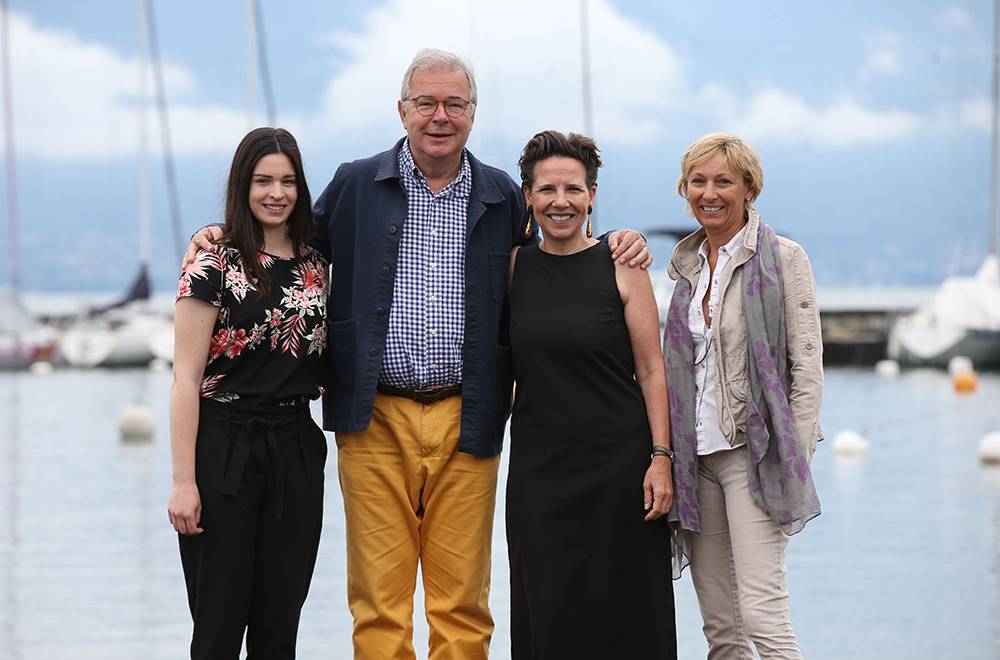 16 December 2019
But is the FEI setting an example by putting a World Cup round in front of Geneva?
A.P.: "It surprised us a little bit, especially as it was a competition that wasn't really on the same date. Moreover, at the beginning, we couldn't have two World Cups in the same country in the same season, and here they were a month apart... it caught us out at the beginning but finally, it's working out quite well with the team in La Coruña with whom we have a good relationship. We're careful never to tread on their toes, never to take a rider who was already registered there. We try to do things by being understanding... but I think they should choose another date, because it's a bit of a shame to find important competitions such as the Rolex Grand Slam and often the Top 10 Final with the best horses and riders clashing."
Sometimes having 3 or 4 five-star competitions on the same weekend, doesn't that open the door to riders that would normally never have access to them?
A.P.: "Obviously, and that's what comforts us. That has allowed four French riders, who wouldn't have been part of the team if the Global Champions Tours St. Tropez stage hadn't gone before it, to win the St. Gallen Nations Cup. That was great. In bad things, there are always silver linings. Things to hold on to and it's true that it also gives many other riders the opportunity to ride in a Nations Cup, but the Nations Cups must not be devalued, however. This year, changing the rules to ban teams that don't score points, and thus forcing a competition like St. Gallen to invite teams like Denmark and Norway, when they could have had Holland, Belgium, Great Britain or Germany... it goes too far. This has its positive aspects in the same way that the Global Champions Tour has also contributed to a certain globalization of the sport and I fully acknowledge that. I'm not against that, but I think it should be regulated, supervised and arbitrated by the FEI. For the moment, we don't get that impression. The Club des Cavaliers is fighting against this right now and has done very well thanks to Kevin Staut, who's a very good president, and Steve Guerdat who has fought for his values and a few others who have managed to convince the majority of the wrong in all this. It's also reassuring. But I do think that we should still make sure that we impose common rules on everyone."
Was it during your exile in France that you lost physical contact with horses?
A.P.: "Almost. I think I've been so overwhelmed by my passion, so much and in so many fields... I have tried to be present at many small competitions, and that's still the case today, in addition to keeping up with the big competitions... there was almost no more room for the horse in itself. I kept going for a ride with my friends, but beyond that I didn't want to compete too much because I didn't want to lose the little recognition I had left (laughs)... It's true that there was also this desire not to show that I was a hopeless rider, but I got huge pleasure from riding out and about. As my weight has also increased, I have turned to mules and I love them. We've done mountain rides up to 3,000 meters in altitude. Sometimes for a whole week at a time. Besides, the most important competition I have organized after Geneva was the Mule Trophy! We organized it with Silvio Giobellina and a great team during ten years in Leysin, from 1996 to 2006. It was an incredible celebration where we started with less than 100 spectators in the first two editions and ended up with more than 2,000 spectators in the last. During the last edition, we even offered wildcards to the best muleteers to go to Geneva. After the Top 10, we organized the Mule Top 10 with the Six-bar, flat races... John Whitaker standing on a mule, and Lesley McNaught and co. on the mules! Trevor Coyle had won the Six Bar at 80cm. A real triumph! During the Mule Trophy, we had all the disciplines: jumping, dressage, polo, an eventing competition with a real hilltop, and of course a trotting harness race and on the flat with the mule, and real betting with a tipi village. It was like an off-beat Olympic Games."
Do you still ride?
A.P.: "I still occasionally ride a few horses. It's something I obviously miss. In fact, every time I ride again, I tell myself that it's such a wonderful pleasure and that there's nothing more beautiful than to gallop through the fields, but then at the same time, I get overwhelmed by my passion, just take a look at my desk... and I'm already working 7 days a week, from morning til evening amongst all this, so at some point, I also need to be able to do something else and think about my family, my lovely wife, who gives me so much and with whom I want to see other things because, even if she loves horses, she's more oriented toward music, culture, art... It's important that we also do other things together, that we see other people. I also have many friends in other sectors, whether they are winemakers, friends that live in the mountains, lawyers and even journalists... but we have to talk about other things and create other worlds. I live in a dream place by the lake... but I couldn't have a horse there."
What are your future plans?
A.P.: "I plan to pass all this on, little by little. I hope I can pass it on. I think the future is sorted for the competition. And I hope I can do it for the magazine. There's no doubt that the press is going through difficult times. It's a privilege to have a magazine for our sport in French-speaking Switzerland. Apart from our young journalist Elisa, the rest of the team - Gaëlle Kursner, Françoise Garcia and Sylvie Gavillet - have been working with me for at least 20 or 25 years. It's a family team, we're just keeping within our budget and we're getting there having agreed to work for low wages, we're pretty much all getting the same: boss, man, woman, whatever. Our schedules are flexible and it's not uncommon for Nathalie and I to still be at the office at midnight. It's like a hotel business, you have to give it your all. I promised my team that I would continue for another 3 or 4 years for sure, and the rest will depend on the press world, our young people's futures and their motivation, but I'm confident that Le Cavalier Romand will be able to continue, perhaps in other forms... I don't know. Currently, I'm making a film about Nelson Pessoa, it's a beautiful testimony and an overview of more than half a century of sport. Everything is in motion, everything is changing... but I hope that we won't lose anything."
A closing word?
A.P.: "I'll add one little thing about someone. A wonderful adventure that has come about between the Geneva competition, Le Cavalier Romand and my job as a journalist, is to have been able to experience the Steve Guerdat phenomenon and him becoming a great champion, which I never doubted, even if everyone was teasing me because everyone thought I was exaggerating about this Steve, son of my great "buddy" Philippe, and who finally did a hundred times more than anything we had ever dreamed of... even if we had one day hoped that he would be an Olympic Champion. What is extraordinary is that in addition to that, he's an exemplary rider because he defends important values and defends his sport. Sport and his values always come before money. He has a code of conduct and he sticks to it. He doesn't just defend his sport in theory, but in practice, every weekend. What's extraordinary is that today, he has been World No. 1 for a year now, even though he hasn't done the 18 stages of the Global Champions Tour. I thought it would be very complicated for him to even stay in the Top 10. That's top-class and snubs the Tour at the same time. See, you always have to remain optimistic and confident!"