Alban Poudret, the multi-tasking Swiss equestrian journalist.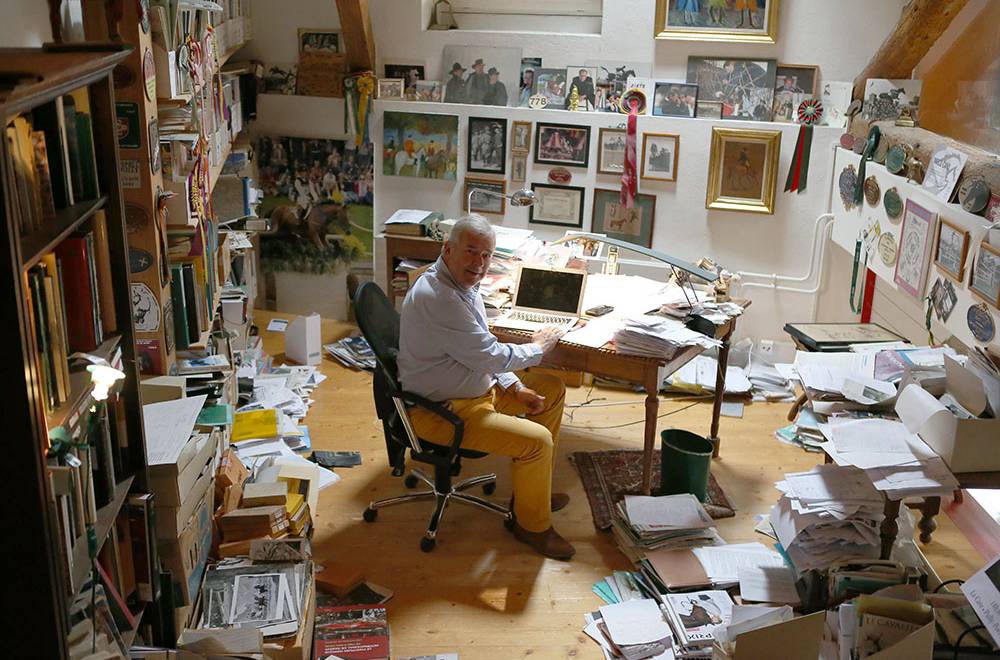 12 December 2019
When you launched Le Cavalier Romand, did you know what direction you wanted to take it in?
A.P.: "We obviously wrote a lot about show jumping right from the start... but I've always been very passionate about eventing as well. I became more and more interested in driving and, even in dressage. Vaulting also interests me a lot. For Le Cavalier Romand, the idea was to talk about everything and everyone, i.e. all disciplines, including racing. I thought it was important to have 2-3 pages and I asked 'Mr. Racing' himself, Dennis Roux, to be a part of it... and he's still here today, after 38 years of collaboration. Obviously, there's more focus on show jumping, but it was important that there was room for all disciplines and that the proportions in relation to the number of participants was respected. We really focused on sport while wanting to get people to dream with other subjects and interviews. Sophie Kasser-Deller, my faithful right-hand woman, who died 4 years ago now, was a specialist in horses and equestrian subjects, ethology and ethics. Obviously, we don't have unlimited means, so we prioritize sport, knowing also that in the magazine kiosks, there are all the French magazines with which we will never compete. We play to French-speakers and the Swiss nature. First-of-all, we address our subscribers; they're riders mainly, but there are also quite a few leisure riders".
How does it come about that a journalist thinks that it could be fun to organize a competition too?
A.P.: "It was one of my childhood dreams. At 12, I was sure I was going to become an equestrian journalist, but also very determined to become a course designer and competition organizer. As a course designer, I didn't do anything except draw some Derby obstacles. I'm passionate about coming up with new obstacles for Geneva and talking to course designers, but that's all. I think it's better that way because you need to be a really good show jumper to be a good course designer.
However, being an organizer and speaker, those are things that have fascinated me because, for sport to live on, there must be competition, beautiful staging and all that. I have often helped organizer's by being a speaker, and giving some advice. We discuss and exchange many ideas with organizers. I have also been a Press Officer on many occasions, but fortunately, I haven't been one for 20 years. Being a Press officer is an all-consuming job. Think of Corinne Druey, who has been doing the job for 20 years in Geneva. I think it's complicated when you're a journalist yourself; and you're giving all the information to others, which isn't easy."
What was your first experience as an organizer?
"At 22 years old, I had helped to organize a competition at the Château de Mex, near Lausanne. John Manconi was playing polo and wanted to have a party combined with a horse show. I said, "Okay, great... but we'd have to redesign the field and a few other things..." and he says to me: "No, no, I want to hold it in three weeks!" Three weeks later, we finally had a fun national competition with a few fellow riders... and the next year, he had redesigned his field and we had a great competition with Nelson Pessoa, Harvey Smith, David Broome, Willi Melliger, Markus Fuchs and Kevin Bacon who won a horse, Santex, in the mount rotation, that became his lead horse later on, and extended his career by 10 years! In fact, by winning the mount rotation final, he could have chosen one of the horses that had competed in it. Kevin Bacon was a fantastic rider but he didn't have a penny to his name; sometimes we would offer him a full tank of gas so that he could continue coming to the competition. By winning that event, he was able to choose one of Gerhard Etter's horses. With Santex, he won the Nations Cup of Rome, some Grand Prix's, and some Puissances. I have great memories and this competition; it was an incredible celebration. There were races. We had done a derby, a cross race, it was incredible... Then the Swiss federation became jealous of it and the following year when he wanted to hold a 4 or 5-star level CSI... he was asked for a staggering amount of money as a guarantee. Suddenly, they were bothered by this guy who came in here, that had a little showbiz flair. The whole village was invited, everything was free, it was really a festive, friendly event and still very much centered around the horse, with many disciplines represented. Unfortunately, it stopped abruptly because he was so disgusted. I then put my dreams of being an organizer away. I was helping out with some competitions and then in 1992, Pierre Genecand, who had already trusted me as a speaker, and I had already given him some ideas, such as replacing the Puissance with the Six-Bar competition, asked me to be his Vice-President. Suddenly, they wanted to become a candidate to host the 1996 World Cup Final. We went to Gothenburg in April 1993 and we got the final! As a result, I dived into the heart of the competition organization circuit in Geneva and it became an all-consuming passion. It became a huge job that initially was completely voluntary. Today, I get paid, but that was not the case at the time. It was another time. We tried to put on a great sporting and festive event at the same time."
Have you ever had any problems being both a journalist and an organizer?
A.P.: "It was a real torment to begin with. At first, I refused the title of Vice-President; I didn't want a pompous title and I preferred the one of "equestrian concept designer". I was responsible for everything that was horse-related... and that is still the case today. However, this final provoked some jealousy and there were some attacks. Pierre told me that it was really important to have a Vice-President. After hesitating a lot, I accepted, on the condition that there would be two of us for the Final and that there would be a Vice-President of Finance, because I didn't want that responsibility. I'm better at spending than at accounting... and I proposed that Pierre Mottu, who was a friend of mine, take on that position. I had thought of him as a friend, yes... but in the end, he brought a sponsor to the Final... and choosing him for that position also brought us his daughter, Sophie, who is now the Director of the competition. All of this had a huge influence on the rest of the Competition. I think that, in life, the more spontaneous and selfless things are, the more reward you get out of them, even if sometimes it's 10, 15 or 20 years later. In the end, a sincere friendship can lead to many things."
Did it make it easier for you to have this dual role?
A.P.: "In itself, when you are a journalist, you are not an organizer. This has long been a problem, at least, it has raised many questions for me. Today, with 27 years' hindsight, I can say that I've never had any criticism from a colleague on this subject. I think people know that I'm a person who does this out of passion. I don't think I have a problem with that... but I also think it was because it was a "one-off". I was then offered the position of Sports Director of the World Equestrian Games in Caen, Normandy, in 2014. I almost accepted the position of being in charge of the show jumping and dressage, I was very touched that they thought of a Swiss guy for the job, but I felt resistance from the French organizers; although the French Federation had given their approval. All of a sudden, I was seen as more of a professional organizer, which I'm not looking to be at all, and so, fortunately, thanks to the sincerity of my friend René Pasquier, who had his serious accident one hour after our discussion, and then died the next day, I declined. He has made me aware of the subject and I will be eternally grateful to him. I think I'm made for "one-off" events like Geneva where I went into it with that state of mind, and I'm glad I had the chance to be able to do it, but it would have been a mistake to do it again. That said, I think that it's important to have a journalist on a competition management team, because an equestrian journalist travels and sees lots of different ideas at all these competitions. I think that we can bring a lot of ideas to the table through our knowledge and our travels, but also because we think about the public when often, the organizers and competition team managers don't think enough about that. They are often more concerned about the riders... because they are often riders themselves. I think that's a mistake. There can be a rider, moreover Philippe Guerdat is a very important element in the management of our competition, even if you don't see him often, he is working away behind the scenes. Similarly, I think that a journalist is very useful for the management of a competition and I'm surprised that people like Umberto Martuscelli in Italy and many others are not involved in competition organization. For me, it's essential to think about the public just as much as the riders when organizing a competition program."
Do you find that your life as a journalist has given you more satisfaction than your life as an organizer?
A.P.: "I have never thought of it that way. I think that my life, professional or private, brings me a lot of satisfaction, joy… everything. I have truly been able to make my dreams come true. However, I think that I'll never be able to give up being a journalist. That's 40 years of my life and it's still my first childhood passion. If I had wanted to become a more professional organizer, by organizing several competitions, I think that that would have jeopardized my impartiality, my integrity and my independence as a journalist. Those qualities are at my core. I think it's just like that, otherwise I would have had to change jobs."